Sama Tea Brand Debuts New Detox & Cleanse Blend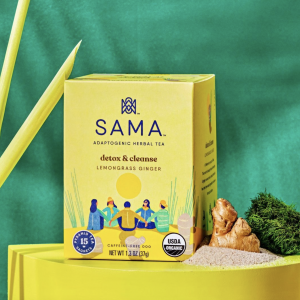 Sama, the expertly-crafted Adaptogenic tea brand, has launched their newest tea blend, Detox & Cleanse! Created by Life & Purpose Coach, #1 New York Times Bestselling Author and Podcast Host, Jay Shetty, alongside his wife, Plant-Based Recipe Developer and Fitness & Well-being Enthusiast, Radhi Devlukia-Shetty, Sama offers purpose-driven hot tea blends, inspired by Ayurveda and crafted to help balance the mind, body and heart.
All of Sama's teas are packed with premium botanicals and adaptogens that are USDA Organic, vegan, non-GMO, gluten-free and made without artificial sweeteners or added sugar. With light and tangy flavor complemented by a crisp bite of ginger, Detox & Cleanse uses a powerful blend of CCF (cumin, coriander & fennel) to help one feel their best from the inside and out! Cumin helps to boost digestive enzymes and fight bad bacteria in the gut. Coriander is a powerful botanical that aids in digestion by fighting allergens and promoting a healthy gut. The final piece of the adaptogenic blend, fennel, acts a natural metabolic booster by easing nausea, cramps, and spasms.
Detox & Cleanse is available on samatea.com for $9.95. Consumers can also opt to join Sama's Tea Club for $29.95/month in which they receive a sampler tea box and enjoy two full size cartons of their favorite Sama flavors each following month along with exclusive member perks.
For More Information:
https://www.samatea.com