Nona Lim Launches Stir Fry Noodle Kits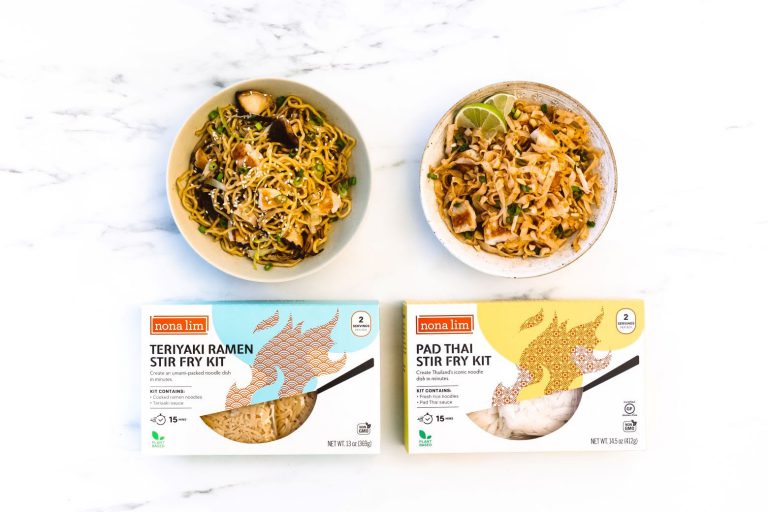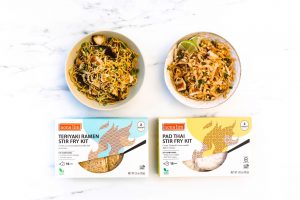 OAKLAND, Calif.– Nona Lim, maker of innovative and award-winning fresh Asian comfort foods, is launching a new line of clean label, plant-based stir fry noodle kits featuring fresh noodles and sauces. The kits, initially available in Pad Thai and Teriyaki Ramen flavors, expands the brand's existing portfolio of cook-at-home products such as bone broths and fresh noodles to meet growing consumer demand for easy, authentic, and delicious meal solutions.
With ongoing travel restrictions and reduced service at restaurants due to the Covid-19 pandemic, consumers are cooking more at home and experimenting more with ethnic cuisines. According to Nielsen1, Asian grocery items this year are on a high growth trend across multiple categories when indexed against average weekly dollar volumes in 2019. Through an online survey2 of over 12,000 consumers who enjoy cooking at home, Nona Lim found that 55% of consumers are cooking Asian food at least a few times a month, and over 80% are interested in cooking stir fry noodle dishes.
"Asian stir fry noodles dishes are delicious but can be hard to replicate at home as you need two key components: high quality noodles for the best texture and flavor, and a number of Asian condiments and ingredients in your pantry to get the sauce just right." said Nona Lim, founder and CEO of Nona Lim. "Our new kits provide the noodles and sauce as the foundation, while giving the consumer the flexibility to customize the dishes with their favorite proteins and veggies."
In line with other Nona Lim products, the stir fry kits are made with only clean ingredients and contain no MSG, preservatives, or additives. Using the kit, a stir fry noodle dish serving two people can be made in less than 15 minutes. The kits are available at a suggested retail price of $7.99, proving that a gourmet, restaurant-quality meal at home can be both fast and affordable.
Nona Lim Pad Thai Stir Fry Kit features fresh noodles made from rice that has been aged for a year before being ground into rice flour for the best texture, and a sauce with just the right amount of sweetness and tang.  Gluten-free, plant-based, and non-GMO.
Nona Lim Teriyaki Ramen Kit features fresh, pre-cooked ramen noodles with the perfect bite and chew paired with a bold Japanese teriyaki sauce made with real mirin and premium soy sauce that has just the right amount of umami and sweetness. Plant-based and non-GMO.
With most industry trade shows and events cancelled or postponed due to the pandemic, Nona Lim has decided to introduce the new stir fry noodle kits directly to consumers via a Kickstarter campaign launching on January 4, 2021. The kits will then be available nationwide via the brand's website www.nonalim.com along with additional distribution at several online retailers and grocery chains in Q1 2021.
About Nona Lim
Founder and CEO Nona Lim was a former competitive fencer who believed in the health benefits of a nutritious diet but didn't want to sacrifice the amazing flavors of the food she enjoyed. In 2014, she launched her eponymous brand, inspired by her childhood in Singapore and the country's melting pot of culinary traditions and flavors from all over Asia. Based in Oakland, California, Nona Lim pioneered the fresh Asian food category and is the category leader with its range of Asian comfort foods that are delicious, convenient, and better-for-you due to clean label ingredients. The company's award-winning products can be found at retailers across the U.S. as well as online at www.nonalim.com. #EastMeetsBest