GoodBelly Launches Fast Melts For On-The-Go Immune System And Digestion Support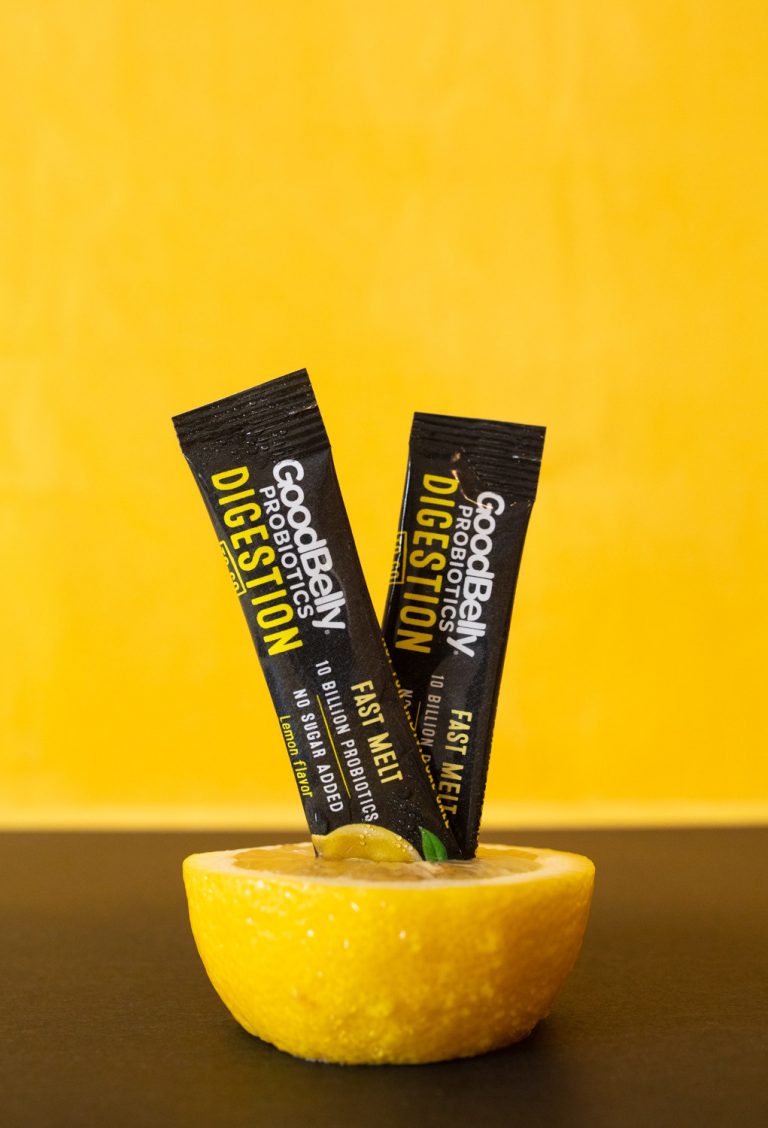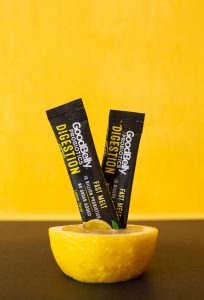 BOULDER, Colo. – GoodBelly, maker of delicious, highly efficacious probiotic products, announced the launch of a new line of quick-dissolving, fruity probiotic powder, called GoodBelly To Go Fast Melts. An innovative, convenient format for probiotic consumption, Fast Melts are shelf stable probiotic powders that deliver impactful, scientifically proven doses of probiotics in each serving. Available in two varieties – strawberry flavored with immunity support and lemon flavored with digestion support – Fast Melts are designed for easy, fun, on-the-go consumption. GoodBelly To Go Fast Melts can be enjoyed by simply pouring the powder directly into your mouth, and like magic, the probiotic powder will quickly dissolve. Alternatively, pour the GoodBelly To Go Fast Melts into a small amount of water or another beverage and enjoy, or simply add to a delicious smoothie.
The new GoodBelly To Go Digestion Fast Melts are made with a probiotic strain called Lactobacillus Plantarum 299v, evaluated in more than 16 research trials and used for 20 years to help balance the gut and promote healthy digestion. The GoodBelly To Go Immunity Fast Melts contain 1 billion live cultures, and are made from a blend of the scientifically backed strains Lactobacillus Plantarum HEAL9 and Lactobacillus Paracasei 8700:2, which together are clinically shown to support immune function.
All Fast Melts are low calorie, dairy free, contain zero added sugar, and dissolve immediately. The Strawberry flavor with immune support is also gluten free. Fast Melts are great for all ages, including children above 4 years of age, and can be easily enjoyed as part of a daily routine.
"GoodBelly To Go Fast Melts provide digestion and immunity support through an efficacious dose of probiotics, with a delicious fruit forward flavor and no added sugar," said Juan Gluth, NextFoods Inc., makers of GoodBelly, CEO.  "At GoodBelly, probiotics is all we do. We are passionate about gut health and only use the most widely researched strains to promote healthy digestion."
Maintaining a strong immune system is more important than ever. With 70% of the body's immune system connected to the digestive tract, a properly functioning digestive system is essential to maintaining overall health. GoodBelly To Go Fast Melts offer a powerful daily dose of efficacious probiotics to help boost immunity and digestion. As the maker of the number one natural probiotic juice in the country2, GoodBelly is solely focused on delivering the highest quality probiotics in appealing and innovative formats, and this launch is a natural extension of the brand's expertise.
"Our work is guided by the belief that better health starts in your belly, including immunity, and our team is proud to share a whole new, enjoyable way consumers can support their overall wellness," continued Gluth.
GoodBelly To Go Fast Melts are available now on Amazon.com – Immunity and Digestion – and retail for between $19.99-$24.99/30 servings.
About GoodBelly by NextFoods, Inc.
GoodBelly, by NextFoods, Inc., was founded in Boulder, Colo., in 2006 by two natural products industry veterans, Todd Beckman and Steve Demos, who shared a vision to empower consumers to achieve a better quality of life through functional solutions. Today, GoodBelly is recognized as a probiotic pioneer, intent on improving people's lives by delivering impactful probiotics through convenient and efficacious foods, beverages and supplements. GoodBelly offerings are all made with the well-studied probiotic strains. All beverages contain Lactobacillus Plantarum 299v, which has been scientifically shown to help establish intestinal balance and can support overall digestive and immune health when consumed daily. GoodBelly is available nationwide in natural, specialty, conventional, mass and convenience retailers. Shoppers can also purchase GoodBelly direct at Amazon.com or GoodBelly.com.
For More Information:
https://goodbelly.com/