ENZO's Table Launches New Biscotti Crumbles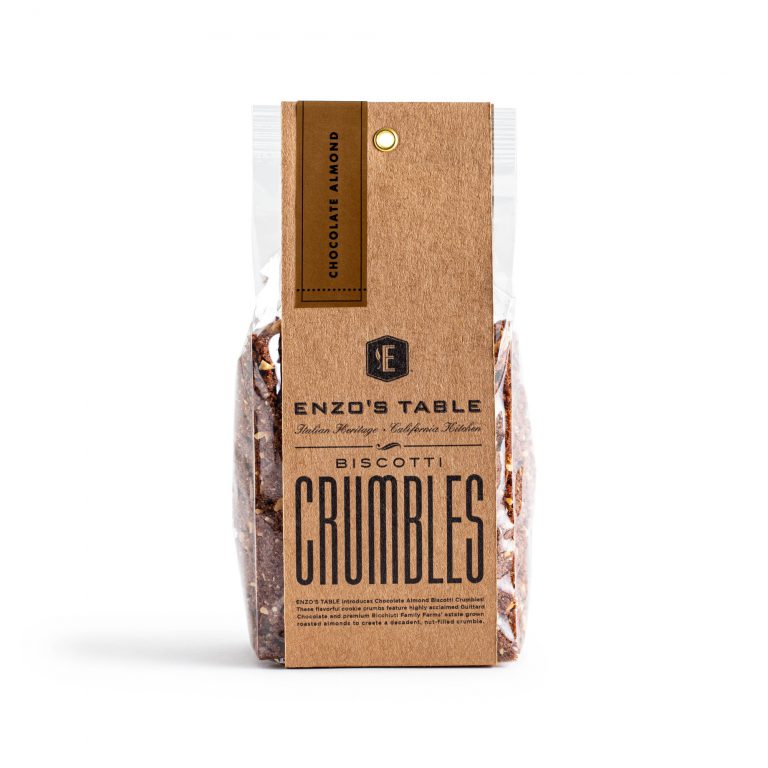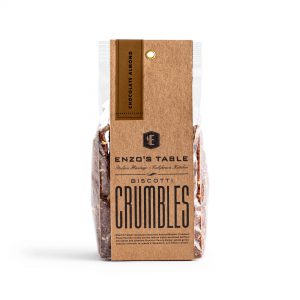 CLOVIS, Calif. – Fourth generation, family-owned ENZO'S TABLE announces newly released Biscotti Crumbles, the latest addition to their exceptional line of ENZO'S TABLE provisions. The flavorful Biscotti Crumbles, available in Traditional Almond and Chocolate Almond retail at $12.95 for an 11 oz. package. These cookie crumbles can be purchased online at enzostable.com, ENZO'S TABLE retail locations in Clovis, CA and in select specialty food stores nationwide.
Each variety of ENZO'S TABLE Biscotti Crumbles features estate-grown California roasted almonds from the Ricchiuti family's orchards. Traditional Almond blends rich vanilla with freshly roasted almonds to create a classic, subtly sweet delight while Chocolate Almond is baked with prized Guittard Chocolate yielding a rich decadent indulgence. Biscotti Crumbles can be enjoyed atop seasonal fruit crisp, cobbler, brownies, and ice cream or by crafting a delectable crust for tarts and cheesecakes.
The new Biscotti Crumbles are the latest bakery offering from ENZO'S TABLE, joining their slow roasted Clovis Crunch Granola and award-winning, hand-sliced Biscotti. "Expanding our bakery products has been exciting for our team," says Vincent Ricchiuti, Chief Operating Officer and co-founder of ENZO Olive Oil Company. "We are always looking for unique ways to share our family's estate-grown products and treasured recipes, and the new Biscotti Crumbles are the perfect way to do both."
In continuation with the company's commitment to farm and produce sustainable products of the highest quality, Biscotti Crumbles are an innovative way of utilizing all the fresh baked goodness of ENZO'S TABLE Biscotti.
ABOUT ENZO'S TABLE AND ENZO OLIVE OIL COMPANY
For more than a century, the Ricchiuti Family has diligently worked the land in California's fertile San Joaquin Valley with a goal to sustainably grow, produce, and harvest premium fruit, nuts, and more recently, estate-grown award-winning ENZO Organic Extra Virgin Olive Oil, Organic Crushed and Infused Olive Oil, Organic Balsamic Vinegar, as well as ENZO'S TABLE handcrafted Pesto, Olives, Jam, Almond Butter, Biscotti, Granola, and Biscotti Crumbles. From cultivating to harvesting, to milling and crafting highly acclaimed artisanal fare, the Ricchiuti Family is committed to a hands-on approach to ensure quality at every juncture. This unwavering attention to detail has served the family well as their products have earned countless local, national and international awards and recognition attracting the attention of celebrity chefs and consumers across the globe.
For More Information: