Tolerant to Launch New Organic Riced Red Lentil Pilaf at Expo West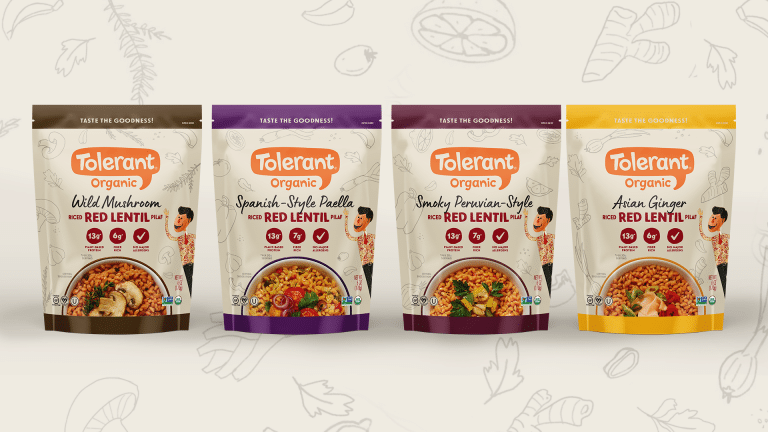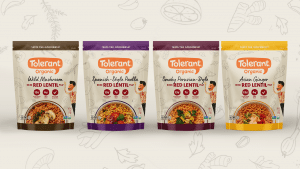 CHICAGO— Tolerant, known for their 100% organic, single-ingredient chickpea and lentil pastas, will debut a new line of legume-rice alternatives at this year's Expo West, Booth #5033. As consumers add more plant-based options into their diets, Tolerant is excited to reinvent rice with their new Organic Riced Red Lentil Pilaf, a pre-seasoned red lentil based pilaf. Flexitarians and foodies rejoice – the line is as delicious as it is healthy, free of major allergens, and easy to prepare.
According to Niloo Mirani, Tolerant's Director of Marketing, "There's nothing like our Organic Riced Red Lentil Pilaf on the market. We created a better-for-you product that boasts more protein and fiber (vs regular rice) featuring global flavors. We are thrilled to launch this delicious, wholesome and convenient rice pilaf alternative."
Tolerant®'s new line features global flavors, Spanish-Style Paella, Asian Ginger, Wild Mushroom, and Smoky Peruvian-Style, allowing consumers to enjoy international flavors from the comfort of their home in 10 minutes or less. Compared to traditional dishes made with rice, those made with red lentils are higher in fiber and protein, and provide high-quality nourishment. This lentil dish boasts 7-8g of fiber and 13g of protein per serving and provides natural flavor from clean ingredients. And it is free from the 8 major allergens, for an inclusive product the whole family can eat.
"Tolerant® offers delicious, plant-based foods that anyone can enjoy. In developing this product line, it was important the product was easy to prepare, so time-starved consumers can enjoy it without sacrificing flavor and with health paramount." said Mirani.
Be one of the first to sample Tolerant®'s new Organic Riced Red Lentil Pilaf at Natural Products Expo West – Booth 5033.  It will also be available online at Amazon.com starting in March, and available exclusively at Whole Foods Markets across America starting May 2020. Each 6 oz. package makes 3.5 servings and will retail for $4.99. Tolerant®'s current lineup of products include: Organic Green Lentil Penne, Organic Green Lentil Rotini, Organic Green Lentil Elbows, Organic Red Lentil Penne, Organic Red Lentil Rotini, Organic Chickpea Penne, and Organic Chickpea Rotini.
About Tolerant
At Tolerant, we believe that living a healthy life should be simple. That's why we offer delicious, wholesome plant-based foods that anyone can enjoy. It's goodness you can taste! For more information, please visit tolerantfoods.com.
For More Information
tolerantfoods.com