Siete Foods and Compartés Announce Limited Edition Treat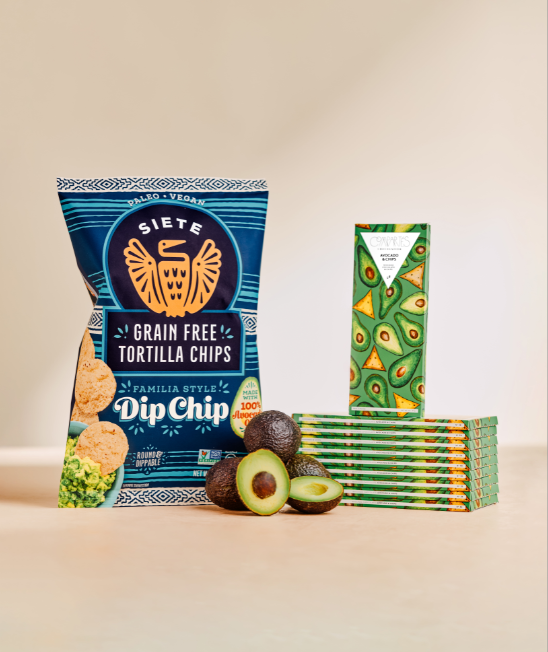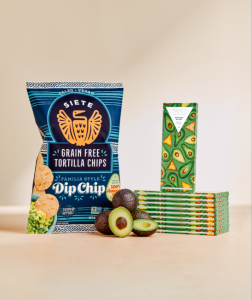 LOS ANGELES– Compartés Chocolatier and Siete Family Foods have announced a sweet collaboration – a limited edition Avocado & Chips Chocolate Bar, made with Compartés signature avocado infused chocolate and featuring Siete Grain Free Dip Chips. Displaying vibrant, playful packaging hand drawn by Compartés owner, Jonathan Grahm, and a rich unique flavor profile to match, the latest iteration of the viral Compartés bar that sells out in a matter of weeks each year is an extra special indulgence for all avocado lovers to enjoy.
Compartés Chocolatier gourmet chocolate bars are renowned as the world's best chocolate bars, each handcrafted with real ingredients in their Los Angeles chocolate kitchen and shop for over 70 years. Siete Family Foods is a Mexican-American food brand rooted in family that creates tasty grain & gluten free products. Both family-owned and operated brands are known for their product innovation and sourcing high-quality ingredients to create irresistible, one-of-a-kind treats.
Now, the two are partnering for the first time to celebrate avocado in a new and unexpected way by combining Siete's delicious Grain Free Dip Chip, made with 100% avocado oil, with Compartés' beloved Avocado Chocolate Bar, made from white chocolate and avocados, and the addition of sea salt, for the perfect sweet and salty flavor explosion.
"To make the best Avocado Chocolate Bar yet, I doubled the avocado and added my favorite chips, Siete Dip Chips, which make the perfect partner for the creamy rich avocado flavor and are grain free too," says Jonathan Grahm, Founder and Owner of Compartés. "This Avocado Chocolate Bar is a flavor experience unlike any other, people wait for it to come out every year and I'm always thinking how can I remix it and make it even better than before. I am confident this is the best Avocado Chocolate Bar in history and can't wait for people to try it."
"From guacamole to toppings on tacos, avocados are the champion of many dishes close to our hearts, including the avocado oil used in all of our grain free tortilla chips, and in some of our creamy hot sauces," said Veronica Garza, co-founder, president and CIO of Siete Family Foods. "Over the years I've even begun sneaking avocados into sweet recipes like smoothies, brownies and chocolate avocado mousse. As a chocolate-loving family, we are super excited to join the fun on the Compartés Avocado Chocolate Bar creation with the addition of our Grain Free Dip Chip."
The Avocado & Chips Chocolate Bar is now available for purchase atcompartes.com for $9.95 while supplies last.
About Compartés Chocolatier
Compartés Chocolatier is the nation's hippest and most trendsetting chocolate shop. Founded in 1950 and reinvigorated by chocolate prodigy Jonathan Grahm, Compartés gourmet chocolates are made from scratch by hand every day by a small team of chocolatiers and chocolate artists, using fresh natural ingredients from local farmer's markets, in their Los Angeles chocolate kitchens and shop. Known for fusing chocolate with art, style, design and fashion, Compartés is a unique chocolate brand unlike any other, creating chocolates that are just as delicious as the stunning visuals they are wrapped up in. Compartés chocolates are available in retailers globally and online atcompartes.com. @compartes
About Siete Family Foods
Siete Family Foods is a Mexican-American food brand that is passionate about making and sharing delicious food with real ingredients that brings families together around the table. All of the brand's products are grain, gluten and dairy free. Siete is on a mission to bring people together to experience the flavors and traditions that brought all seven (siete) members of the Garza family together on their journey to health. Founded in Austin, TX in 2014, Siete is one of the fastest growing natural food brands with product lines including grain free tortillas and tortilla chips, dairy free dips, sauces and seasoning. Siete's products can be found in thousands of grocery stores across the United States, and are also available online at sietefoods.com. Join the family @sietefoods on Facebook and Instagram.