2020 WINTER FANCY FOODS COVERAGE IS SPONSORED BY:
Lake Champlain Chocolates Launches Two New Snack Bite Flavors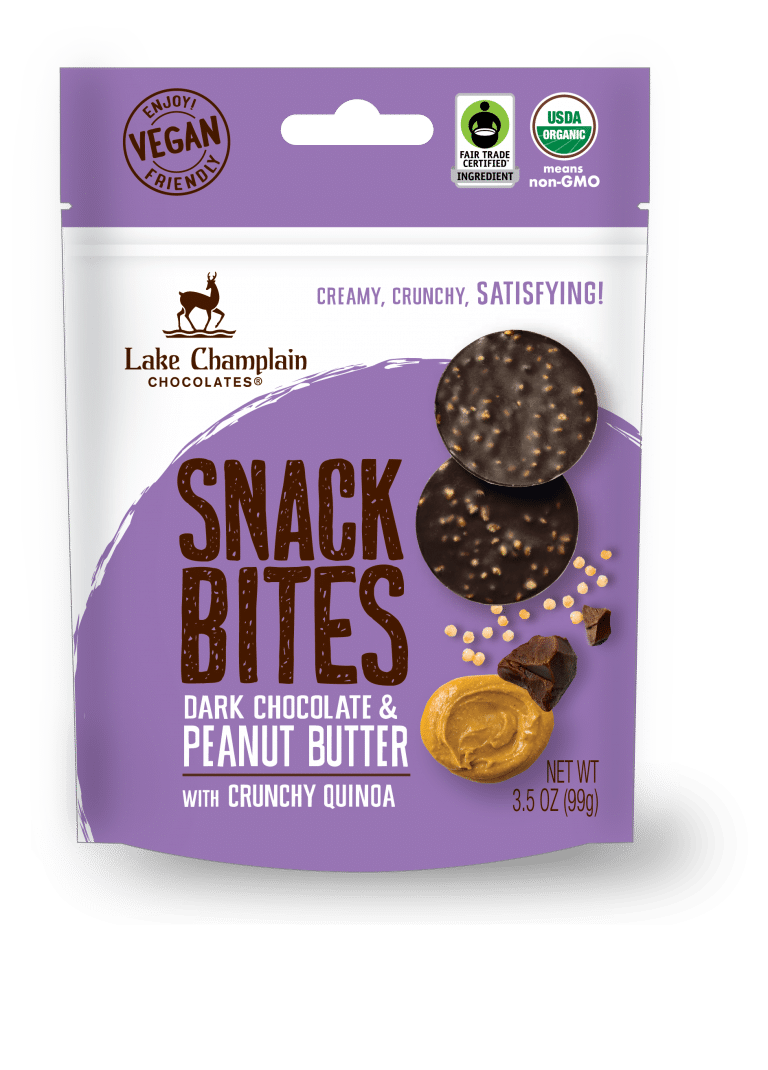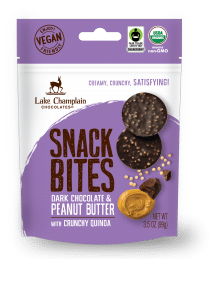 BURLINGTON, Vt.— Building on the successful Snack Bites line, Vermont chocolatier Lake Champlain Chocolates (LCC) is introducing two new vegan-friendly Snack Bite flavors, Crunchy Quinoa and Extra-Dark Chocolate and Dark Chocolate and Peanut Butter.
"Snacking as a category continues to outpace Food and Beverage overall growth, with 47% of US consumers eating up to 3 or more snacks per day," says Allyson Myers, Director of Sales and Marketing at LCC. "These two non-dairy, vegan friendly snack bites will give customers more options for a better-for-you indulgent snack."
The deep dark 80% chocolate snack bites will appeal to those looking for a higher cocoa content and a reduced sugar chocolate;  while nut butters provide products with interesting textures, higher protein, and indulgent flavor profiles.  The quinoa offers a pleasing, crunchy texture that keeps you coming back for more.
By using premium clean and simple ingredients, including high quality fair trade and organic certified chocolate, there is no compromise on flavor. "Snacking provides a break in people's busy days and we want that moment to be worth every minute— satisfying, delicious, and relaxing," says Myers.
With USDA Organic and Fair Trade Certification, consumers can feel good about their purchase, knowing the ingredients have been responsibly sourced without child labor or slavery and with care and consideration for the earth and its health.
The bags are hole-punched for ease on chip-clips and are designed with bright colors and attention- grabbing imagery of the product. In a convenient, re-sealable bag, they are best suited for merchandizing at point of impulse for grab-n-go sales. The two new Snack Bites join the line with Milk, Dark, Peppermint, and Pumpkin Spice.
LCC will be sampling the Snack Bites in the FCIA Fine Chocolate Pavilion at the Winter Fancy Food Show, Moscone Center, second Floor Special Exhibits area in San Francisco, January 19-21, 2020.  Snack Bites have an SRP of $5.99.
All of Lake Champlain Chocolates' products are Kosher-certified, free of preservatives, additives and use non-GMO and fair trade certified ingredients. For more about the Vermont chocolate maker, visitwww.lakechamplainchocolates.com.
About Lake Champlain Chocolates
Since 1983, Lake Champlain Chocolates has worked in pursuit of extraordinary chocolate moments™. As a pioneer in the American chocolate movement, the Vermont chocolate company strives to create only the best-tasting chocolates imaginable. In the early days this meant sourcing the highest-quality fresh, local ingredients and never using preservatives or artificial flavors. Today, the second-generation, family-owned company's pursuit of the extraordinary continues. As a Certified B Corporation®, the company is committed not only to be the best in the world, but to be the bestfor the world by supporting cacao growing communities and using 100% fair trade certified chocolate, reducing toxins in the environment by sourcing organic ingredients, whenever possible, and continuing to make extraordinary seasonal and everyday chocolates for all to enjoy. Lake Champlain Chocolates are available at their three company-owned stores in Vermont, nationwide at specialty stores and grocers, and online at Amazon andhttp://www.lakechamplainchocolates.com/.