GimMe Snacks Debuts New Sea Salt & Avocado Oil Roasted Seaweed Snack Flavor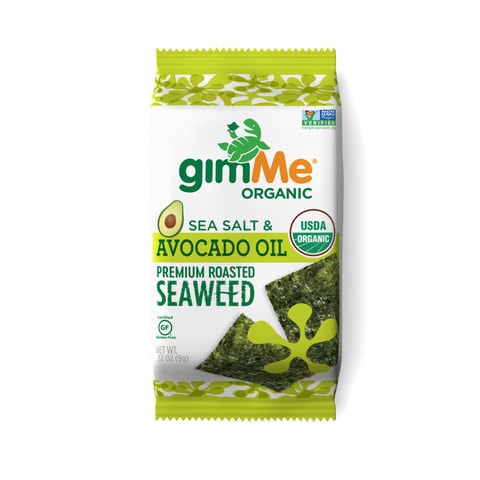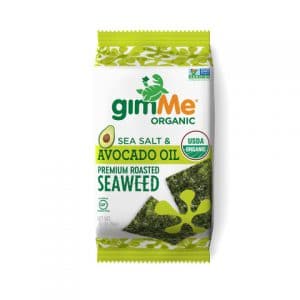 SAN RAFAEL, Calif.– Top organic seaweed snack brand, gimMe Snacks, has announced the debut of their new Sea Salt & Avocado Oil Roasted Seaweed Snack flavor. Continuing to bring the benefits of nutrient-packed seaweed to everyday snacking, the brand is excited to share the new flavor alongside its existing product line of premium USDA Organic, Non-GMO, and Gluten Free products.
Further establishing themselves as leaders in the category, gimMe is first seaweed snack brand to offer an avocado oil product. This premium organic seaweed is roasted to crispy perfection using organic rich and buttery avocado oil and topped off with a sprinkle of sea salt – just three ingredients that make for a delicious and savory snack. The addition of Sea Salt & Avocado Oil Roasted Seaweed was inspired by consumer trends and all the associated health benefits, including the high levels of oleic acid (fatty acid providing numerous health benefits), Lutein (antioxidant), and more. GimMe's Sea Salt & Avocado Oil Roasted Seaweed Snacks are now available in 9g single packs and 4.5g 6-packs in all stores where gimMe is sold and online.
"We're very excited about the debut of our new Sea Salt & Avocado Oil Roasted Seaweed Snack flavor," says Steve Broad, Co-Founder and CEO of gimMe. "The launch of this category-first flavor further reinforces gimMe's position as a leading brand within the premium snacks segments. We are thrilled to incorporate this trending healthy ingredient into our portfolio as a way to entice even more consumers to try and love seaweed!"
About gimMe
Based in Northern California, gimMe is the pioneering healthy snack brand that harvests and curates the world's best tasting, healthy organic seaweed-based snacks. gimMe's seaweed is grown organically, thoughtfully, and sustainably in in agriculturally protected regions off the South and West coasts of Korea- ensuring superior nutrition and delicious taste. GimMe was founded by visionary food entrepreneurs Annie Chun and Steve Broad who, in 2012, recognized an opportunity to adapt a traditional yet convenient and healthy Korean favorite to a healthy snack in flavors that would entice American palates. Annie and Steve's vision, combined with their expertise gained in building the most successful Asian inspired packaged food brand, Annie Chun's, has led to gimMe becoming the #1 seaweed snack brand driving the growth of the entire category. In Korea, crispy seaweed is known as "gim"– and because it's so good everyone always wants more! Learn more about gimMe at gimmehealth.com and on social media: on Facebook at gimMe Seaweed and on Instagram at @gimmegrams.
For More Information
amazon.com/dp/B085297RRN/ref=dp_prsubs_1