Enlightened Teams Up with Delish to Launch New Keto Collection Flavor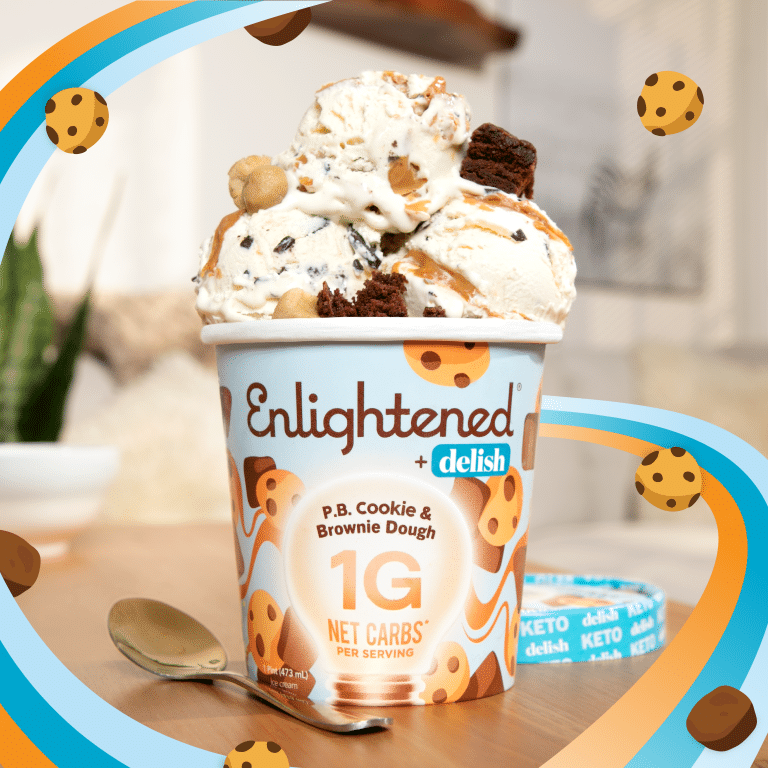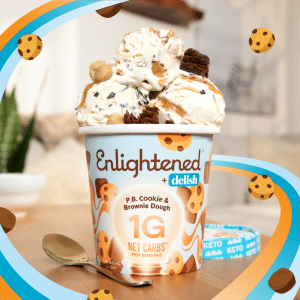 NEW YORK— Enlightened is teaming up with Delish, the largest digital food media brand, in a deal licensed by Hearst Brand Development, to bring low-carb ice cream lovers the indulgent flavor of their dreams with the release of P.B. Cookie & Brownie Dough Keto Collection flavor, available exclusively at Whole Foods Market.
P.B. Cookie & Brownie Dough by Delish is a dreamy pint of creamy vanilla ice cream packed with peanut butter cookie dough, brownie dough, chocolate chips and a rich peanut butter swirl. Consistent with all Keto Collection flavors, each serving has only one gram of net carbs per serving and less than one gram of sugar.
P.B. Cookie & Brownie Dough is gluten-free and made with cream to hit the high-fat, low-carb nutrition target on keto. Enlightened's ice cream uses monk fruit and erythritol, zero-calorie natural sweeteners that won't cause spikes in blood sugar.
"For years, Delish fans have loved hearing about our new products, especially our lowest-carb options. We couldn't imagine a better way to celebrate our dessert-loving communities than to come together to create the most whimsical keto-friendly ice cream in the aisle," Enlightened founder and CEO, Michael Shoretz said.
"Over at Delish, we have seen the low-carb audience grow tremendously in the last few years," Joanna Saltz, Editorial Director of Delish, added. "Our team works hard to bring readers keto recipes that make one forget they're ditching carbs, and it's working. Keto recipes and videos are the top viewed and searched on our site. This alignment with Enlightened is the perfect way to help those cutting carbs to still have a sweet treat."
Starting today, for the next 30 days, Enlightened is donating 50 percent of profits from EatEnlightened.com to #GetUsPPE, a mission to help provide healthcare workers with the essential gear for working on the frontlines of the COVID-19 pandemic.
Find P.B. Cookie & Brownie Dough (MSRP $5.99) at a Whole Foods near you or order online through EatEnlightened.com, Amazon Fresh and Whole Foods delivery partners.
About Enlightened
Enlightened is the first and largest brand within Beyond Better Foods, a New York City-based company founded by Forbes Under 30 alum Michael Shoretz in 2012. One of the fastest-growing brands in the frozen dessert category, Enlightened was one of the first low-calorie, low-sugar ice creams on the market. The brand is widely distributed in US retailers, such as Whole Foods, Walmart, Kroger, Shoprite, Publix and Target. Enlightened is recognized for producing innovative feel-good frozen desserts, including its dairy-free and vegan line introduced in 2018 and the Keto Collection in 2019. Shoretz founded Beyond Better Foods from inspiration from his personal training clients' desire for healthy alternatives to their favorite sweet, salty, spicy and savory treats. Beyond Better Foods now includes Enlightened, Bada Bean Bada Boom and Cloud10. For more information on Enlightened, visit eatenlightened.com.
About Delish
Celebrating easy ways to incorporate the fun of food into everyday life, Delish.com is the destination for recipes, videos and the latest food news that get people excited to cook. Delish is the fastest-growing food media brand on the internet with more than 41 million unique monthly visitors and 5 billion video views a year. From turning their tasty recipes into life to reviewing the hottest trends, the site's popular short-form videos can rack up to 11 million views in just 24 hours and favorites have been shared hundreds of thousands of times. Delish features a broad range of exciting content covering the food and beverage industry, making the site a go-to source for people who love food. Delish.com is published by Hearst Magazines, a unit of Hearst, a leading global, diversified media, information and services company with more than 360 businesses. Hearst Magazines is one of the world's largest publishers of magazine media across all platforms, with print and digital assets reaching a combined audience of 146 million readers and site visitors each month, including over 73 percent of all women and more than three-quarters of millennial women in the country. The company publishes more than 300 editions and 240 websites around the world, with more than 25 titles in the U.S.
For More Information
eatenlightened.com
Like what you're reading?
Subscribe to BevNET+NOSH Today
Subscribe today and get access to the leading industry resources in the food &amp beverage industries. News, trends, industry data, expert analysis and much more.
Access all of these benefits:
Unlimited access to all content on BevNET.com and NOSH.com
Exclusive access to hundreds of educational videos
Watch subscriber-only live programs such as Office Hours