DeeBee's Organics Launches Disney's Frozen 2 Product Offering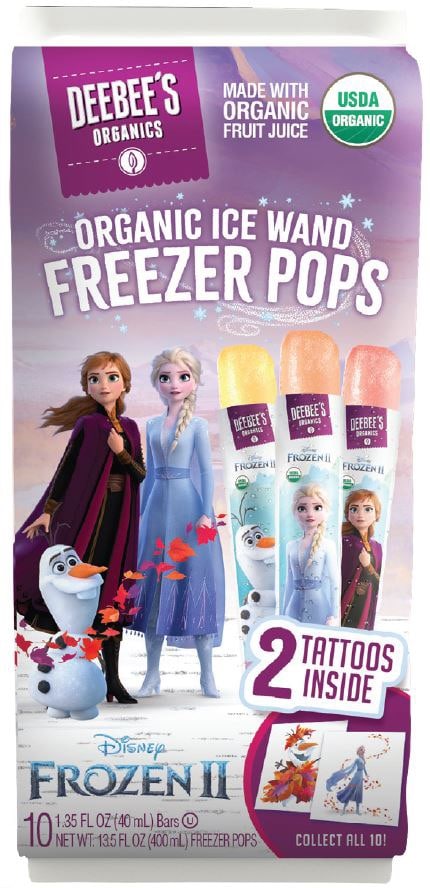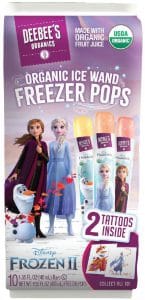 VICTORIA, British Columbia– DeeBee's Organics Inc, makers of clean-label, shelf-stable freezer pops, is set to launch a product line featuring the beloved characters of Disney's Frozen 2. DeeBee's Organics newest shelf-stable product, DeeBee's Organic Ice Wands featuring Disney's Frozen 2 will launch across North America in over 5000 stores, including Wegmans, Big Y, and select Kroger locations for the month of April.  DeeBee's had intended to debut the USA launch at Natural Products Expo West.
DeeBee's founder and CEO, Dr. Dionne Laslo-Baker, has been working on the Disney Frozen 2 opportunity with Disney since 2018.
"I was very impressed with the "Mickey Check."  Disney takes nutrition labelling very seriously – especially when it comes to children's snacks. They have strong guardrails around things like sugar content,. As a medical scientist whose former research focused around child health and environmental toxins, that really impressed me."
In 2006, The Walt Disney Company became the first major media company to establish a Nutrition Guideline Policy in North America to associate its brands and characters with a more nutritious portfolio of foods and beverages. The Mickey Check is a quick and easy way for families to identify healthier food and beverage options in stores, on-air, on-line, at Disney theme parks and resorts, and other places where Disney products are sold. Foods and recipes that feature the Disney Check adhere to the rigorous Disney Nutrition Guideline Criteria.
Certified Organic and made with real fruit juice and a touch of cane sugar, DeeBee's Organic Ice Wands featuring Disney's Frozen 2 contain nothing artificial and have no added colors. The product has under 5g total sugars and 20 calories per pop.
"As a mom, I was really happy to make this product for families," says Laslo-Baker. "I can't tell you how excited kids get when they see it. A lot of parents (myself included) will not give their children conventional freezer pops that are laden with artificial color, flavor, and artificial or high sugar content. I think children mostly raised on foods from the natural food section get particularly excited about getting to have a treat with Elsa or Olaf on it".  It's a nice win-win for the whole family. It also introduces something new and modern to the freezer pop category."
DeeBee's Organic Ice Wands featuring Disney's Frozen 2 will begin to hit stores in April. This shelf-stable, freeze-at-home 'freezer pop' is purposely designed for easy summer-seasonal retail, with whimsical shoppable displays featuring 'life-size' characters from the film. It will retail in a 3-flavor, retail package of 10 organic pops, bearing designs that feature Disney's Frozen 2 characters Anna, Elsa, and Olaf.
"As we all know, modern parents' buying habits are rapidly changing. But something that never changes is wanting to make your kids happy. If we can create a treat that makes children jump up and down in the grocery aisle, and their moms feel great about it too, we know we have a winner."
About DeeBee's Organics
DeeBee's Organics innovates fun, conscious treats for modern families. Their flagship SuperFruit Freezie hit the USA grocery market in 2017 to huge success. Made with 100% organic fruit juice and puree, and no other sweeteners, it's a delicious treat for the whole family. It's also shelf-stable, making it a dream to retail and perfect for seasonal grocery programs.
A certified women-owned business, DeeBee's was founded in 2014 by PhD scientist Dr Dionne Laslo-Baker, whose research centered on child health and the impacts of environmental toxins. Built on a strong commitment to organics, DeeBee's is also a B-Corp dedicated to using their business as a force for good.