2020 WINTER FANCY FOODS COVERAGE IS SPONSORED BY:
Chuao Chocolatier Launches Golden Goodness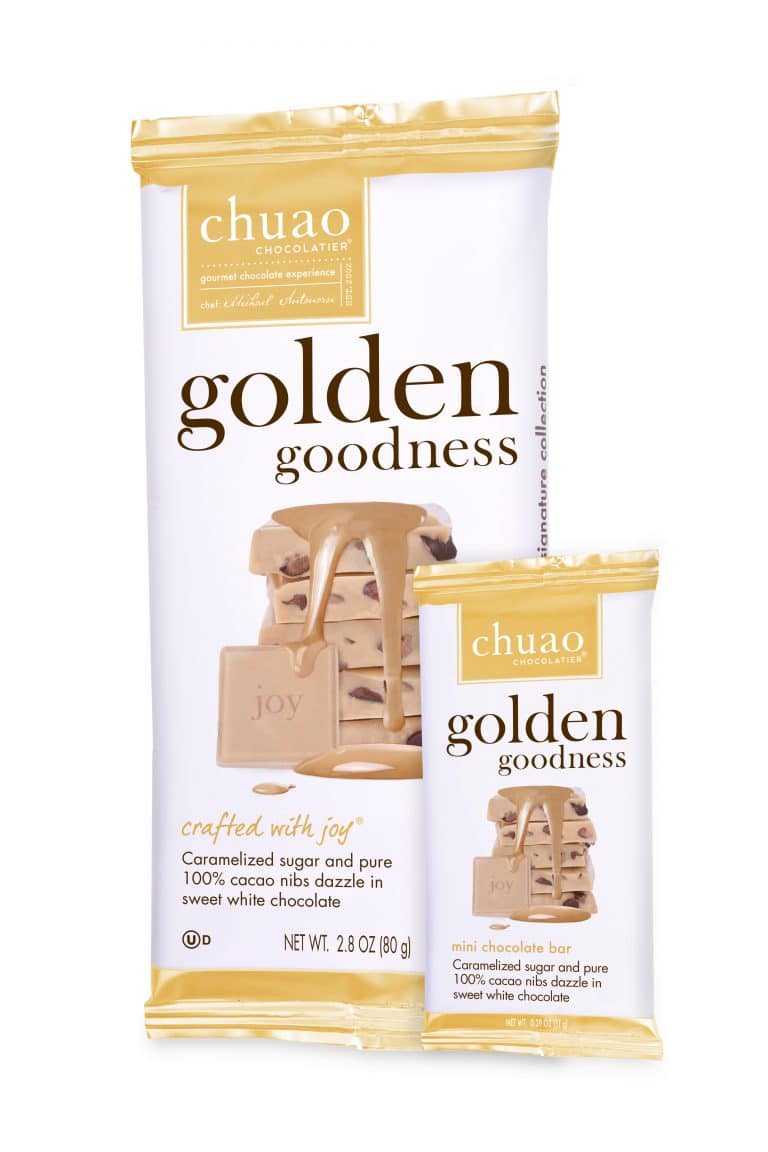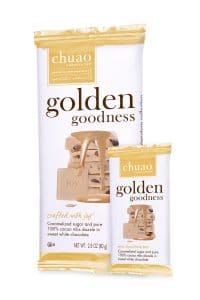 SAN DIEGO– Chuao Chocolatier, maker of culinary-driven, responsibly sourced chocolate confections, has announced a deliciously irresistible addition to its current product portfolio, Golden Goodness. They will be launching and sampling at the Winter Fancy Food Show 2020 (booth #5954).
Chef Michael refers to the bar's inspiration as, "the coming together of extreme opposites into a wonderful dance of flavor and texture." Caramelized sugar and pure 100% cacao nibs dazzle in sweet white chocolate. "It is not too sweet and not too bitter, a wonderful experience of contrasts." Available in 2.8oz chocolate bars and .39oz mini chocolate bars.
GOLDEN GOODNESS: The California coast strikes gold again! This time it's delicious. We took silky white chocolate with caramelized sugar and mixed in pure 100% cacao nibs to bring you crunchy, sweet Golden Goodness. With each bite, think to yourself: you're gold baby, solid gold.
Golden Goodness will be available at our HQ boutique in Carlsbad, California and online at ChuaoChocolatier.com. A curated selection of the brand's signature line of chocolate bars are available at Whole Foods Market, Kroger, Wegman's, and more. For more information, please visit our where to buy page.
About Chuao Chocolatier
Chuao Chocolatier was co-founded in 2002 by Venezuelan Master Chocolatier Chef Michael Antonorsi and his brother Richard Antonorsi. Named a Top 10 Chocolatier in North America by Dessert Professional Magazine, Chuao Chocolatier is on a mission to share joy with the world through deliciously engaging chocolate experiences. Chuao offers milk and dark chocolate bars, mini chocolate bars, perfect for travel or a portion-controlled dose of chocolate love, drinking chocolates, bonbons, truffles, and other gourmet confections. Committed to creating sophisticated, award-winning flavors using a proprietary blend of premium, Fair Trade CertifiedTM chocolate, and high-quality ingredients, Chuao crafts chef-inspired chocolates in an exceptional assortment of flavor combinations, including salty, uncured bacon in milk chocolate, crisp kettle-cooked potato chips with smooth milk chocolate, and toasted panko breadcrumbs in delectable dark chocolate. Chuao Chocolatier's products are available at fine grocery and specialty retailers nationwide, as well as at ChuaoChocolatier.com and the company's Southern California boutique.
To find your joy, visit ChuaoChocolatier.com
For More Information
chuaochocolatier.com/collections/bars