Bobo's Launches Second Annual Pride Bar In Partnership With PFLAG National And The Center On Colfax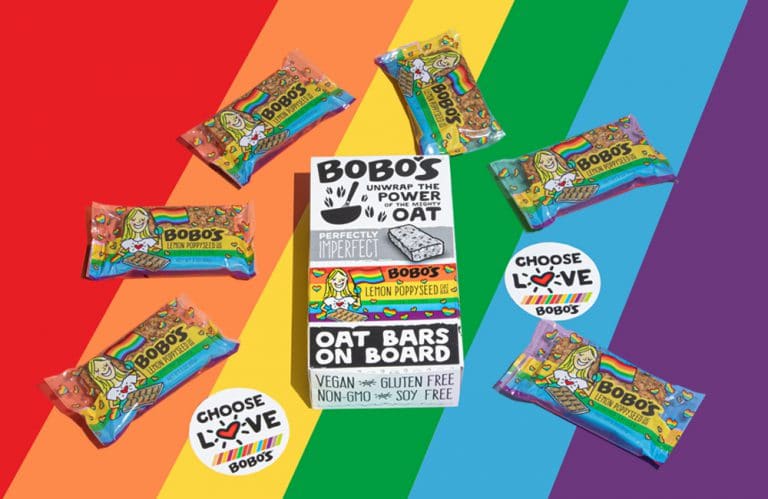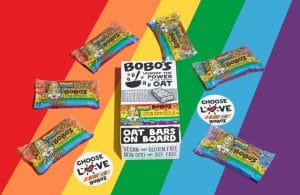 BOULDER, Colo.– Love is at the center of everything at Bobo's, the Colorado-based maker of simple, delicious bars and snacks, from the heart they put into handmaking their bars, their day-to-day interactions with each other, and their work with community partners. To celebrate and give back to the LGBTQ+ community for the second year in a row, Bobo's is baking their delicious limited-edition Lemon Poppyseed Pride Bar in a new national partnership withPFLAGNational, and continued partnership with local Colorado non-profit, The Center on Colfax. All year round 100% of the proceeds from every purchase of the bar will help provide critical resources and support to LGBTQ+ individuals and families.
At Bobo's, the team believes in pouring their heart into everything they do and loving everyone like family no matter who they are or who they love. Bobo's hope for this initiative is to illustrate inclusion, acceptance and above all else – love, towards others. 'Love wins' goes beyond just loving those around you but also embracing and celebrating everyone for who they are. Working with The Center along with PFLAG truly aligns with Bobo's passion for equality and making people feel welcome. The Center on Colfax is a collaborative leader in creating a safe, healthy, inclusive, equitable and affirming Colorado for all LGBTQ community members. The organization works to further statewide initiatives to reduce harassment and discrimination. Fans of the brand can grab their own bar and join Bobo's during The Center's 'Virtual Denver Pride' on June 21. PFLAG is the first and largest organization for LGBTQ+ people and has over 200,000 members and supporters and aligns with Bobo's family values for making the world a more respected and valued place for all.
"Our team is so thrilled to have the opportunity to connect with organizations that spread our mission of loving others like family," said TJ McIntyre, CEO of Bobo's." The work that The Center and our national partner do have helped to give a voice to the LGBTQ+ community and we are honored to help them in their endeavors all year long."
"We are so happy to be partnering with Bobo's for a second year to support our efforts and our local LGBTQ+ voices," said Rex Fuller, CEO at The Center on Colfax. "We are thankful to have a community partner that truly encourages our mission through the work that they do."
"With Pride celebrations and community gathering places shuttered as a result of the Covid-19 crisis, it is important for the parents, families, and allies of LGBTQ+ people—from PFLAG members to businesses like Bobo's—to proudly share our support," said Brian K. Bond, Executive Director of PFLAG National. "PFLAG is grateful for Bobo's partnership, which will help enhance our education, support, and advocacy efforts nationwide."
The limited-edition Lemon Poppyseed Pride Bar is available online through Bobo's and The Center on Colfax's websites all year long. The bars are available in a six-pack for $14.94. For more information on Bobo's and the pride bar, please visit www.eatbobos.com/pride. For more information on The Center on Colfax and how you can support their organization, please visit  www.lgbtqcolorado.org. To find out more about the work PFLAG is doing and how you can support their work please visit www.pflag.org.
About BOBO's
Bobo's has been making people everywhere feel like family with fresh-baked, wholesome snacks since 2003 when BOBO and her mother decided to whip up their favorite homemade oat bar recipe in their Boulder, CO kitchen. Sticking true to the brand's beginnings, every Bobo's treat is still made with an extra helping of love using the same recipe, the same pan, in the same small-batches, and the same simple wholesome ingredients found in your everyday kitchen. Today, the Bobo's family of products include the original bars and has expanded with oat bites, nut-butter filled bars, toaster pastries, stuff'd bites and nut butter protein bars that can be found in natural and conventional grocers around the country. Every healthy Bobo's treat is still 100% gluten free, kosher, and non-GMO certified. To learn more about Bobo's and how the brand stays committed to feeding everyone like family, visit eatbobos.com or follow @eatbobos on social media.
About PFLAG
PFLAG is the first and largest organization for lesbian, gay, bisexual, transgender, and queer (LGBTQ+) people, their parents and families, and allies. With over 400 chapters and 200,000 members and supporters crossing multiple generations of families in major urban centers, small cities, and rural areas across America, PFLAG is committed to creating a world where diversity is celebrated and all people are respected, valued, and affirmed. To learn more, visit pflag.org, like us on Facebook (/pflag), or follow us on Twitter (@pflag) or Instagram.
About The Center on Colfax
The Center on Colfax opened in 1976 has grown to become the largest LGBTQ community center in the Rocky Mountain region, giving voice to Colorado's lesbian, gay, bisexual, transgender, and queer (LGBTQ) community and playing a pivotal role in statewide initiatives to reduce harassment and discrimination. Today we are focused on fulfilling our mission by ensuring that every member of the LGBTQ community has access to the programs and resources they need to live happy, healthy, and productive lives.
For More Information
eatbobos.com/collections/oat-bars/products/pride-bar-lemon-poppyseed-oat-bar
Like what you're reading?
Subscribe to BevNET+NOSH Today
Subscribe today and get access to the leading industry resources in the food &amp beverage industries. News, trends, industry data, expert analysis and much more.
Access all of these benefits:
Unlimited access to all content on BevNET.com and NOSH.com
Exclusive access to hundreds of educational videos
Watch subscriber-only live programs such as Office Hours