Belgian Boys Launch Ready-Made Fresh Crêpes and Bite-Sized Pancakes in Select Walmart Stores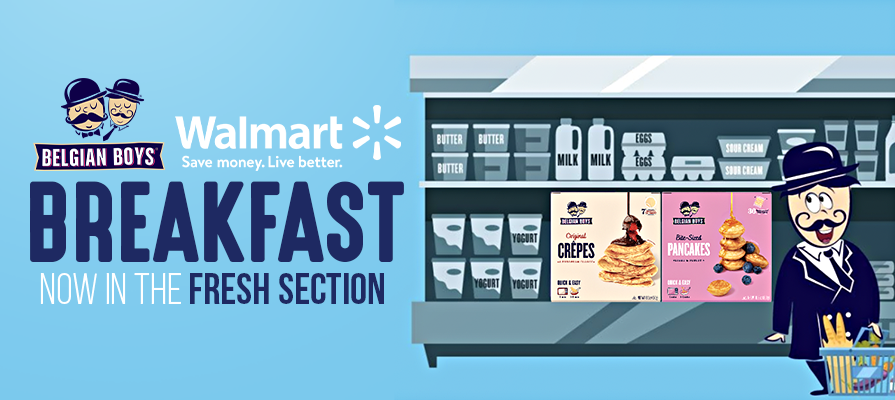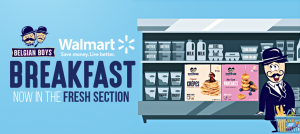 BROOKLYN, N.Y.– The Brooklyn-based food startup Belgian Boys is bringing new breakfast options to Walmart shoppers in the New York and South East markets, with crêpes and bite-sized pancakes joining the chilled breakfast options found on the highly-shopped refrigerated perimeter of the store. The move follows a successful sales test of the two products in a Walmart incubator program in 2019 and 2020.
"Retailers in the U.S. traditionally sell breakfast items as frozen, but growing up in Belgium you would always find these items sold chilled," said Belgian Boys co-founder Greg Galel. "We saw this placement resonate very well with Costco shoppers in the Bay Area where we have had several successful rotations of breakfast items sold refrigerated as opposed to frozen."
Belgian Boys trialed the products in 65 Walmart stores in 2019 and 2020, and exceeded velocity expectations. The fresh breakfast set, a high-traffic area of the store, represents a huge opportunity: The 2020 State of the Specialty Food Industry Report showed the refrigerated category was the fastest-growing specialty food retail department, with an 11% growth rate. The Belgian Boys ready-made crêpes and bite-sized pancakes will be merchandised in Walmart's refrigerated dough section, where biscuits and crescents are typically carried.
"At a moment when we are seeing a significant uptick in refrigerated foods sales, our heat-and-serve crêpes and bite-sized pancakes offer a breakfast that was previously only available on the weekend, but is now easy enough for every day," says Belgian Boys CEO Anouck Gotlib. "Consumers are looking for a convenient breakfast that is a bit of an indulgence—without throwing their preference for natural, premium ingredients out the window. We are thrilled to partner with Walmart to deliver such products."
Belgian Boys bite-sized pancakes and crêpes are made in Belgium with Non-GMO, premium ingredients, are Kosher certified, nut free, and contain no high fructose corn syrup, artificial flavors, colors, or preservatives.
About Belgian Boys
Our story begins with Skinny & Chubby, two childhood friends transplanted as adults in New York City, where the world was at their fingertips—but the delicious European goodies of their youth were nowhere to be found. They dreamed of introducing America to treats made from premium, whole-food ingredients, with just the right touch of sweetness and the feeling of home: From this snack nostalgia, Belgian Boys was born. Skinny and Chubby now manufacture delights for every time of day, from breakfast to dessert, all made in Europe for sharing worldwide. With whimsical "disruptive" packaging, indulgent flavors, and a dose of fun in every sweet, join the Belgian Boys as they stir up trouble and share their love for authentic European treats.