88 Acres Releases New Line of Seed-Based Dressings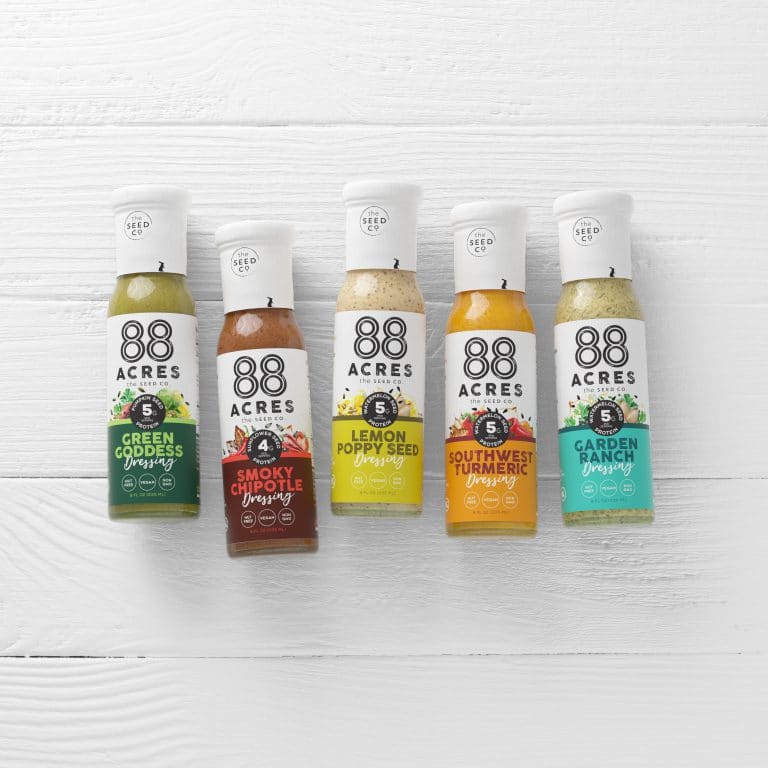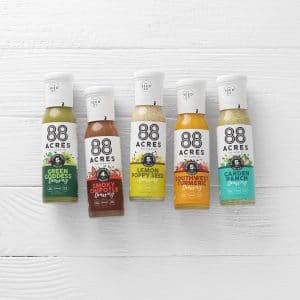 BOSTON— 88 Acres, the seed-based food company known for its simple ingredients and allergy friendly Seed Bars, Seed Butters, Seed'nola, and Protein Bars, is moving beyond the snack category. Their new line of seed-based and protein-rich Dressings comes in five unique yet familiar flavors that are packed with powerful nutrition.
88 Acres' new Dressings are powered by a base of sunflower, pumpkin, or watermelon seeds to achieve up to 5 grams of plant-based protein per serving. "Whether you follow a Whole30 diet, want to eat less meat, or you just want to get more plants into your diet," says 88 Acres CEO and Co-founder Nicole Ledoux, "our Dressings make a plate or bowl of fresh produce more satiating and allow you to get way more out of them." 88 Acres Dressings are the first of their kind to contain protein in the bottled, shelf-stable dressing aisle.
"Most shelf-stable salad dressings are filled with gums, preservatives, and a bunch of things that are not real food," says Ledoux. "On top of that, they are nutritionally devoid. We saw an opportunity to create something with seeds as the number one ingredient that was packed with nutrients and real food." As with all 88 Acres products, their new shelf-stable Dressings are made without any preservatives or artificial ingredients.
All five flavors of 88 Acres' versatile Dressings are great on the traditional green salad, but can also be used as a dip, sauce, or marinade. In this new line of Dressings, 88 Acres is reinventing a few classics with their Lemon Poppy Seed, Green Goddess, and Garden Ranch flavors. The brand is also releasing two spicier flavors––Smoky Chipotle and Southwest Turmeric––that lend themselves well to heartier meals like grain bowls, bean salads, and tacos.
All of 88 Acres new Dressings are rich in protein, iron, fiber, and healthy unsaturated fats, with most containing zero grams of added sugar as well. They are made in 88 Acres' dedicated Bakery in Boston that is free of peanuts, tree nuts, gluten, dairy, eggs, soy, and sesame. All of their products are Certified Gluten-Free, Non-GMO Project Verified, Kosher, and Vegan.
88 Acres Dressings are currently available in 8-oz bottles for $7.99 each. They are currently available exclusively online at 88acres.com and will be available nationwide at Whole Foods later this month.
Additional Information
To learn more about 88 Acres, or to buy the Dressings online, visit 88acres.com. For recipe ideas and ways to use their Dressings, visit their blog and follow them on social media @88acres.
About 88 Acres
88 Acres crafts nutritious seed-based foods made with simple ingredients that everybody can enjoy. All 88 Acres foods are free of peanuts, tree nuts, gluten, dairy, eggs, soy, and sesame.