Three Sisters Debuts New Look for Barbara's Cereal Portfolio, New Mom's Best Granola Line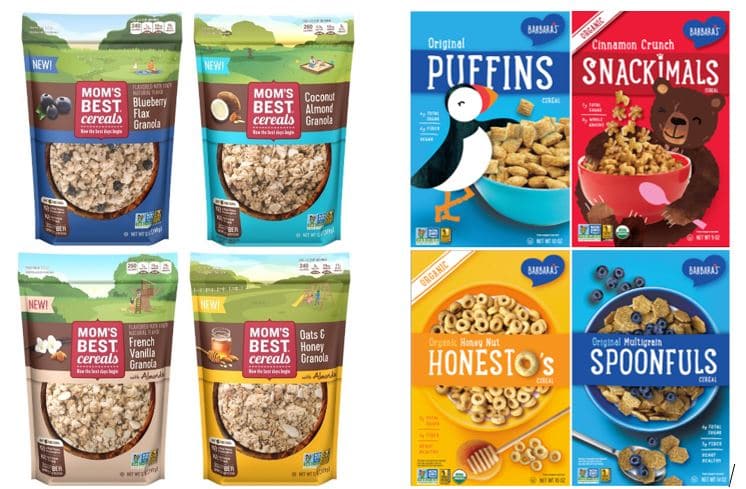 LAKEVILLE, Minn.– Barbara's, one of the original brands that pioneered the natural cereal space, is unveiling a bold new look for its entire portfolio of Non-GMO Project Verified whole grain cereals, including the beloved Puffins line, at Natural Products Expo West. Featuring a more minimalistic aesthetic, the new look showcases vibrant, bright colors, new typefaces and a focus on the display of ingredients across all Barbara's cereal boxes. With eye-popping design and a redesigned Puffin with a more animated demeanor, the rebrand will roll out on shelves this Summer 2019. In addition, Mom's Best, creator of fun, great-tasting cereals made with honest-to-goodness ingredients, is expanding its line with the introduction of Mom's Best Granola and the reintroduction of former fan-favorite, Safari Cocoa Crunch. Also Non-GMO Project Verified with no artificial flavors, preservatives, or high fructose corn syrup, the new line of high-quality, value-priced granola comes in four mouthwatering flavors, including Oats & Honey, French Vanilla, Blueberry Flax and Coconut Almond—on shelves now. Attendees are encouraged to visit the Three Sisters booth 915 in hall A to see a sneak peek of the new Barbara's rebrand and taste the flavorful new Mom's Best cereals.
"As one of the leading cereal brands in the natural channel for over 40-years, we understand the importance of staying cutting-edge and offering fresh new takes on the traditional," said Three Sisters brand manager, Michelle Gomez. "This applies to more than just ingredients, and in looking at the natural cereal set we saw an opportunity to standout by infusing more life, vibrancy and joy through our packaging. We'll always remain true to the delicious flavors and innovative spirit that Barbara's has embraced since day one, but we also understand the importance in listening to our dedicated fans and evolving to better serve them. In addition, we wanted to offer greater convenience, taste, and value through our Mom's Best platform for busy moms and families—without sacrificing ingredient integrity—so are excited to introduce this new line of classically-inspired granola."
Packed with wholesome ingredients and a good source of fiber, with 17 g – 32 g of whole grains per serving and no artificial flavors or preservatives, hydrogenated oils, high fructose corn syrup or trans-fat— additional details of the new Mom's Best Granola line include:
Oats & Honey Granola: This classic blend of whole grain rolled oats, almonds and sweet honey is perfect as a topping or just to eat straight out of the bag.
French Vanilla Granola: An ultimate combination of whole grain rolled oats, almonds, and tasty deliciousness, experience the sweetness of vanilla, punctuated by the crunch of the granola and brighten up your breakfast with this delectable treat.
Blueberry Flax Granola: Elevate your morning (or evening!) with this delightful blend of whole grain rolled oats, flax and sweet blueberries, and never look back to a bland breakfast again.
Coconut Almond Granola: Send your taste buds on a mini vacation with whole grain rolled oats, crunchy almonds and toasted coconut—perfect to enjoy as breakfast or on-the-go for your next adventure.
Additionally, back by popular demand is Mom's Best's Safari Cocoa Crunch. A naturally flavored sweetened corn puff cereal with real cocoa, this gluten-free, mouthwatering delight is perfect for those looking for a sweeter breakfast offering, while providing a better-for-you option than mainstream cereals, with no high-fructose corn syrup, artificial flavors or preservatives.
All Three Sisters offerings provide better choices for people who want to eat smarter, balancing delicious with nutritious. Barbara's offers a full line of wholesome cereals and snacks—including popular consumer favorites like Puffins, Morning Oat Crunch and Spoonfuls cereals, Snackimals cereals, Cheese Puffs and more. Mom's Best offers cereals, granola and oatmeal that are delicious, affordable and free of artificial flavors or preservatives. Each line is available at major retail grocery stores and natural food stores nationwide. For more information about Barbara's or Mom's Best, visit Barbaras.com, MomsBestCereals.com or follow the brands on Facebook (@BarbarasBakery, @MomsBestFanPage) and Instagram (@BarbarasBakery, @MomsBestCereal).
About Barbara's
Barbara's was founded by a teenager with a passion for creating great-tasting food from simple, wholesome ingredients. Today the company sells cereals like Puffins and snacks in natural food and mainstream grocery stores nationwide. Barbara's is also committed to making positive contributions to the world with donations to national nonprofit organizations, including the National Audubon Society's Project Puffin. For more information, please visit www.Barbaras.com or visit Barbara's on Facebook, Pinterest and Instagram.
About Mom's Best
Created for busy, on-the-go families that don't want to sacrifice flavor, value, or nutrition for convenience, Mom's Best offers fun, great-tasting cereals, granola and oatmeal made with honest-to-goodness ingredients. A delicious, affordable and environmentally friendly way to do what is best for the people around your breakfast table and around the planet, all Mom's Best offerings are created with no artificial flavors or preservatives, no hydrogenated oils and no high fructose corn syrup. For more information, please visit MomsBestCereals.com, or follow the brand on Facebook or Instagram.
About Three Sisters Cereal
Providing easy ways to eat a little smarter, Three Sisters was created when three companies came together to provide a wide range of sensible, sustainable and delicious choices, so every person can pick their own healthy path forward. The diverse portfolio of better-for-you brands include Alpen, Barbara's, Mom's Best, Peace Cereal, Sweet Home Farm, Uncle Sam and Weetabix USA. To learn more, visit ThreeSistersCereal.com.