The Watkins Company To Introduce New Spices, Extracts, Baking Vanilla at Expo West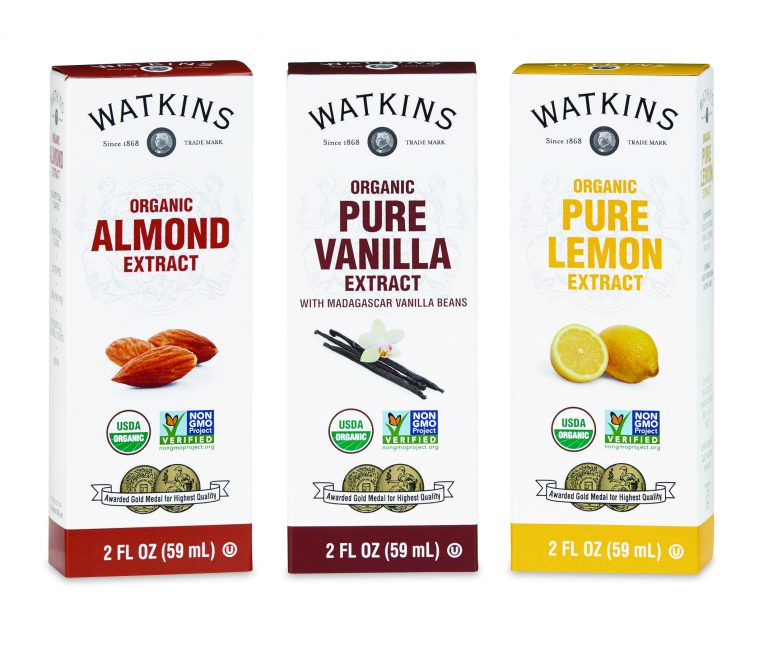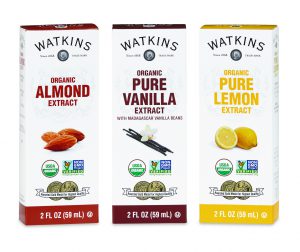 WINONA, Minn.— The Watkins Company is excited to unveil its newest all-natural, high-quality products at Natural Products Expo West, March 5–9 in Anaheim, California: a new line of organic spices and blends, organic extracts and a first-to-shelf All Natural Baking Vanilla Extract. Based in Winona, Minnesota, the reputable gourmet flavors company has upheld its commitment to making tried-and-true, award-winning products for more than 150 years.
New Organic Spice Line
Watkins' new organic spices and spice blends are made with the highest-quality, USDA Organic Certified and Non-GMO Project Verified herbs and spices. The products are free from unsafe and unnatural ingredients, including dyes, high-fructose corn syrup and added MSG. Watkins sources only the freshest spices and herbs from trusted growers that follow sustainable standards to ensure the best organic flavor in every meal. The organic spices will have glass packaging, which not only protects the aroma and flavor of the spice, but also is the most sustainable and reusable packaging option.
The Organic spices and blends line includes spices and spice blends in 40 varieties, including Organic Ground Pepper, Organic Ground Cinnamon, Organic Cilantro and more. The spices are available in 5-inch glass bottles and have an SRP of $4.99 to $6.99.
New All Natural Baking Vanilla Extract
Watkins' new All Natural Baking Vanilla™ Extract is the first all-natural alternative to pure vanilla on the market. Watkins only buys the best grade of Madagascar Bourbon vanilla beans to make this exquisite vanilla with its rich aroma. Unlike high-alcohol vanilla extracts, this award-winning, low-alcohol, bake-proof, freeze-proof formula retains delicious flavor that does not evaporate when baking or freezing. With extra rich gourmet flavor, this extract enhances recipes like chocolate chip cookies, cakes and much more. With no artificial flavors or colors, GMOs, corn syrup or gluten, Watkins new All Natural Baking Vanilla Extract is available in a 2 fl. oz. size with an SRP of $5.99.
New Organic Extract Line
More than just delicious, Watkins organic extracts deliver pure flavor, free from GMOs, gluten and corn syrup. Made from natural ingredients in trend-forward flavors, they are perfect for your favorite baked good recipe or hot beverage.
The organic extracts are available in three varieties: Organic Pure Vanilla Extract, Organic Almond Extract and Organic Pure Lemon Extract. All three products are available in a 2 fl. oz. size and have an SRP of $5.99-$10.99.
Expo West – Booth #871
The Watkins Company will have its organic spice and blends line, All Natural Baking Vanilla Extract and organic extract line available at its Expo West booth (#871), held at the Anaheim Convention Center, March 5–9. Please stop by to learn more about The Watkins Company and its newest products.
About The Watkins Company
Crafted in the USA since 1868…Naturally. Watkins is committed to making gourmet flavoring products from high-quality ingredients, meaning they have no artificial flavors, artificial colors, GMOs, corn syrup or gluten. From the bluffs high above the Mississippi River in Winona, Minnesota, comes the purity of The Watkins Company. Our tried-and-true products have been good and natural through and through since 1868. Watkins products are available at a variety of North American retailers. For more information visit www.Watkins1868.com and follow @Watkins1868 on Facebook and @Watkins.1868 on Instagram.