Stash Tea To Introduce Elderflower Citrus White Tea at Winter Fancy Food Show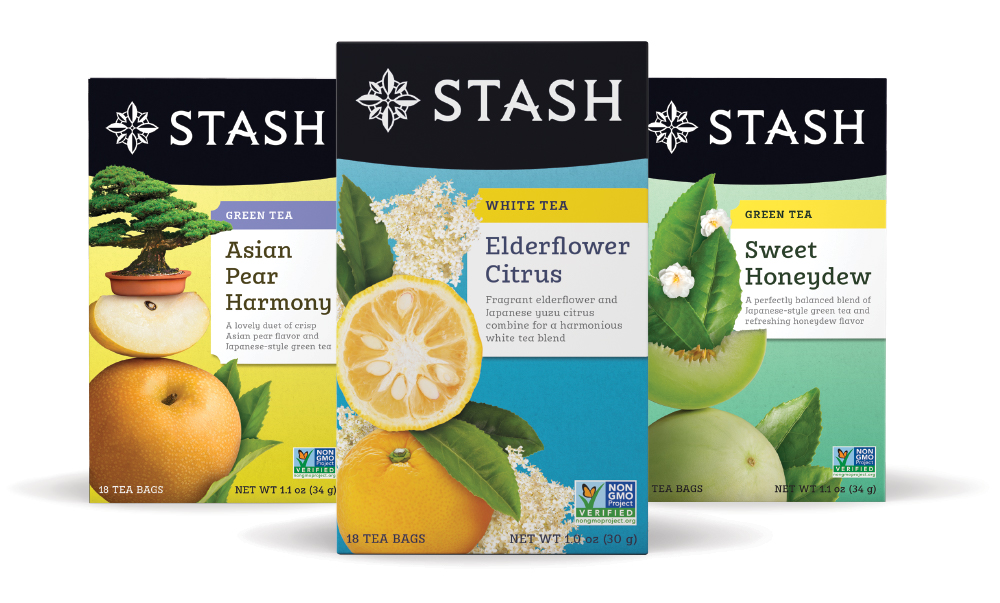 PORTLAND, Ore.— Stash Tea is unveiling a brand-new white tea—Elderflower Citrus—at the upcoming 2019 Winter Fancy Food Show. Guided by thriving consumer interest in floral flavors, Stash's teamakers spent countless hours carefully perfecting the subtle nuances of this special blend. This introduction expands the white tea category in Stash's line-up—a portfolio that includes a wide range of black, green, herbal and oolong teas.
Elderflower Citrus joins recently launched green teas Asian Pear Harmony and Sweet Honeydew, rounding out a unique trio of fruit-infused blends.Included in Stash's premium line of bagged teas, this artfully blended collection is Non-GMO Project Verified, Kosher and made with all-natural, gluten-free ingredients. Fragrant, fresh and fruity—these teas are perfect for seasoned tea drinkers looking for something different, as well as tea beginners looking for delightful flavors pleasing to a range of palates.
Elderflower Citrus
The soft and distinctly sweet floral flavor of elderflower blossom pairs perfectly with white tea. The bright flavor of Japanese yuzu adds a fresh citrus note for a well-rounded and inspiring blend.
Asian Pear Harmony
Simple but alluring, this light blend draws out the true beauty of Japanese-style green tea and juicy Asian pear. This tea will bring a melody to your heart and a calm to your soul.
Sweet Honeydew
The subtle flavor of Japanese-style green tea is a perfect complement for the sweetness of ripe honeydew melon. Enjoy this refreshing blend hot or over ice for a cooling summer treat.
These new teas will be showcased at the Winter Fancy Food Show, one of the largest specialty food industry trade events in North America, from Jan. 13 – Jan. 15, 2019, at the Moscone Center in San Francisco. Visitors can learn more and sample these premium teas at Booth 5661.
Elderflower Citrus launches exclusively on stashtea.com in mid-January and will be available at brick-and-mortar retailers in Spring 2019.
About Stash Tea
Known as a leader in innovative flavor blends, premium tea maker Stash Tea was founded in 1972 and is today a member of Yamamotoyama—the world's oldest family owned and operated tea company. For decades, Stash Tea has placed value on delicious and unique flavors, crafting hundreds of inspiring blends in addition to classic tea favorites. Drawing inspiration from a time when ships were tasked with transporting tea around the globe, the company is named after the captain's most valuable "stash" of tea. A nod to the brand's adventurous and worldly spirit, the compass logo is meant to inspire tea drinkers to look to their daily cup to help them discover their "true North" and a sense of balance in today's busy world. From the serene forests of Thailand to the misty hills of China, Stash responsibly sources high quality, all-natural ingredients from all over the world. Stash partners with farmers and suppliers who also believe that "doing it right" means more than just creating great tea; it is sourcing the best ingredients with the consumer and the planet in mind. As a Certified B Corporation, Stash cements their dedication to using thoughtful business actions by continuing to pursue green packaging, ethical sourcing, employee well-being and community involvement to impact positive change both globally and at a local level. Shop Stash teas at retailers throughout the United States and Canada and at stashtea.com.