Snackworthy Adds Two New Simply Puffs Flavors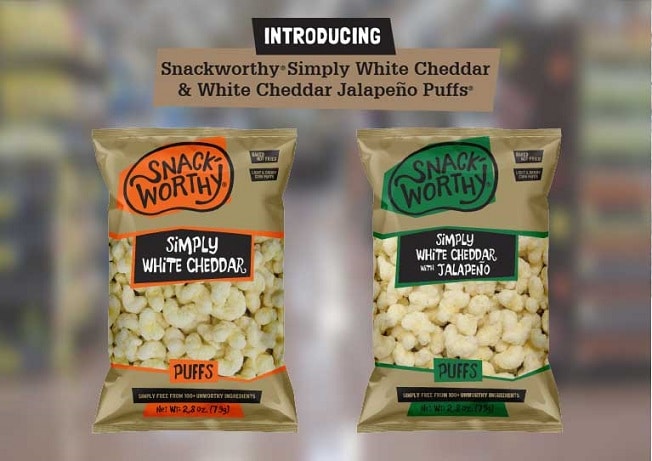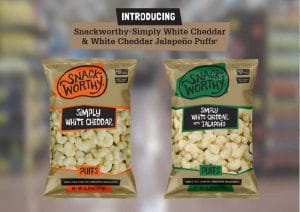 MESA, Ariz.–  Snackworthy, a line of high-quality, great-tasting and authentic better-for-you snacks, has launched Simply White Cheddar Puffs and Simply White Cheddar Puffs with Jalapeño, a line extension of its best-selling, award-winning corn puffs called Snackworthy Simply Puffs. The new puffs are uniquely delicious, light and crispy corn puffs coated with real aged white cheddar cheese and white cheddar cheese with jalapeño respectively. In step with the overall Snackworthy brand's better-for-you positioning, both products are gluten-free, baked not fried, have zero trans fat and are "Simply Free From 100+ Unworthy ingredients."
"These savory flavors join our popular line of Simply Puffs including Butter Toffee, Cinnamon Roll and Sea Salted Caramel flavors," said Christie Frazier-Coleman, VP of marketing for Lehi Valley Trading Company. "Consumers continue to reach for savory snacks in the grocery and convenience aisles — especially those with a kick. And when you factor in that these are better for you, better for your budget and better tasting, it's a win-win."
Puff Love
Puffs are extruded snacks that involve pushing combined ingredients through a mold or precision cut specifically designed for the food. Snackworthy seized the opportunity to create its innovative line of coated corn puffs in standout flavors that delivers a joyful snacking experience. And flavor expansion is a great way to appeal to a broader audience.
The overall Snackworthy line of snacks launched in 2016 after parent company Lehi Valley Trading Company, conducted extensive research on consumer purchasing behaviors and snacking inclinations to create a breakthrough line of snack foods.
The suggested MSRP is $2.99 to $3.99. Lehi Valley Trading Company also offers Simply Puffs for private labeling with these additional flavors:  butter toffee, cinnamon roll, caramel, sea salted caramel and coconut.
About Snackworthy
Part of Lehi Valley Trading Company, Snackworthy is a budget-friendly line of high-quality, great-tasting and authentic better-for-you snacks. The assortment includes:  nuts and seeds, dried fruit, candy, chocolate, popcorn, puffs, granola/snacks and trail mix. Snackworthy's brand positioning of "Real. Affordable. Snacks." delivers on  consumer preferences for an authentic value brand that is affordable, trustworthy, savvy, unique and memorable. The line has suggested retail price points of $1.99 to $5.99. Many of the snacks in the line offer additional nutritional benefits such as:  USDA organic, gluten free, whole grain, zero trans fat and sodium wise. To learn more, please visit snackworthy.com.
About Lehi Valley Trading Company
Lehi Valley Trading Company is a privately-owned premier snack food company with more than 30 years of extraordinary snack food excellence and a strong commitment to superior quality and unique, handcrafted products, exceptional customer service, rigorous food safety standards and its passionate employees. The SQF Level 2 certified company is equipped to handle the volume requirements of small, independent retailers to national chains. With a mission of "bettering lives by delivering quality snacks and tasty solutions," Lehi Valley Trading Company delivers all-in-one solutions to its customers. It serves its customers' entire snack food category needs via the benefits and value created by branded solutions, private labeling, innovative packaging design and smart merchandising solutions. The company packs hundreds of quality products in a variety of pack types, fresh to order and manufactures one-third of its products. To learn more, please visit lehivalley.com.