Simply 7 Snacks, Chef Giada De Laurentiis Launch Margherita Pizza Popcorn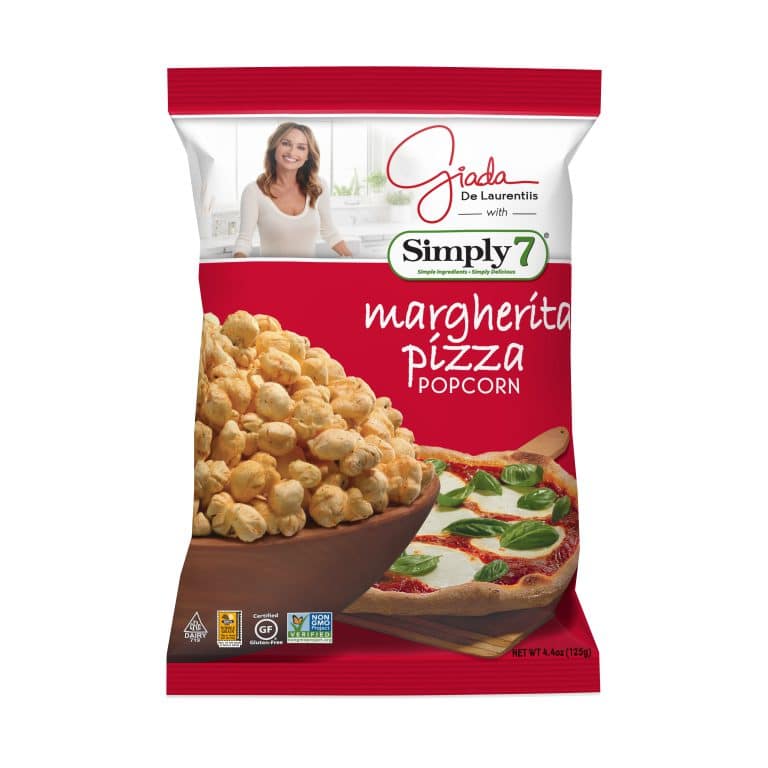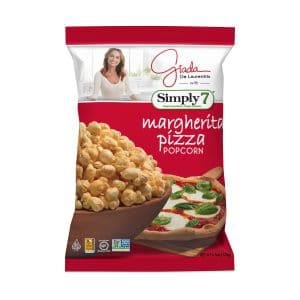 HOUSTON– Simply 7 Snacks and chef Giada are taking taste buds on a trip to an Italian pizzeria with their new popcorn flavor, Margherita Pizza. This new flavor is bursting with the traditional taste of an Italian margherita pizza made with only the freshest and highest quality ingredients such as zesty tomatoes, creamy mozzarella cheese and a sprinkling of herbs.  Fans of margherita pizza will be rejoicing!
As a long-time player in the better for you snack category, Simply 7 wants to meet today's consumer demand for bold flavors with a healthier option that also allows consumers to satisfy their cravings. Pizza flavors, a whitespace in the popcorn category, is one of the top ten craved flavors and, according to NBC News, popularity continues to rise.
"We wanted to give consumers what they are looking for: a savory flavor while also staying true to who we are by using simple, real ingredients and nothing artificial," said Simply7 president and CEO, Rashim Oberoi. "We always prioritize taste and this flavor truly compliments the lightness of our popcorn. We also continue to be inspired by Giada's Italian heritage, so the Margherita Pizza flavor was a natural extension."
This new flavor also contributes to the Fund Her Farm initiative chef Giada and Simply 7 created to bring awareness and support to female farmers in the United States. In 2018, Simply 7 partnered with a female farmer located in Illinois who grew nearly 75 percent of the brand's blue popcorn and is expected to be in production later this year; making the initiative one step closer to their goal of 100 percent sourced.
Simply 7 with Giada Popcorn is made with Non-GMO blue and/or red popcorn, unlike the commonly used white and yellow varieties, and is available in four simply delicious flavors: Sicilian Sea Salt & Olive Oil, Parmesan Cheese, Butter and Margherita Pizza. Each flavor is gluten free, kosher, free from major allergens and has 20 percent less fat than the leading "skinny" popcorn.
Simply 7 with Giada Margherita Pizza Popcorn will be available in a 4.4 oz. bag for a suggested retail price of $2.99-$3.49.  It is available on Amazon.com and in select retail stores.
To sample this flavor, please visit Simply 7 at the Natural Products Expo West in Anaheim, California on March 7-9, booth #314.
About Simply 7 Snacks
Since 2011, Simply 7 Snacks has offered better-for-you products that provide a one-of-a kind snacking experience. Simply 7 Snacks uses simple ingredients consumers know and love to make tasty snacks that are all Non-GMO Project Verified, Gluten Free and Kosher Certified, and serve as a better alternative to other common salty snacks. At the heart of each and every product are the brand's 7 Simple Standards, which include clean ingredients, no added preservatives, 0g trans-fat, no artificial colors or flavors, gluten free, simple ingredients and simply delicious. All Simply 7 products are made in Houston, Texas.