Rumiano Debuts Two New Redwood Coast Cheese Flavors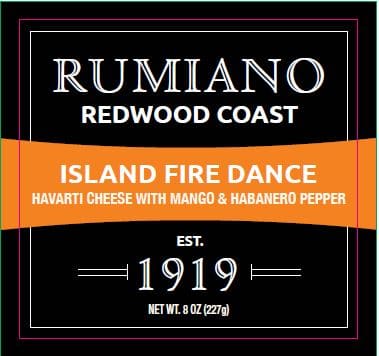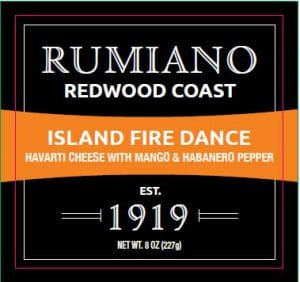 CRESCENT CITY, Calif.– The Rumiano Cheese Company, California's oldest family-owned cheese company, continues its centennial celebration with the launch of two new globally-inspired flavors in its expanding Redwood Coast line of cheeses.
Seoul Spice, a blend of Korean spices and Monterey Jack cheese, and Island Fire Dance, a creamy Havarti loaded with bits of mango and habanero pepper, join Sriracha Jack, the first variety released earlier this year, in the Rumiano Redwood Coast lineup. The complex spices and contrasting textures in Seoul Spice and Island Fire Dance are well balanced and harmonized with Rumiano's nutrient-dense and high-fat creamy cheeses. The two new Redwood Coast flavors will be available in 8 ounce blocks at natural food stores and major grocery chains regionally beginning this summer.
"Our new Redwood Coast line is influenced by emerging flavors and the diverse global cuisines that resonate with our customers," said Joe Baird, Rumiano Cheese Company's CEO. "From ethnic flavors and exotic spices that delight sensories and palettes to botanicals and functional nutrients, we will continue to experiment and explore a variety of innovative and better-for-you ingredients and new formats for a number of our products."
Rumiano Redwood Coast rich and delicious cheeses are crafted with locally-sourced, fresh milk from small, pasture-based family farms that go the extra mile for grass-fed milk production. Year-round access to pastures and natural grazing of coastal grasses in Northwest California allow the cows to roam freely, making for happy cows and some of the best-tasting, highest quality dairy products that have increased amounts of nutrients and are higher in both omega-3 fatty acids and beta-carotene.
About Rumiano Cheese Company
Rumiano Cheese Company has been in the dairy business since 1919 and is the oldest family-owned cheese company in California. Four generations and 100-years later, Rumiano continues to be at the forefront of the industry. A pioneer in numerous areas in organic and artisanal cheese, Rumiano's award-winning dairy products are made from one of the best milk supplies in the world. The company was the first to market Aged Dry Jack Cheese which went on to become Rumiano's signature cheese, winning several awards over the years. In 2011, Rumiano Cheese Company launched their Rumiano Organics line, which was the first certified non-GMO organic cheese in the world. To learn more about Rumiano Cheese Company, please visit rumianocheese.com.