Quinn Snacks Launches Gluten-Free Peanut Filled Pretzel Nuggets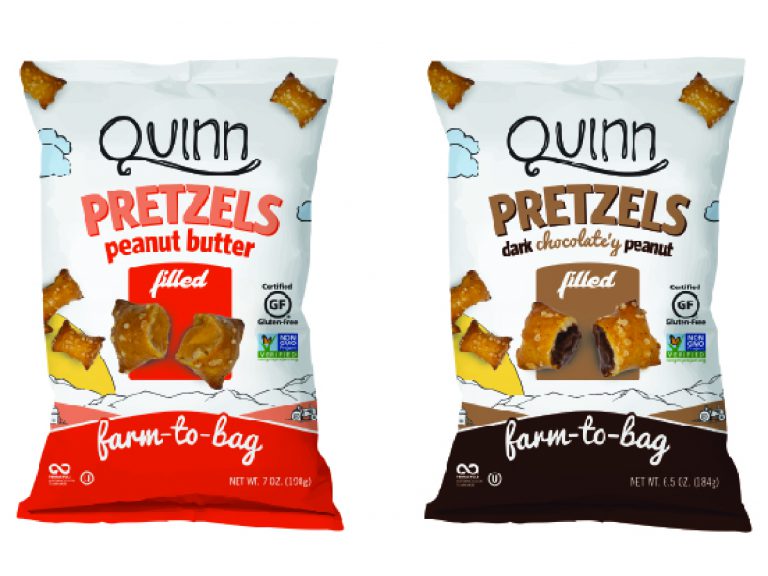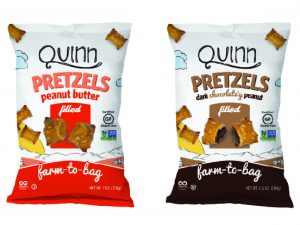 BOULDER, Colo.— Quinn Snacks, a seven-year-old natural foods company known for reimagining classic snack foods like microwave popcorn and pretzels, continues to innovate with two new additions – Peanut Butter Filled Pretzel Nuggets and Dark Chocolate'y Peanut Filled Pretzel Nuggets – to their product family of naturally gluten-free, non-GMO Project Verified pretzels derived from ancient grain sorghum. These very first Gluten-Free peanut butter filled pretzel nuggets on the market are Soy, Corn and Dairy Free. The 'Dark Chocolate'y flavor uses Fair-Trade Cocoa. The nuggets will be unveiled at Expo West and available exclusively at Whole Foods nationally in January.
Sorghum
All Quinn pretzels use sorghum, which is naturally gluten free and an ancient grain. Sorghum is a highly drought-tolerant and water efficient crop and more environmentally sustainable than other sources of grain. Sorghum's chemical structure, over time, evolved to produce antioxidants like polyphenols to naturally protect against pests and disease. These same polyphenols have been linked to greater cardiovascular health, lowered risk of stroke, diabetes, metabolic syndrome and gastrointestinal cancer. Researchers have discovered that some varieties of sorghum's bran, the husk that surrounds the sorghum grain, contains higher levels of antioxidants than blueberries and pomegranates.
Transparency
Quinn was the very first snack company to have a fully transparent supply chain through their comprehensive "Farm-to-Bag" tracking capabilities. They maintain a strict 'Farm-To-Bag' ingredient transparency policy for all their products, and consumers can see exactly where all ingredients come from via a batch number on every Quinn product.
"Knowing where your food comes from is fundamental, and it's about time snack companies open up," said founder and CEO Kristy Lewis. Each Quinn product has a batch number that consumers can search on the Quinn website to see all the ingredient details right down to the farm it was grown on.
About Quinn Snacks
Quinn Snacks is a new kind of snack company that leads with integrity, ingenuity and transparency. They care about our land and water and push for sustainability and innovation to protect the future of food and preserve our planet. Recognized for their ground breaking approach to supply chain transparency and sustainability, Quinn Snacks was named 2017 Snack Producer of the Year by Snack Food and Wholesale Baker, won Grocery Headquarter's 2017 Trail Blazer Award for their transparency and sustainability, and founder and CEO, Kristy Lewis, was named one of the Top Ten Most Promising Women Entrepreneurs by Fortune.