O'MY Dairy Free Gelato Introduces Strawberry Flavor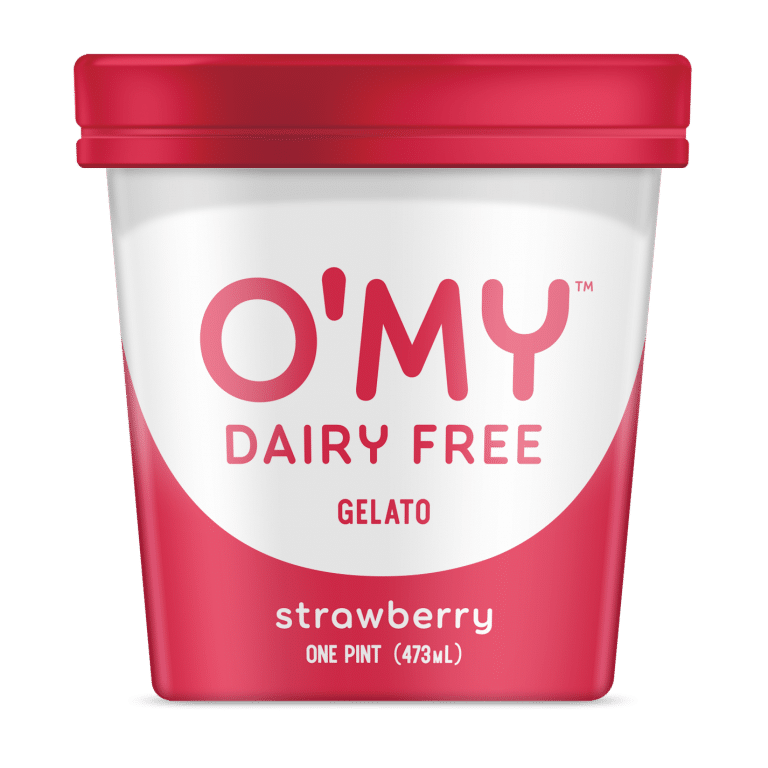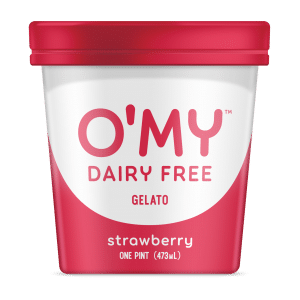 RICHMOND, Va.– O'MY Dairy Free Gelato, a brand of indulgent gelato created for the whole family to enjoy, has announced continued expansion across the U.S., and the introduction of its newest, deliciously creamy and allergy-friendly flavor, Strawberry. Co-founded by two food industry veterans with a shared commitment to taste, inclusivity and transparency, O'MY Dairy Free Gelato is currently on shelves at 650 retail stores across the U.S., and will be in more than 800 stores by year end. Newest to the O'MY family, the Strawberry flavor is a dairy-free, plant-based alternative made with only five ingredients, fulfilling the promise of a simply made indulgent treat. O'MY Dairy Free will officially debut this new Strawberry flavor at Expo East 2019 this month.
O'MY Dairy Free Gelato was created as an indulgent answer to those wanting more from their dairy-free dessert. Allison Monette, a mom who spent much of her career bringing CPG products to market at the national level for companies like PepsiCo and General Mills, saw a gap in the frozen treat market for an option that tasted delicious and was made with simple ingredients. Monette was introduced to Julie Bishop, a fellow mom and accomplished food scientist with a shared belief in the possibility of something delightful in the dairy-free space. The two women set out to craft a recipe that surprised customers with its creamy and indulgent taste, and delighted families with its limited ingredient list and allergy-friendly promise. They truly envisioned skeptics exclaiming, "Oh my!" after trying their tasty treat. The two women determined gelato was the way to go as the process fit their vision and uncompromising commitment to taste.
"We heard from consumers that gelato was even better than ice cream and we agreed!" shared Monette, CEO and co-founder of O'MY Dairy Free Gelato. "We believe everyone should get to celebrate moments big and small, including the millions of people with food intolerances, allergies and plant-based preferences. Julie helped bring my gelato dreams to life, crafting simply-made recipes that are delicious and can be enjoyed by all!"
O'MY Dairy Free Gelato officially launched in grocery stores in 2018, and today each of O'MY Dairy Free Gelato's seven, indulgent, deliciously creamy flavors – MSRP $6.99/pint – is made with single-digit ingredients, meaning every flavor has nine or less ingredients. All ingredients are thoughtfully sourced and include both Non-GMO Project and Fairtrade Certified ingredients, 70% or more of which are organic. Additionally, the recipes were crafted to be free from major allergens, including wheat/gluten, dairy, peanuts, tree nuts, eggs, and soy. The result is a creamy gelato made from coconut cream and sweetened with cane sugar that is vegan and allergy-friendly. The full selection of flavors include:
NEW Strawberry. Launched in May 2019, the newest offering from O'MY Dairy Free Gelato is made with only five ingredients, including sun-ripened organic strawberry puree and organic coconut cream, creating a smooth and creamy combination that's bursting with flavor.
Chocolate. O'MY Dairy Free Gelato's signature recipe is perfect for chocolate lovers of all ages. Made with only seven ingredients, the Chocolate flavor has a rich, smooth cocoa flavor coming from fair-trade certified, organic cocoa powder.
Vanilla Bean. Made with only six ingredients, including Madagascar Bourbon vanilla extract and beans, O'MY Dairy Free Gelato Vanilla Bean is creamy, sweet, mellow and perfect on its own, topped, or paired with another sweet treat.
Mint Chip. Made with pure mint extract and fair-trade certified, organic chocolate pieces, O'MY Dairy Free Gelato Mint Chip is the perfect balance of mint flavor and mint sensation. Including only eight ingredients, Mint Chip is the perfectly-cool and crunchy treat the whole family can enjoy.
Coffee Chip. O'MY Dairy Free Gelato thoughtfully combined only nine ingredients, including organic, single-origin coffee gelato and crunchy organic, fair-trade certified chocolate pieces, to create the perfect after-dinner treat.
Orange Cream. Orange Cream made the way it should be with a ripe, bright orange flavor from real, 100% orange juice and pure orange extract with a creamy finish. It's satisfyingly delicious and contains only six ingredients.
Root Beer Float. A classic updated for today, O'MY Dairy Free Gelato is a creamy classic updated for today. Made from only five ingredients, it's got the perfect hint of vanilla and no artificial caramel color. Just 100% joy!
"We were in the kitchen testing and testing until we knew we had created a gelato that was rich, creamy, dense and full of flavor," said Bishop, COO and co-founder of O'MY Dairy Free Gelato. "We stayed committed to our vision by thoughtfully sourcing each ingredient and staying away from artificial colors, flavors and sweeteners."
Beyond amazing taste and clean ingredients, O'MY Dairy Free Gelato's growth can be attributed, in part, to increased consumer need and interest in allergy-friendly and plant-based offerings. Specifically, researchers estimate up to 15 million Americans have food allergies, including 5.9 million children. That's one in 13 children in the U.S., or roughly two kids per classroom. Additionally, one in three Americans are lactose intolerant, which increases with age. Lastly, Vegan and plant-based diets are on the rise. "I know there are many people like myself who are just looking to add more plant-based foods to their diet" added Monette.  Whether looking for new options based on dietary restrictions or lifestyle choices, O'MY Dairy Free Gelato provides a craveable option that can be enjoyed by the whole family.
Monette and Bishop will officially debut the new Strawberry flavor, along with samples all other O'MY Dairy Free Gelato offerings, at the Natural Products Expo East trade show in Baltimore from Sept. 11-14, 2019. Visit the O'MY team and satisfy your sweet tooth in booth 8521. Shoppers can find O'MY Dairy Free Gelato near them now at stores like Wegmans, Sprouts, Fairway, Lucky Supermarkets, Save Mart, Earth Fare, and soon at stores like Harmons, Mollie Stones and Whole Foods Market in the Mid-Atlantic. Find the nearest store by visiting the Store Locator at omygelato.com.
About O'MY Dairy Free Gelato
O'MY Dairy Free Gelato celebrates always saving room for dessert!  Founded in 2017 in Richmond, Va., O'MY is a WBENC certified Woman-Owned small business led by food industry veteran co-founders Allison Monette and Julie Bishop. O'MY currently offers seven flavors of deliciously creamy, simply made and allergy-friendly gelato, fulfilling the need for a dessert that more people can enjoy together. O'MY Dairy Free Gelato is now available across the U.S. To find a nearby store, visit the store locator at omygelato.com.