Oats Overnight Announces New Vegan Caffeinated Chai Latte Flavor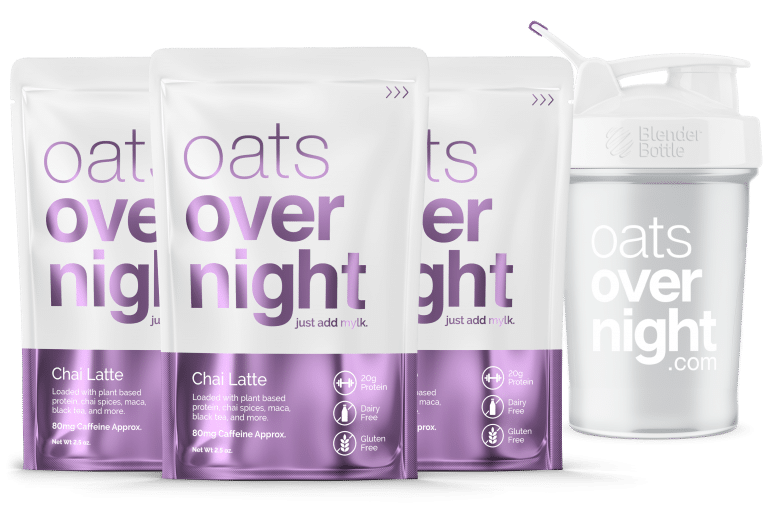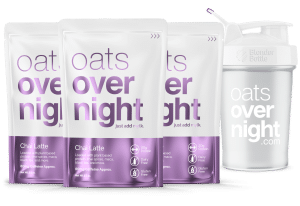 TEMPE, Ariz.— Oats Overnight, a leading provider of high-protein overnight oats, has announced the debut of its newest plant-based flavor: Chai Latte. Launching on OatsOvernight.com and Amazon, the new flavor joins the company's portfolio of customized oatmeal products including classic, plant-based, and caffeinated flavors.
Oats Overnight launched in 2016 with three classic flavors made with custom whey protein, including Green Apple Cinnamon, Strawberries & Cream, and Chocolate Peanut Butter Banana. Earlier this year, the company launched its vegan line made with custom plant pea protein. Flavors include Maple Pancakes, Blueberry Cobbler, Peanut Butter Cookie Dough Cacao Crunch, and today, the caffeinated Chai Latte flavor.
"At Oats Overnight, we are continuously innovating and striving to provide a solution for consumers on the quest for a convenient and nutritious breakfast option," said Brian Tate, founder and CEO of Oats Overnight. "Growing our vegan product line by introducing the Chai Latte flavor is a continuation of that commitment – the product provides the nutrients of a balanced breakfast with the addition of caffeine to kick-start your day."
As with every product in Oats Overnight's plant-based line, the Chai Latte flavor combines certified gluten free, non-GMO rolled oats with a custom flavor of plant-based pea protein. Chai Latte is a blend of spicy and sweet notes of maple, cinnamon, cardamom, ginger and clove paired with black tea and boosted with superfoods such as maca root, hemp and chia seeds. The product contains approximately 80mg of caffeine and 20 g of protein, with only 7 g of sugar and 280 calories per package.
All Oats Overnight flavors come in individual packages and use a unique shaker bottle format for preparation: simply add 8 oz. of preferred milk or milk alternative to one packet of product, shake, and refrigerate overnight to have a ready-to-enjoy breakfast you can eat on the go in the morning.
Chai Latte is available for purchase on OatsOvernight.com and Amazon, in Starter Pack ($18), 12 pack ($45) or 24 pack ($85) quantities.
About Oats Overnight
Oats Overnight launched in 2016 as a delicious, nutritious and convenient solution to breakfast. The product requires minimal preparation, resulting in a high-protein meal that is meant to be enjoyed on the go. With a commitment to quality, Oats Overnight uses certified gluten free oats and superfood ingredients like maca root, raw cacao, hemp, coffee and more. Each flavor packet is low in sugar and offers more than 20-grams of custom-made protein created to perfectly match each flavor. The product comes in five classic flavors made with whey protein and three dairy free, plant-based flavors made with pea protein. Each flavor release has been the #1 new oatmeal product on Amazon, with several flavors rated as "Amazon's Choice." For more information, visit OatsOvernight.com or follow on Facebook and Instagram.