Nounos Creamery to Debut Two Fall Flavors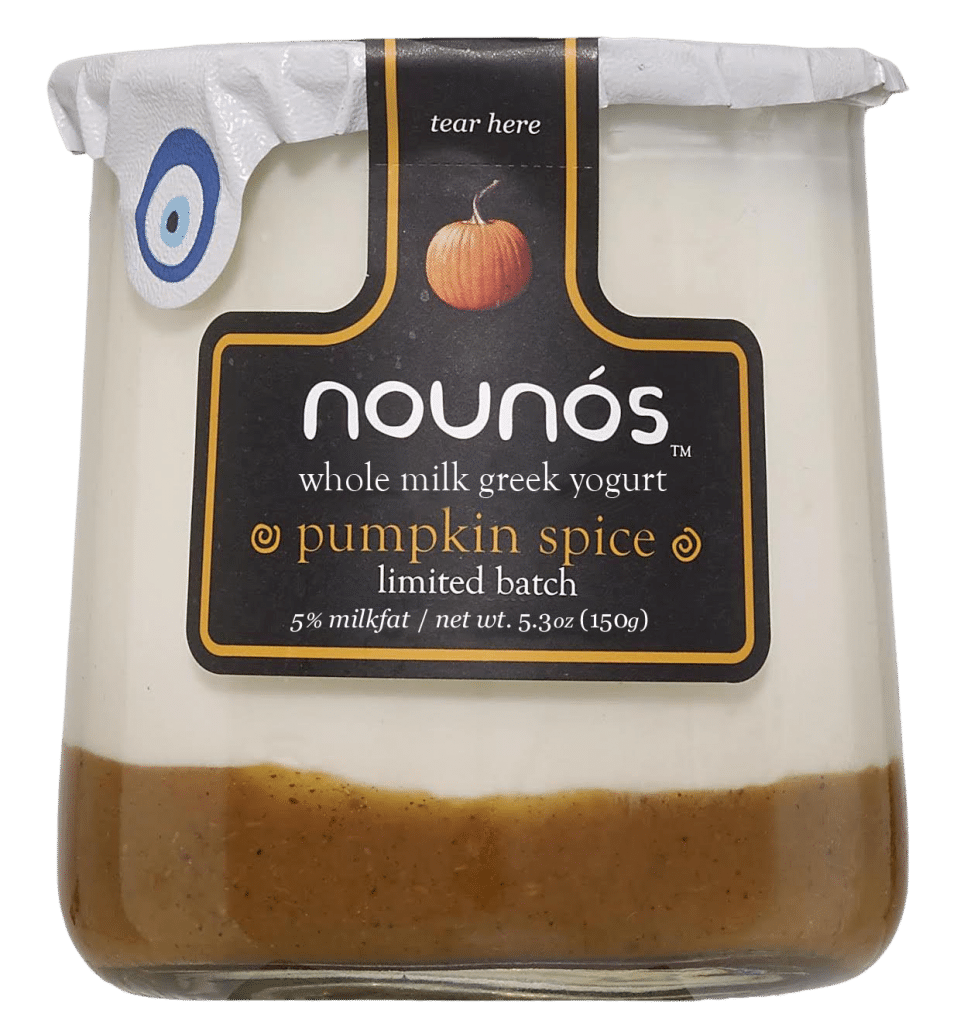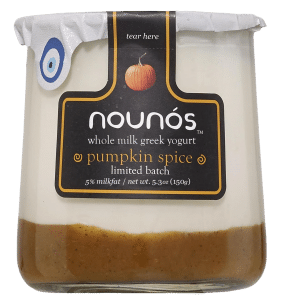 BALTIMORE– Nounós Creamery, the maker of the first and only FDA approved bag-strained Greek yogurt in the U.S., will be exhibiting its fall-inspired, whole milk additions, Pumpkin Spice and Apple Pie à La Mode at this year's Natural Products Expo East. All attendees are invited to Booth #6540 to meet the brand's handcrafted recipes and their full line of low fat and whole milk strained yogurts. In addition, the brand will have a special cheese bag straining showcase for everyone to see how they authentically produce their yogurt which takes 3 days to process.
Nounós Creamery is looking to change America's perception of what a Greek yogurt should taste like and are using the old-world craft of making yogurt along with farm-fresh ingredients and zero additives to do it. Their newest fall flavors— Pumpkin Spice and Apple Pie à La Mode— are made with whole milk and perfectly balance the indulgent flavors of fall. Like all of the brand's products, the new additions are 100% non-GMO and are free of antibiotic, gluten, rBST, and hormones. To keep the integrity of their velvety protein-rich snacks, each are packaged in non-leaching, recyclable little glass jars that can be repurposed to store spare change, potted plants, office supplies, or however you choose to use them.
"At Nounós Creamery, we are looking forward to sharing the traditional old-world way of making this classic offering to consumers in America and especially with those attending Expo East," said John Belesis, Co-Founder and Co-CEO of Nounós Creamery. "We can't wait to show attendees our cheese bag straining process and sample our new limited time small batch seasonal flavors because we know attendees are going to be just as obsessed with the freshness of our products as we are."
In addition to the showcase that Nounós Creamery is planning around cheese bag straining, they will also be facilitating a "the glass lives on" plant wall, part of its #theglassliveson campaign, where they will display an assortment of plants growing in recycled Nounós little glass jars. Furthermore, to remind consumers to re-use and upcycle the jars that their products are packaged in, they will be giving away planter starter kits.
Natural Products Expo East will take place at the Baltimore Convention Center from September 11-14, located at 1 W Pratt St, Baltimore, MD 21201. For more information on Natural Products Expo East, please visit www.expoeast.com. For more information on Nounós Creamery, please visit www.nounoscreamery.com.
About Nounós Creamery
Nounós Creamery was created by Greek-Americans Steven Ioannou and his Nounó (God Father), John Belesis. Obsessed with the foods they grew up eating in the Mediterranean, they wanted to bring the fresh flavors and indulgent textures that they knew and loved to the market in the US. Their search for authentic Mediterranean foods grew into an obsession and led them to immerse themselves in learning the traditional, old-world ways of preparing delicious options that could be enjoyed by all. With some ingenuity and a family recipe, the pair created Nounós Creamery and introduced the first and only bag strained ultra-premium yogurt to New York in 2014. Today, the team at Nounós Creamery continues to create Mediterranean spins on their favorite foods. For more information, please visit www.nounoscreamery.com.