Michel et Augustin Launches New Cookie, Packaging Redesign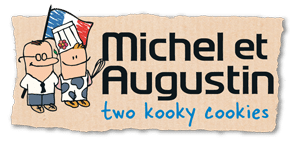 NEW YORK– Beloved French cookie company, Michel et Augustin, also known as The Troublemakers of Taste, unveiled an exclusive U.S. packaging re-design and a new flavor at this year's Expo West. The vibrant new packaging, including a new bag of individually wrapped cookie squares, hits shelves in April 2019.
Michel et Augustin's new packaging features bold graphics, eye-catching colors and a unique new look for the founders of this iconic French company. In addition to new graphics, Michel et Augustin cookie squares will be available in pantry-friendly 15-count bags for a suggested retail price of $5.49. Michel et Augustin will continue to be available in bars with four cookies a piece in all flavors for an SRP of $1.69.
Triple Chocolate is the newest recipe baked up exclusively for the U.S. It is a crispy cookie made with French butter and Dutch cocoa, filled with decadent dark chocolate ganache and sprinkled with crunchy cocoa nibs. Triple Chocolate joins a lineup of delicious recipes including Dark Chocolate with a Pinch of Sea Salt, Milk Chocolate with Melty Caramel and Chocolate and Toasted Hazelnuts. In keeping with their mantra of quality ingredients you could find in your kitchen, every cookie is made with real chocolate, French butter and flour and "amour," and contains no preservatives, artificial sweeteners or artificial flavors or dyes.
Available for purchase at select retailers around the country and via Amazon, the cookies are featured in Delta's first-class cabin and are stocked in the offices of major companies around the world including Google, Uber, Twitter, Facebook, Bloomberg and more.
"Michel et Augustin are icons in France, and millions of fans follow their adventure every day. Now we've come to America and given ourselves a bit of a makeover, but our recipe for success hasn't changed: we combine real French pastry know-how with a troublemaking spirit that people just love," said Evan Holod, CEO at Michel et Augustin.
About Michel et Augustin
Michel et Augustin was founded in 2004 by Augustin Paluel-Marmont and Michel de Rovira, lifelong friends who left successful business careers in Paris to chase their dream of making French pastry. Having done the impossible, they set out in 2015 to expand into the U.S. and bring their love for pastry to a new audience.