Little Dish Launches Heat-and-Serve Toddler Meals in the U.S.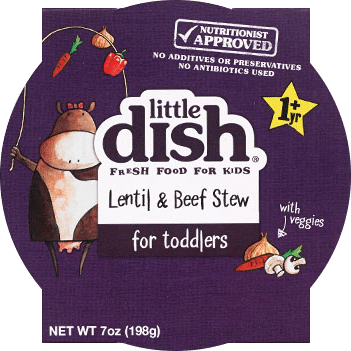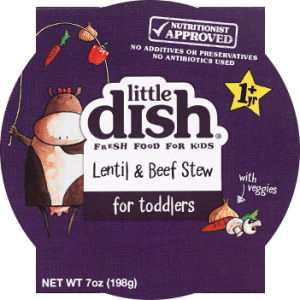 NEW YORK– American families with young children are about to experience a major game-changer at mealtime. Little Dish has announced the arrival of its award-winning toddler meals in the United States. Little Dish, originally founded in the U.K. in 2006, is the first to bring fresh, nutritious, heat-and-serve entrees to toddler-aged children in America.
Currently, four products are available on FreshDirect in the Northeast and in 175+ Walmart stores in Ark., Texas, Okla, Kan., La., and Mo. with an anticipated continued rollout across the country in the coming months. Available Little Dish options include: Ancient Grains & Chicken, Pasta and Tomato Sauce<, Lentils & Beef and Macaroni & Cheese.
Traditional baby and toddler food sold in the baby aisle can sit on the shelf for up to two years. That's why, 13 years ago in her London kitchen, mother-of-two Hillary Graves founded Little Dish to give toddlers fresh, convenient meals that taste homemade. Since then, Little Dish has become a trusted U.K. brand and is now launching in the U.S. as not only a new product line, but also a new and exciting category sold in the refrigerated section of the supermarket.
"We believe 'fresh' is the future of baby and toddler food," says Graves. "The last major innovation in this category was packaging led, with the launch of pouches; Little Dish is delivering product-led innovation, with fresh, nutritious, great tasting meals that help busy parents feel good about what they're serving their kids."
To ensure that U.S. recipes are nutritionally balanced and full of goodness, Little Dish worked closely with Nicole Avena, Ph.D. Dr. Avena is a research neuroscientist and child nutrition expert. She is also the author of What to Feed Your Baby and Toddler (2018).
"The first 1,000 days in a child's life are crucial for cognitive development and immune functioning," says Dr. Avena. "Nutrition during this period can have a lasting effect on toddlers through adulthood, and it's important children get key nutrients that support healthy brain development."
Little Dish's delicious, vegetable-packed recipes introduce a variety of tastes and textures that support a diverse palate and set the stage for life-long healthy eating habits. Each nourishing bowl contains the right amount of calories, protein, fiber and healthy fats for growing toddlers. And, parents can feel confident that Little Dish meals deliver:
Only natural ingredients:
No additives or preservatives
Chicken & beef sourced from U.S. farms
No antibiotics or growth hormones
Fresh vegetables
Low sodium
No added sugar
BPA free packaging
Delicious, homemade taste
To learn more, visit LittleDish.com.
About Little Dish
New York native and mother of two, Hillary Graves, founded Little Dish at her kitchen table in 2006 while living in London. Recognizing that parents like herself needed fresh, convenient options, Hillary set out to create toddler meals that offer perfectly balanced nutrition and great homemade taste. In 2019, Little Dish trailblazed a new category of heat-and-serve toddler meals that can now be found in the refrigerated aisles at select major retailers in the U.S. Inspired by its award-winning U.K. recipes, Little Dish meals are packed with veggies, use 100% natural ingredients and contain no added salt, sugar, additives or preservatives. Each entrée is developed with Nicole Avena, Ph.D., research neuroscientist, toddler nutrition expert and author of, What to Feed Your Baby and Toddler (2018). They are also tested by an enthusiastic team of "Tiny Tasters." Learn more at LittleDish.com.