Legally Addictive Foods Launches FOMO Surprise Party Cookie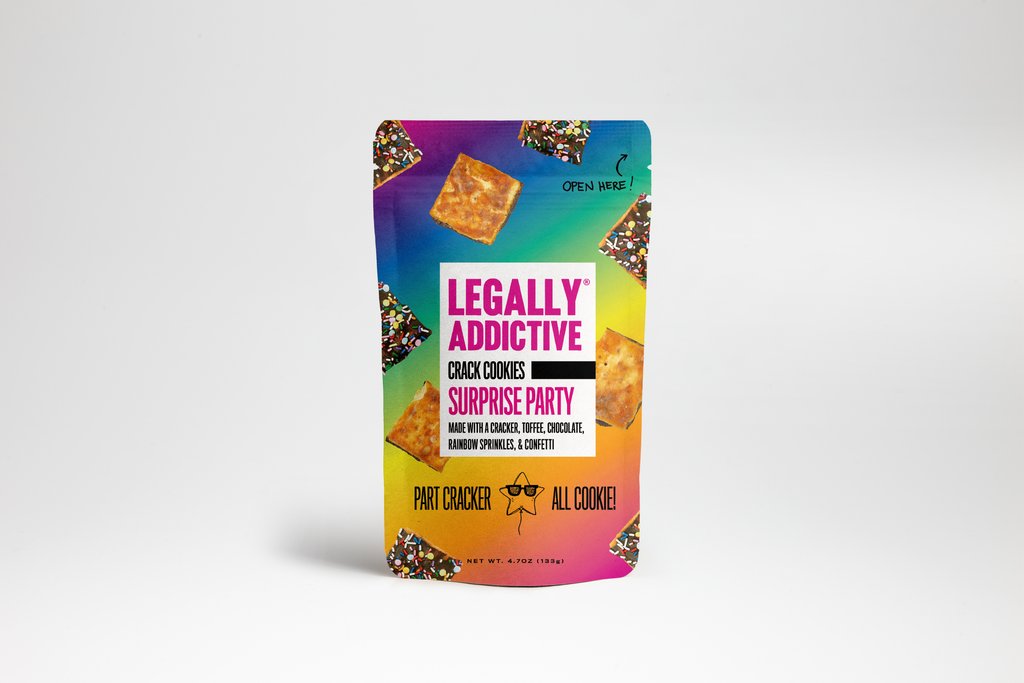 BROOKLYN, N.Y. – Legally Addictive Foods, the Brooklyn-based cookie company, has announced the launch of their newest product, Surprise Party, made with layers of cracker, handmade salted toffee, chocolate, a touch of sea salt and rainbow sprinkles. Surprise Party is part of the brand's new FOMO Flavors project which will include a series of limited-edition treats. In addition to Surprise Party, the brand's "crack" cookies are also available in The OG, Everything and Peppermint Crunch (seasonal).
"When developing Surprise Party, we put our own twist on birthday cake-inspired desserts, using a semi-sweet chocolate base (instead of white chocolate) with colorful rainbow sprinkles," said Laura Shafferman, founder of Legally Addictive Foods. "We're excited to launch more FOMO Flavors which will each be available for a limited time online and at participating retail partner locations."
About Legally Addictive Foods
Launched in 2014, Legally Addictive Foods is based and produced in Brooklyn, N.Y. Laura started the company after being laid off from her job and held to a year-long non-compete in an industry she had been in for 10 years. Legally Addictive Foods has nearly doubled in size over the past year and expanded to additional retailers and partners, including a recent collaboration with DO, the edible cookie dough company. Outside the US, Legally Addictive has recently become available in Japan and also in Canada via their collaborative partnership with Dylan's Candy Bar. In addition to being available online, Surprise Party, can be found rolling out at retail locations throughout the country, including Lolli & Pops, Bridges General, Union Market, The Epicurean Trader and Shubies.
Legally Addictive Foods' Crack Cookies are available for $10.99 per large bag at participating retailers nationwide and through legallyaddictivefoods.com.