JuneShine Launches Booch-BQ Kombucha Barbecue Sauce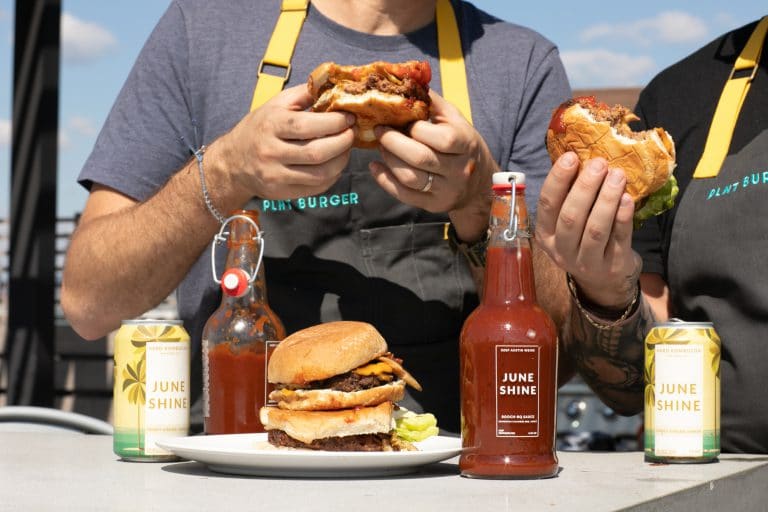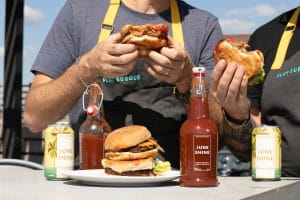 NEW YORK— In celebration of all things Austin and to welcome the arrival of San Diego-born organic hard kombucha brand JuneShine to the Texan city, a delicious new sauce has hit the market — Booch-BQ. The brainchild of the boozy booch brand as well as celebrity chef Spike Mendelsohn and former "Iron Chef" contestant Michael Colletti, Booch-BQ sauce marks JuneShine's launch and commitment to keeping the Bat City weird.
The limited-edition sauce is made from all organic ingredients and will be available on Wednesday, October 9. Deliciously sweet, sticky, smoky and a little spicy, the quirky take on the classic condiment pairs perfectly with pork, chicken, beef, ribs and veggies – and the tangy flavoring is best washed down with an ice cold can of boozy booch.
Forrest Dein, Co-Founder and CCO of JuneShine says, "Austin boasts some of the best barbecue in the nation and we wanted to join this city by celebrating what we do best, with what they do best. Since we're admittedly better brewers than we are chefs, we grabbed a few of our talented culinary friends — Spike Mendelsohn and Michael Colletti — to bring this sweet and savory sauce to life."
Dein continued, "We pour our heart and soul into every aspect of the JuneShine brand, and it's crucial that with each city we enter, we grow a genuinely passionate and loyal following with the people that live there — and assure we're doing everything we can to get each person as excited about the product as we are."
Celebrity chef and co-founder of newly opened PLNT Burger, Spike Mendelsohn adds, "When the JuneShine team came to me wanting to collaborate on making an innovative BBQ sauce that, much like their kombucha, was gluten-free and made from all honest ingredients without any additives, artificial flavors or colors, there was no hesitation in saying yes. I have been in the culinary scene for over three decades and this is the first time anyone has ever approached me to create such a unique and special sauce. I can't think of a better way to pay homage to the incredible city of Austin than with something as equally eccentric and delicious."
On a mission to brew honest alcohol for a healthier planet, JuneShine was born from a frustration of a lack of transparent alcohol brands that could cater to healthy, active lifestyles. Made from Jun kombucha — which is composed of green tea and honey, as opposed to black tea and cane sugar — JuneShine is completely organic and contains no additives, 'natural' flavors, coloring or syrups. Launched in 2018 in San Diego, JuneShine recently touched down on the East Coast, Hawaii and has plans to launch in Chicago, Boston, Phoenix and Las Vegas before the end of the year.