Hummus Pods Adds New Retailers, New Flavors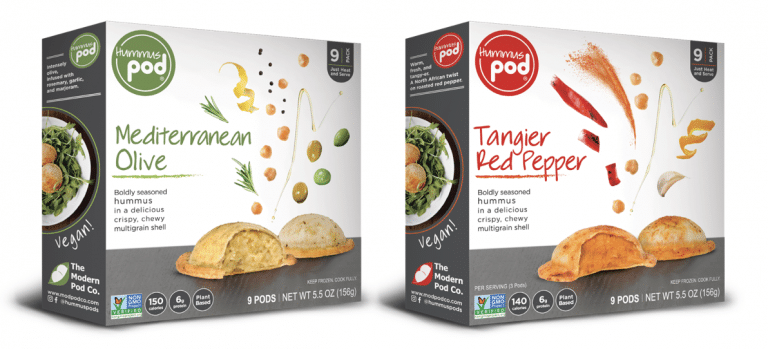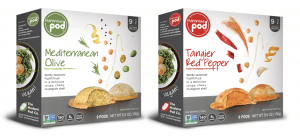 PROVIDENCE, R.I.– The Modern Pod Company is delighted to announce expanding distribution across the country for its flagship Hummus Pod program. Hummus Pods are the delicious, better-for-you, hand-held snacketizers that deliver hummus a whole new way. New retailers include Sprouts, Whole Foods Rocky Mountain, and Safeway/Albertsons in both Northern California and the Intermountain regions. This expansion also includes a range of independents, drawing from an expanded UNFI and Kehe warehouse footprint. Pods are now available in the frozen aisle in over 2,500 retail locations.
Hummus Pods are now available in five assertive and daring flavors. Tangier Red Pepper and Mediterranean Olive now share shelf space with the original Pod flavors – Zesty Lemon, Sriracha Lime, and Smoky Chipotle. Made from premium ingredients, Pods are crispy chewy multigrain pita pockets encapsulating creamy, boldly seasoned hummus. Better-for-you, plant-based, real food ingredients are at the core of the Modern Pod Company's mission. Pods feature Extra-Virgin Olive Oil, premium US chickpeas, and wholesome ancient grains like teff and quinoa – with nothing artificial. They are a good source of fiber and protein, and are just 150 calories per three pod serving.
About The Modern Pod Company
The Modern Pod Company is a bold, design-driven enterprise based in Providence, RI. Launched in 2017, the company is a team of culinary inventors dedicated to creating innovative, healthy, plant-based Pod goodness. The Company is the first spin-out from The Food Innovation Nexus (The FIX), a product and venture creation firm closely aligned with Johnson & Wales University.