Grillo's Pickles Introduces New Sandwich Maker Dill Slices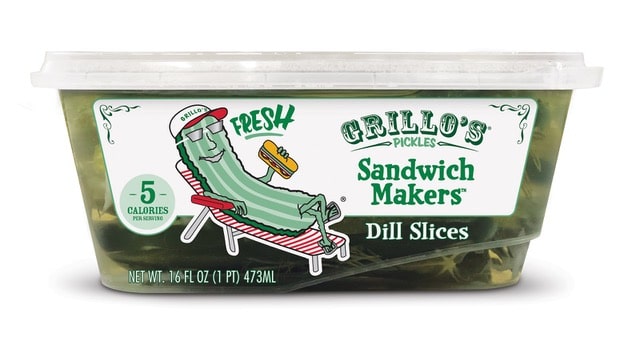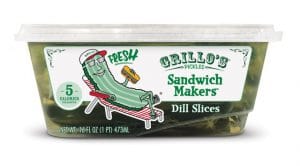 BOSTON– Grillo's Pickles, the clean, fresh pickle company, has announced the launch of its latest product, the Sandwich Maker. At a time when sandwich slices are the second most popular item in the refrigerated pickle category, Grillo's is the first all-natural pickle brand to introduce the popular cut. Providing the iconic Grillo's flavor, the Sandwich Makers are derived from the brand's same original 100-year-old Italian family recipe of seven natural ingredients – cucumbers, salt, dill, garlic, water, grape leaves and vinegar.
Thick-cut and vertically sliced, Grillo's Sandwich Makers are packaged in new horizontal containers that keep them fully submerged in brine to provide consumers with maximum freshness, crunch and flavor in every bite. At only 5 calories, they're gluten and fat free, vegan and certified kosher, making them the perfect topper to any premium sandwich or burger Available nationwide at retailers such as Hannaford, Hy-Vee, Mariano's and Sprouts, customers can purchase the Classic Italian Dill Sandwich Makers for $4.99 or $5.99 depending on location – just in time for BBQ season.
"Grillo's consistently focuses on our quality, flavor and next-level crunch while staying true to our mission of offering customers with a garden-fresh product that isn't pumped with chemicals, food additives and preservatives," said Travis Grillo, founder and CEO of Grillo's Pickles. "Consumers today want the very best-cut meats, premium breads, and fresh produce for their burgers and sandwiches, but we've found that they still skimp when it comes to the pickle. We're excited to introduce the first, all-natural Sandwich Maker and offer pickle lovers an easy way to elevate all of their summer meals."
In addition to the Sandwich Maker, Grillo's offers a variety of other products such as spears, chips and whole dills. Differentiated by its clean offerings, each hand-packed batch of Grillo's is made cold, shipped cold and sold cold using the highest grade of naturally crunchy cucumbers, fresh – never frozen – white California-grown garlic and organic, fresh cut dill before being preserved naturally with grape leaves. The brand's Hot Italian Dill varieties includes an entire habanero and jalapeño pepper in each jar, while its Bread & Butter options is made with a touch of raw sugar, mustard and celery seeds, yellow onion and red bell pepper for a naturally sweet taste.
For more information on Grillo's Pickles, or to find a retailer near you, visit grillospickles.com/find-us-.