Good Citizens Expands Line of Gluten-Free Boxed Mac & Cheese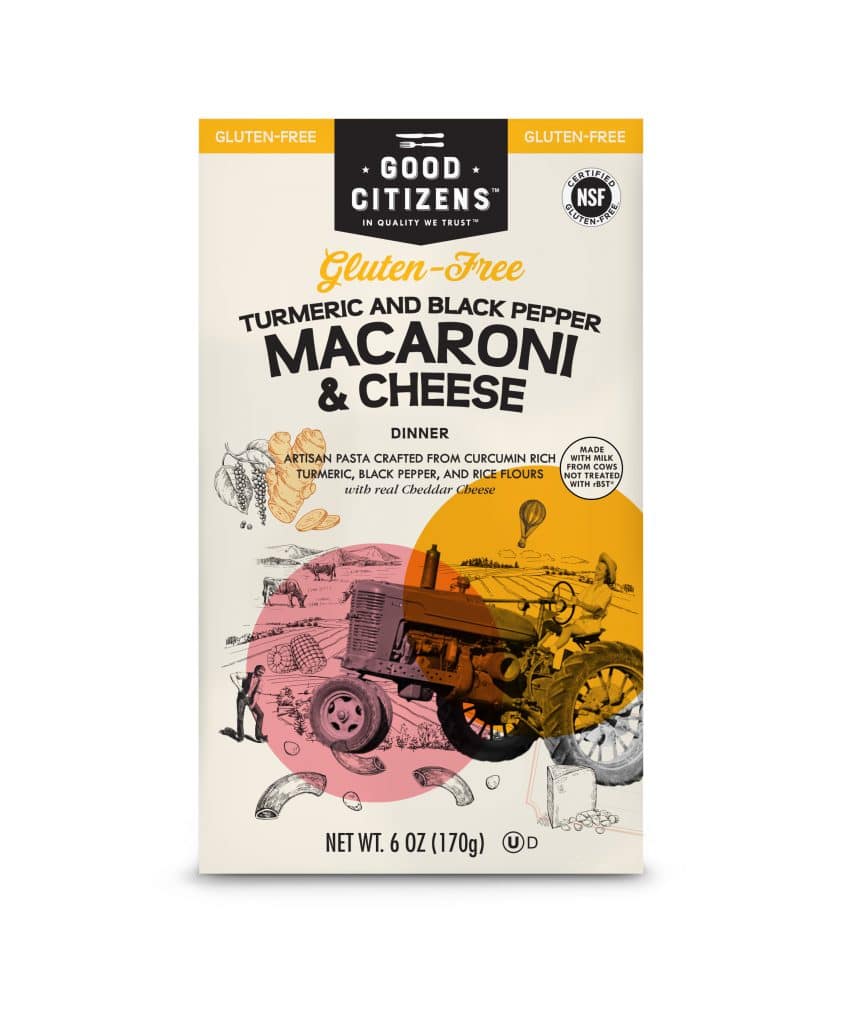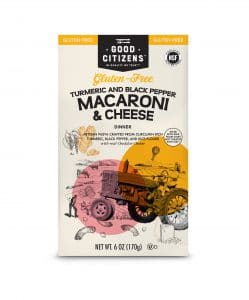 SIMI VALLEY, Calif.– Good Citizens, the socially-responsible boxed mac and cheese company with a passion for wholesome, honest food, has announced the addition of two new products to its artisan line of boxed mac and cheese options: Gluten-Free Cordyceps Mushroom Shells & White Cheddar and Gluten-Free Turmeric and Black Pepper Macaroni & Cheese. Slated to launch December 1, 2019, at retail, both will be available online at GoodCitizens.com.
"Our goal from the start has been to create the American classic, boxed mac and cheese of our childhood, with the highest quality ingredients for a new consumer," said Kiowa Saunders, co-founder of Good Citizens. "Today, there are many dietary needs and preferences. People want to know what's in their food, where it's coming from, and many want their meals to not only nourish, but support their body in other ways. Both adaptogens, like Cordyceps, and spices, like Turmeric, are known to have strong antioxidant properties and support immune systems – perfect this time of year."
Founded on pure principals that food should be honest, transparent, and wholesome, Good Citizens' restaurant-quality, artisan meals are crafted with traditional Italian pasta making techniques using authentic bronze die cuts. Kid-approved and delicious on its own, or perfectly customizable for the adult-foodie, Good Citizens is about good food and doing good.
Good Citizens has developed a community of trusted farmers and artisans throughout California to create the best quality product possible. Good Citizens invites everyone to visit each of their partners by visiting the GoodCitizens.com website for more information.
All Good Citizens gluten-free products are kosher and gluten-free certified. Based in California, Good Citizens in a "people's food company,"committed to employee ownership. Focused on making a positive impact in the communities they do business, Good Citizens helps strengthen its surrounding local economies through their charitable, give back programs. Good Citizens supports with donations to nonprofit institutions who advocate to improve their communities and share in the same vision and values.
Good Citizens boxed macaroni and cheese are sold in 6 oz. boxes for a suggested retail price of $2.99 each. Good Citizens is nationally distributed and can be found at such notable retailers as Lucky's/Savemart, Meijer, Natural Grocers, QFC, Ralphs, Safeway, Wegmans, and Whole Foods, as well as online at Amazon.com, GoodCitizens.com, and GoodEggs.com.
About Good Citizens
Launched in 2017, Good Citizens is a California-based food company founded on pure passion for wholesome, honest food, believing it is the centerpiece that brings our community together. Our mission is to change the future of food, inspiring and encouraging citizens to gather around good food that's authentic, transparent and, most importantly, delicious. Through our trusted organic wheat growers and pasture-fed dairy farms, who take serious pride in the products they produce, we have taken the first step in building a better food future for all, but it takes a whole army of citizens to fight the good fight. Let's come together; to cook, to educate, to support, to celebrate. Let's set higher standards for the food we eat – in quality we trust!
For more information and recipe ideas, please visit us at www.goodcitizens.com and on Instagram @the_good_citizens.