Doux South Launches Angry Cukes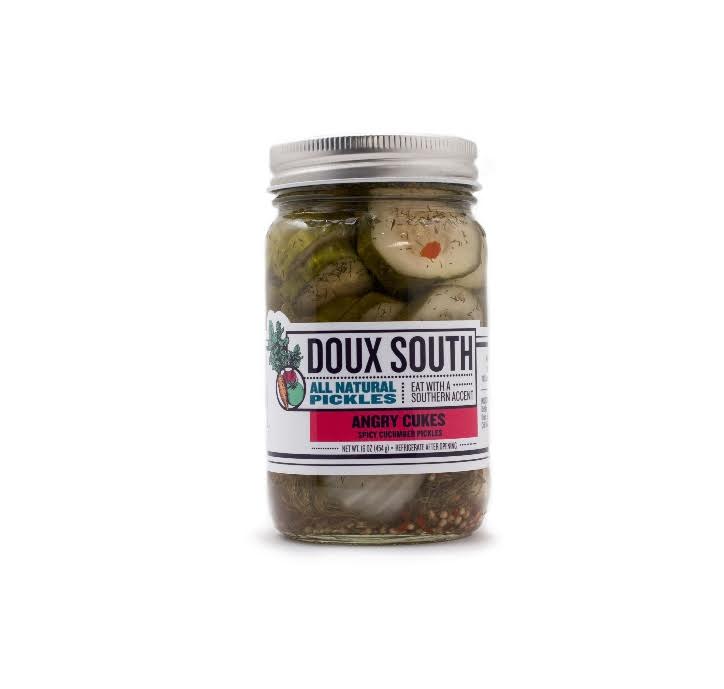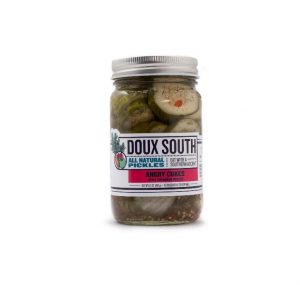 ATLANTA, Ga.— So how do you make an innocent cucumber angry? Is it bad jokes like: How do pickles enjoy a day out? They relish it! How does a cucumber become a pickle? It goes through a jarring experience! Jokes like these will make anyone angry, but of course it's no big dill! Thankfully, chef-created DOUX SOUTH line of Angry Cukes, all natural spicy cucumber pickles, has come to the rescue and is changing the way Americans savor their favorite gourmet enhancement to invigorate any meal.
The Southern tradition of pickling vegetables has been elevated to new taste sensations thanks to the creation of DOUX SOUTH Pickles from Atlanta farm-to-table chef Nick Melvin and his father-in-law Mark Hungarland. DOUX SOUTH's Southern flair is favored by pickle lovers across the US.
Angry Cukes is the perfect dill pickle! A little sweetness at the beginning, a little heat on the back end, and crunchy all the way through, Nick and Mark take farm-fresh cucumbers and brine them in a bath of vinegar, toasted chili flakes, garlic, sweet onion, fresh dill and yellow mustard seeds to create a dill pickle with layers of flavor. The touch of heat from the peppers add just enough kick to liven up the bite of pickle, complimenting the sweet and tangy crunch in a new taste sensation of DOUX SOUTH dill pickle. Angry Cukes revolutionize the standard dill pickle to elevate the well-known dill pickle to new levels and inspire a passion for pickles with a nice little kick.
With so many festivities this season, adding Angry Cukes to salads, drinks and meals is the perfect 'secret ingredient.' Adding these recipes will make each meal the one most remembered.
Doux South History
The Southern art of "putting vegetables up for the winter" inspired Chef Melvin to make unique based brines for each product that would elevate the flavor of the vegetables with culinary vinegars, herbs and spices.  Melvin has elevated the pickle experience from simply buying a jar of Angry Cukes to also buying those unique, flavorful brines that can be used in a variety of ways as a marinade, cocktail mixer, or vinaigrette. This is really where DOUX SOUTH shines.
Chef Nick Melvin has been pickling since his childhood in New Orleans and throughout his culinary profession. DOUX SOUTH recipes starts with local, handpicked vegetables and creates unique brines for each product that elevate the flavor of the vegetable. Some of their most popular sellers include: Drunken Tomatoes, Angry Cukes, Chow Chow, and Mean Green Tomatoes. They also create soulful, enlivening mustards and relishes. All DOUX SOUTH products are made without artificial flavoring, emulsifiers, calcium chloride, or preservatives.
DOUX SOUTH PICKLES can be found at the Whole Foods Southeast, The Fresh Market, Save Mart, Food Max, Publix, and other groceries. DOUX SOUTH products can also be purchased online from douxsouth.com, amazon.com, mouth.com, faire.com, and Kroger Ship.
About DOUX SOUTH Specialties, LLC
Like all great foods from the South, DOUX SOUTH Specialties uses only the freshest produce from the region. Chef Nick Melvin's uniquely crafted brines then bring out the natural flavor of each vegetable with some surprising twists. When the pickles are gone, and they go fast, these wonderful brines can be used for vinaigrettes, marinades, and cocktails. Each jar is hand packed with pride in DOUX SOUTH's efficient 6,000 sq. ft. facility in Atlanta, using only natural ingredients and no preservatives. Each product is Vegan, Non-GMO and packed in glass Mason jars, which are easy to recycle or reuse. DOUX SOUTH Specialties' retail line now features 7 varieties of pickles, 3 varieties of whole-seed mustards, and 2 pepper relishes. DOUX SOUTH's food service division provides an even broader line of fresh pickled vegetable selections in bulk to grocery olive and salad bars, as well as discerning restaurants through their distribution network that now covers most of the lower 48 states.