Double Take To Debut at the Fancy Food Show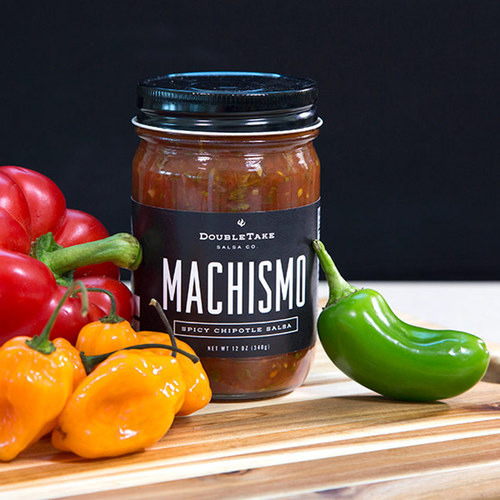 EDINA, Minn.– Double Take Salsas and Hot Sauces will be making their first appearance at the Specialty Food Show (Booth #5403A) next week in San Francisco, California.
Double Take Salsa was originated in Edina, Minnesota by Bernie Dahlin. Bernie thought there were so many sub-par salsas out there – he felt it was time to create a chunky, flavorful salsa that passionate, salsa lovers can enjoy. He started with one tomato plant, which quickly grew to fifteen tomato plants and 30 hot pepper plants. As the salsas and hot sauces were being perfected to the perfect recipes, he had to share his passion of salsa with others. In 2015 – with grassroots start at farmers markets – Bernie rented a commercial kitchen and created two salsas and one hot sauces. Retailers did a "double take" and in 2016 the product was on retail shelves. Bernie now operates out of his own manufacturing facility and has five salsas and four hot sauces, plus seasonal releases.
Each product has a story of its own and, as Bernie says, "Flavor first, heat second." The flavors of salsa include: Machismo Spicy Chipotle – a hint of sweet is followed by rich smokiness; Machismo Medium Chipotle – same flavor profile as its spicy brother but with less heat; Aces & Eights Sweet Corn – corn salsa with orange bell pepper, roasted garlic, tomatillos and green onion; Verde Good Green Chile – tomatillo and green chili mash-up; and El Jefe Smoked Hatch – smoked Hatch chilies with a rich flavor reminiscent of traditional outdoor cooking. Hot Sauce flavors include: Signature – a versatile hot sauce made from pureed vegetables and exotic peppers. Ghost Pepper Pineapple – hot sauce combined with the sweetness of pineapple; Cilantro Avocado – Flavor first, heat second on this not-crazy-hot hot sauce and Carolina Reaper – a tricked-out Louisiana style hot sauce with a bite like a rattlesnake.
Double Take Salsas and Hot Sauces can be found in many Midwest retail locations including Target, Lunds & Byerly's, Kowalski's, Cub Food Stores, Coborn's, Hy-Vee, food co-ops and other specialty retailers. Double Take products can also be purchased online at www.doubletakesalsa.com.