Crazy Richard's Introduces Wholly Rollies Protein Balls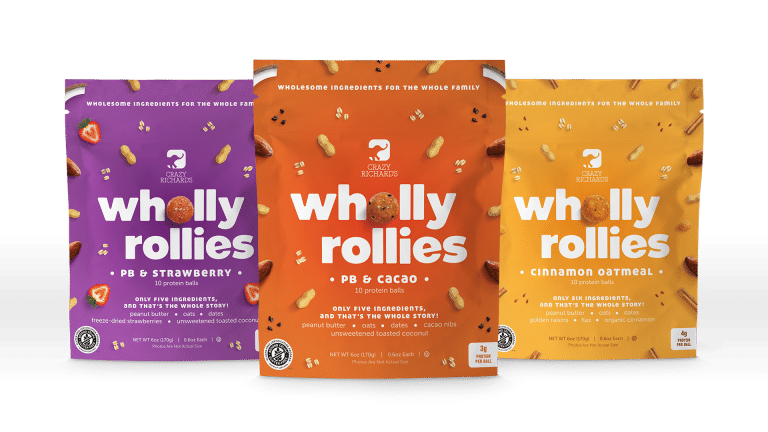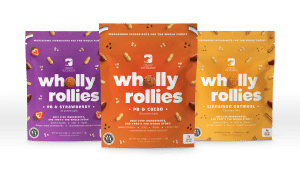 DUBLIN, Ohio— Crazy Richard's Peanut Butter Company has partnered with the National Peanut Board to roll out an entirely new category with the introduction of its new frozen snack line, Wholly Rollies – Frozen Protein Balls. This wholesome ready-to-eat snack is a satisfying, nutritious and delicious bite-sized snack featuring only five ingredients.
Second-generation owner of Crazy Richard's Peanut Butter and mother of four, Kimmi Wernli, created Wholly Rollies with her own children in mind, to ensure they have a eat perfectly simple, wholesome and nutritious snack, made with real ingredients that they love.
"I'm on a mission to make healthy snacking simple," says Crazy Richard's Peanut Butter owner Kimmi Wernli. "Just a few wholesome ingredients for that homemade goodness – without the messy kitchen. These delicious protein balls are gluten free, plant-based and whole family friendly!"
Wholly Rollies will be sold in packages of ten, in three delicious flavors, made with only five or six ingredients:
PB & Cacao: peanut butter, oats, dates, cacao nibs, unsweetened toasted coconut
PB & Strawberry: peanut butter, oats, dates, freeze-dried strawberries, unsweetened toasted coconut
Cinnamon Oatmeal: peanut butter, oats, dates, golden raisins, flax, organic cinnamon
Crazy Richard's is committed to offering clean foods to help build healthier families through its Healthy Kids Happy Future Project. The mission of the Healthy Kids Happy Future project is to offer affordable, wholesome foods to promote healthy families, healthy communities and future generations through their product donations and employee active involvement in local organizations.
"As consumers continue gravitating toward snacking, the National Peanut Board is excited to be part of bringing this new product to the freezer case. As a delicious, nutritious and portable snack, Wholly Rollies embody everything consumers are looking for," said Ryan Lepicier, senior vice president, marketing & communications, National Peanut Board.
Crazy Richard's is sold online at crazyrichards.com and in major grocery store chains across the U.S. including Acme, Kroger Banners, Walmart, Meijers, Publix, Whole Foods, Giant, Safeway and Giant Eagle.