Comvita Unveils New Look For Manuka Honey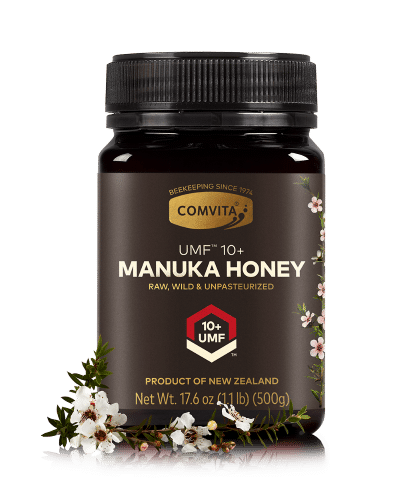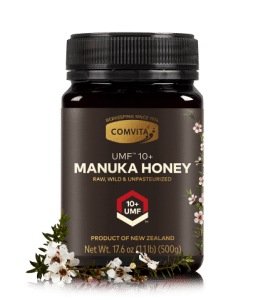 SANTA BARBARA, Calif.— Comvita, the New Zealand-based global leader in Manuka Honey, celebrates its 45th anniversary with new packaging across North America, and illuminating "Real Manuka" in a campaign aimed at educating consumers on what to look for when investing in the growing American trend and global wellness staple. The new look will make its debut at the Natural Products Expo West 2019, March 7-9, Booth #8713, and is now available for purchase at Comvita.com.
Comvita's refreshed look features elevated and sophisticated darker earth tones and gold to echo the gold standard of the product and complement the natural hue of the prized New Zealand export. Comvita's UMF Manuka Honey rebrand highlights its raw, wild and unpasteurized attributes, includes its MGO levels, and nods to its rich heritage with a message from living co-founder Alan Bougen on the back. The new package design has been warmly received by consumers and is clearly differentiated from other brands in the competitive Manuka set. In addition, Comvita is now the only Manuka Honey that is Certified Gluten-Free by GFCO.
Comvita is also launching a complementary  "This is Real Manuka" campaign with a revamped website and educational resource page aimed to help consumers make informed choices to ensure they are getting "Real Manuka." Fans are invited to follow @ComvitaUSA on Facebook and Instagram, where they will share facts and infographics that teach shoppers how to tell they are getting "Real Manuka," how to integrate Manuka Honey into their wellness routines and even have a chance to win an exclusive collection of Comvita UMF Manuka Honey.
"As a global leader, Comvita has enjoyed Manuka Honey's emergence from niche to mainstream, especially as more Americans have discovered its value," said Corey Blick, SVP of Comvita North America. "However, there is a lot of confusion in the market. Following our independent testing on a number of popular brands, confirming some Manukas really being multifloral ("blend") honey with minimal bioactive compounds, we felt compelled to educate consumers on what to really look for. The reality is Manuka is an extremely limited resource, flowering only a few weeks per year, making it expensive to produce. As many health-conscious consumers seek out Manuka for its revered properties and are paying $25-$50+ per jar, this campaign is aimed to help consumers get their money's worth."
So what exactly gives Manuka Honey its buzz? The interest in Manuka is largely based on its unique non-peroxide (widely known as antibacterial) activity. Manuka Honey labels can feature several different rating systems. Some of these include words such as "Bio-Active," "Active" or "Factors," combined with numbers suggesting their quality, or potency levels. These are self-created, lacking independent testing or standards, which has caused significant retail trade and consumer confusion, making it difficult for shoppers to decipher between a quality Manuka and a lower grade blend, possessing minimal non-peroxide activity.
The gold standard consumers can trust in Manuka Honey is UMF, which is independently certified for the three key compounds, ensuring the honey is genuine Manuka. Comvita is a licensee of UMFHA (Unique Manuka Factor Honey Association) and strictly adheres to the UMF rating system that measures Leptosperin, DHA (Dihydroxyacetone) and MGO (Methylglyoxal). While Comvita products are tested for and guarantee appropriate levels of all three, some brands only measure for MGO, while others do not measure for any.
There are three main recommended criteria for shoppers when making a Manuka purchase to ensure you are getting Real Manuka:
Sourced, packed and labeled in New Zealand. New Zealand's Ministry for Primary Industries (MPI) recently set new standards requiring a minimum threshold for key markers before it can be exported as "Manuka Honey."
Is Monofloral, from the Manuka flower (not a "blend" of cheaper floral sources)
Has the UMF independent certification, guaranteeing specific levels of Manuka's three key compounds, also ensuring it has been sourced, packed, and labeled in New Zealand and meets MPI's standards. UMF-certified products are available from UMF 5+ intended for daily health, all the way up to a rare UMF 20+, containing the highest concentration of unique compounds.
For more info, please visit: www.comvita.com/ThisIsRealManuka.
About Comvita
Beekeeping since 1974, Comvita is the global leader in Manuka Honey. The company provides health-conscious consumers and the medical market with sustainably made, Certified UMF Manuka Honey products that are fully traceable from source-to-shelf. Publicly traded on the New Zealand Stock Exchange under ticker symbol CVT, Comvita offers a range of Manuka Honey products, including Bee Propolis and Olive Leaf Extract supplements. Comvita products are available at Comvita.com, Amazon and select retailers nationwide.