Cocoburg Relaunches as Foreal Foods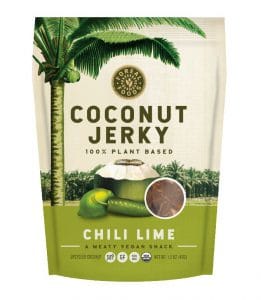 BROOKLYN, N.Y.— Cocoburg is becoming Foreal Foods! Hot on the tails of the close of a roughly half million dollar funding round, category defining, plant-based coconut jerky pioneer is re-launching with a fresh look, new recipe formulation and an expanded product line.
In the words of Foreal Foods founder Seth Syberg, "In a world with too few healthy snack options, we make real food because we believe in real food. Michael Pollan said it best, 'Eat [real] food. Not too much. Mostly plants,' and we can't help but agree."
The rebrand designed by MakeAndMatter — best known for the iconic EPIC Provisions packaging — will be unveiled at Expo West next month and is expected to start hitting retail shelves in the second quarter of 2019. The new brand name is a return to Cocoburg's original mission putting real food first, making room for a variety of new [non-coconut] products that reflect the company's commitment to providing affordable, nutritious options with focus on a super clean ingredient list. To support this initiative, Foreal Foods will be launching it's #safesnacking campaign on social media and beyond.
Foreal Foods sustainable production model uses upcycled young coconut meat from the waste stream of coconut water production in Thailand. Coconut jerky is currently available in three varieties — Original, Ginger Teriyaki and Chili Lime, with new flavors and products slated to launch in the coming months. Vegan coconut jerky is high in fiber (4-6 grams), paleo, keto friendly (5-8 net carbs), soy-free and gluten-free. Coconut Jerky is available for $4.99 in over 400 stores nationwide including key retailers Whole Foods, Natural Grocers, Mother's Market, Jimbo's…Naturally! Category pioneers of coconut innovation, Foreal Foods is quickly becoming the trendsetter in the better-for-you marketplace with much more innovation in the product development pipeline. For more information and store availability visit coconutjerky.net.