Cali'flour Foods To Launch Handcrafted Topped Pizzas at Expo West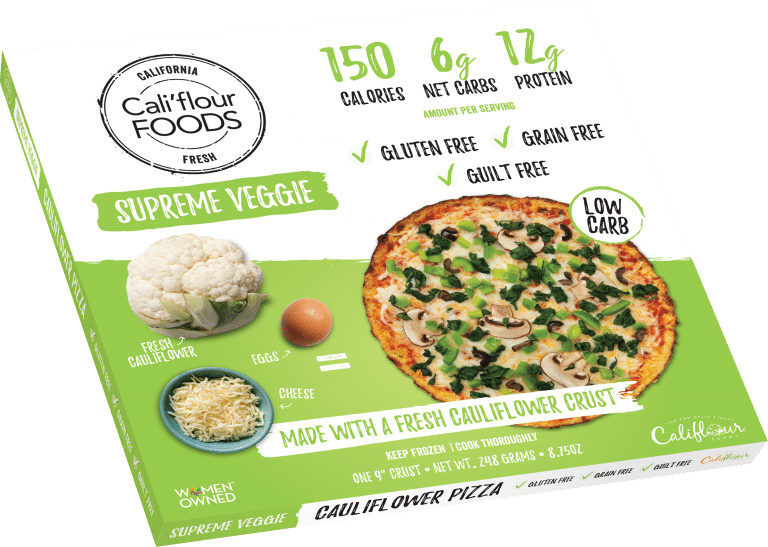 CHICO, Calif.– Cali'flour Foods, known for their signature low carb, gluten and grain free cauliflower pizza crusts made from fresh ingredients, is releasing handcrafted pizzas at Expo West in Anaheim, California. On a mission to make nutritious and healthy food accessible for all, these new products will be available for tasting at booth #N1313.
Available in three varieties, Supreme Veggie, Classic Cheese and Artisan Margherita Pizza, these new pizzas offer at least 12 g of protein per serving, making it a protein-packed meal perfect for the whole family. Cali'flour Foods' handcrafted pizzas will retail for $9.99 and will be available exclusively in the frozen aisle at retailers in 2019.
Founded by Amy Lacey, the company started out of her family kitchen when she and her children were making cauliflower crust pizzas for their Friday game nights. After Amy was diagnosed with Lupus in 2010, she realized she needed to change her eating habits if she was going to have long-term health and success. She wanted foods that were nutritional but did not compromise on taste, so she started spending hours baking cauliflower crusts, perfecting her recipe. Today, Cali'flour Foods is changing the way people think about comfort food and is the perfect addition for every household.
With cauliflower-based products like crusts, cracker thins and pasta, and a brand new best-selling cookbook, Cali'flour Kitchen, Cali'flour Foods makes healthy eating simple and delicious.
About Cali'flour Foods
Cali'flour Foods is the company behind the delicious gluten-free, low carb cauliflower crust. Based in Chico, California and made with passion and premium ingredients, Cali'flour Foods is the category leader creating innovative products designed with health and dietary restrictions in mind. For more nutritional information and to learn more about Cali'flour Foods, visit califlourfoods.com and check out their product page.