Bubba's Fine Foods to Launch Fresh Look at Expo West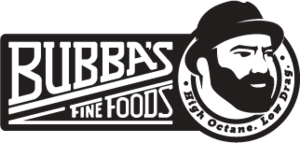 ANAHEIM, Calif.— From March 6-8, the paleo snack brand Bubba's Fine Foods will be raising a ruckus at Natural Products Expo West as they unveil a bold new look in line with their avant-garde recipes.
"Go big or go home," explained Bubba's Fine Foods CEO and co-founder Jeff Schmidgall. "This is a huge event that drew over 85,000 attendees in 2018. We are planting our flag this year and showing the health food industry that the humble green banana is a superfood badass in disguise."
At Bubba's, their 'Nana Chips take fresh, green Saba bananas that are packed with prebiotics, vitamins and minerals, are low sugar, and do not actually taste anything like bananas and douse them in nutrient-dense coconut oil and bold, natural seasonings. The result is potato chip taste with banana benefits.
Each mix manages to walk the razor thin edge of naughty, crunchy snack food while showing its nice, wholesome ingredients to the world.
All of Bubba's creations are made with uncommonly transparent ingredient lists, using only simple, real-food ingredients found in one's own kitchen pantry. They are also grain-free, gluten-free, refined sugar-free, soy-free, dairy-free and low glycemic.
In addition to their purely banana-based 'Nana Chips, Bubba's offers Snack Mixes filled with banana chips, pecans and cashews as well as a line of UnGranola that gives thinly sliced almonds, coconut flakes and cashews their moment in the spotlight.
Check out all the excitement at Booth N1813 at Natural Products Expo West in the Anaheim Convention Center from March 6-8, 2019.
Bubba's Fine Foods are available for purchase at bubbasfoods.com, Natural Grocers, Sprouts, Whole Foods, The Fresh Market, King Soopers and select retailers nationwide.
About Bubba's Fine Foods
Since 2014, Bubba's Fine Foods has been at the head of a natural health food revolution where smart, healthy choices finally meet big, bold flavors. Run by gourmet chef Jared Menzel and health coach and former CrossFit trainer Jeff Schmidgall, they are satisfying your naughty and nice cravings with every wholesome green banana they peel, dash of chipotle they sprinkle and nourishing handful you munch.