Blissfully Better Adds Classic Mint Variety to Signature Thins Line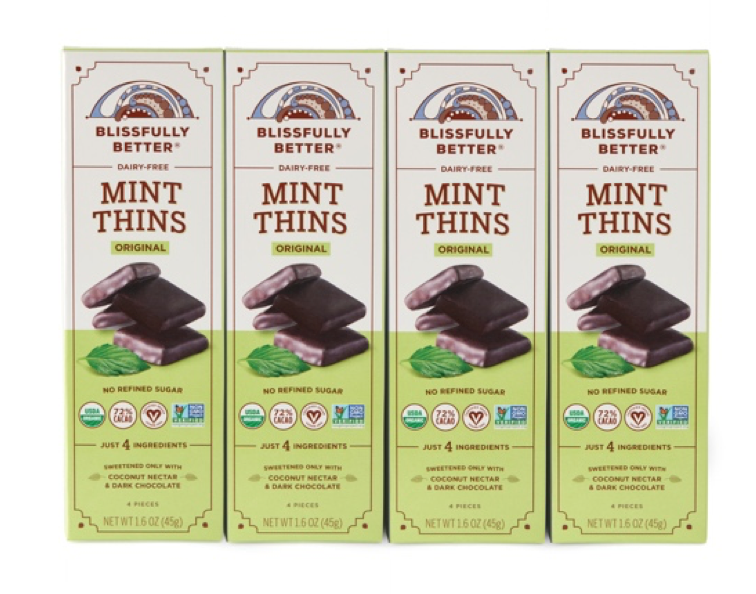 CHESTER, N.J.– Blissfully Better, an innovative company founded on making products that are delicious and healthier for you, is proud to announce a second vegan flavor to its line of Certified Organic confections. Differentiating itself from other sweets on the shelf, Blissfully Better, brought to market by The Run-A-Ton Group, brings consumers treats that are handcrafted in small batches and sweetened using organic coconut blossom nectar. This year, Blissfully Better is announcing the release of its latest flavor, Original Mint Thins, on shelves and online now wherever Blissfully Better products are sold.
Blissfully Better's Thins were created based on founder Bonnie Wintz Boroian's family recipe. Artisan-made, non-GMO Certified Original Mint Thins are a sweet vegan treat made in the USA and handcrafted in copper kettles. Blissfully Better's secret to creating delicious yet healthier gourmet treats is its focus on very few ingredients that are also simple and nutrient-dense. Coconut blossom nectar, also known as coconut sugar, sweetens every bite and is a fitting complement to the 72 percent organic dark chocolate and mint. Original Mint Thins are low glycemic and with only four grams of total sugar per serving, they are unlike any other confection.
"We are proud to add our second vegan variety of Thins to our current line of Certified Organic, gluten-free Thins," says Bonnie Wintz Boroian, founder and CEO of Blissfully Better. "For ingredient-conscious consumers seeking a mint chocolate dessert, there's no better way to indulge than with a dairy-free, Non-GMO treat that boasts clean, organic ingredients made with no refined sugar or artificial flavors."
Blissfully Better Thins can be found in several retail locations nationwide, including Westerly Market in New York City, Cibo airport locations, select Kroger markets, Lolli & Pop's and more. Original Mint Thins are exclusively available online at Amazon.com, along with the other four flavors: Almond Toffee Thins, Crunchy Quinoa Thins, Sea Salt Caramel Thins and Toasted Coconut Thins.
About Blissfully Better
Blissfully Better is an innovative company where some of the best tasting products are also some of the healthiest available. Layered to perfection, Blissfully Better's Organic Thins provide tremendous health benefits from the antioxidant-rich handmade organic dark chocolate and the organic coconut nectar sweetener. Blissfully Better, baring the Women Owned certification, is led by CEO and Founder, Bonnie Boroian, who in 2018 was celebrated by Shelby Publishing as a "Woman of Influence" in the food industry. The "Woman of Influence" title acknowledges Bonnie for her leadership, dedication to the industry and demonstrated ability to make a difference. The brand is also a proud supporter of Florida's own Place of Hope, an organization dedicated to providing a stable and loving family environment for hurting children and their families.