BelGioioso Launches Breakfast Ricotta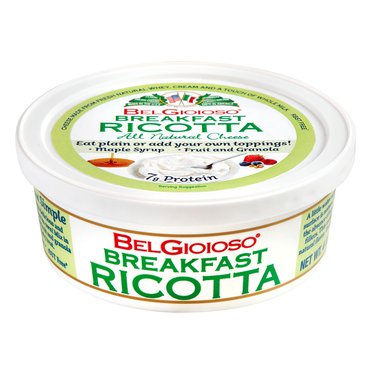 GREEN BAY, Wis.– The latest innovation from BelGioioso Cheese is a single serve all-natural Breakfast Ricotta cup. Many consumers are searching for convenient, healthy breakfast options and this new Breakfast Ricotta cup is the perfect solution for a busy lifestyle.
Conveniently packaged into 4 oz. cups, each serving provides 7 grams of protein and 40 percent of the daily value in calcium.  At 175 calories per cup and only 3 grams of sugar, this new Breakfast Ricotta is a fresh new choice for your busy mornings.
BelGioioso Ricotta con Latte is made with only fresh Wisconsin whey and milk, no preservatives or fillers so the flavor is smooth, creamy and fresh tasting.  Enjoy plain or topped with berries and granola or maple syrup.  Try serving with toast or added to a breakfast smoothie for an alternative protein source.
Protein continues to be top of mind for consumers in relation to satiety, weight management and sustained energy with 51 percent of consumers seeking out protein rich snacks for their daily diets. With the key drivers of snacking occasions being time, convenience, health, portion control and exploration, BelGioioso new protein rich Breakfast Ricotta provides a delicious and flavorful breakfast or snack choice.
About BelGioioso Cheese
BelGioioso Cheese is a family-owned and operated company specializing in artisan Italian cheesemaking. Using only natural ingredients and fresh, local Wisconsin milk, Master Cheesemakers hand-craft a full line of exceptional cheeses guided by a commitment to quality and a respect for tradition. At BelGioioso, every cheese is a specialty.