Acme Smoked Fish Corporation Introduces New Smoked Atlantic Salmon Candy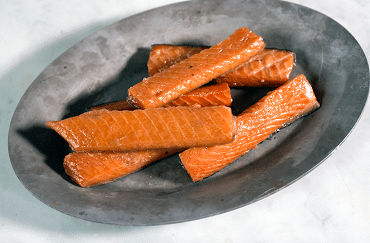 BROOKLYN, N.Y.– Acme Smoked Fish Corporation is pleased to introduce an all-new product to its lineup: Smoked Atlantic Salmon Candy. The product was introduced at the Specialty Food Association's Summer Fancy Food Show in New York City last month and will soon be available in the refrigerated aisles of retailers nationwide. Acme is a family-owned and operated producer of smoked seafood specialties found in preferred stores, restaurants and delicatessens throughout the United States.
Acme's Smoked Salmon Candy is cured with brown sugar, then double smoked, giving the fish both a sweet and savory flavor profile. The idea of 'salmon candy' was first developed as a tradition in the Pacific Northwest, and Acme is putting their own spin on the idea by using Atlantic Salmon, creating a tender and tasty snack with many applications.
Acme recommends using the fish as a topping on salads, grain bowls, and as a replacement for bacon or other proteins in various dishes.
"We were looking to develop a delicious new snack and ultimately decided to make our own version of Salmon Candy," said Adam Caslow, Co-CEO of Acme Smoked Fish. "We found that double smoking the fish creates a really extraordinary flavor, and we hope our customers will love it as much as we do."
Acme takes pride in responsibly sourcing all seafood, and the company has become well-known in particular over the past several decades for their delicious smoked salmon. Smoked Atlantic Salmon Candy is also a healthy snack: each individual portion is a rich source of protein, with approximately 11 grams per serving. The salmon is an excellent source of Vitamin D, and it also has 1,100 mg of Omega-3 fatty acids per serving and 0 grams of Trans fat per serving. The Salmon Candy has just four ingredients and uses no artificial preservatives.
Smoked Atlantic Salmon Candy is available in a 4-oz package and will be found nationwide in the coming months.
About Acme Smoked Fish Corporation
Based in Brooklyn, New York, Acme Smoked Fish Corporation is a fourth-generation, family-owned company and the country's leading smoked fish purveyor. Since the company's beginning in the early 1900s, Acme has been committed to providing the highest quality of seafood specialties in an expanding number of varieties, from customer favorites like Smoked Nova, Pickled Herring and Whitefish Salad to innovative new products like Sashimi-style Smoked Salmon and ready-to-eat Poke Bowls. Acme's products are sold in retail and food service from coast to coast at the most recognizable supermarkets, specialty stores and bagel shops and enjoyed at restaurants and delicatessens under the Acme, Blue Hill Bay, Ruby Bay, and Great American brands. The company also hosts "Fish Friday" every Friday at their Brooklyn headquarters, selling smoked fish delicacies direct to consumers at wholesale prices. To learn more, please visit www.acmesmokedfish.com. You can also follow along on Instagram at @acmesmokedfish for the latest updates.