Zupa Noma Launches Pumpkin Spice with Collagen Flavor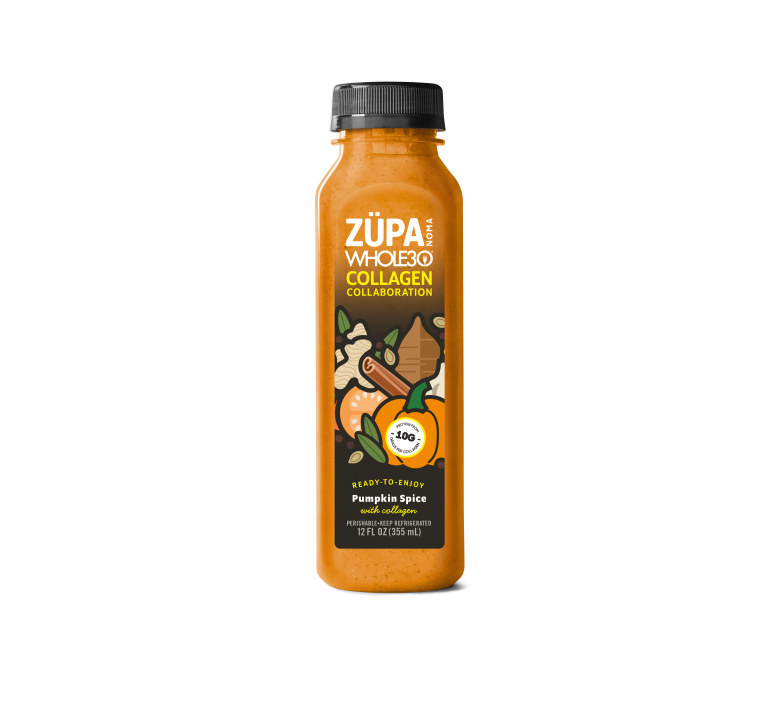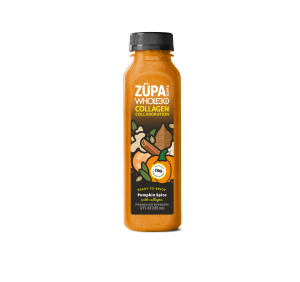 SONOMA, Calif. — ZÜPA NOMA, the leading drinkable vegetable company, continues its mission of making it easier for people to fit whole, organic veggies into their busy on-the-go lives, by announcing the launch of its limited-edition Pumpkin Spice with Collagen flavor.
This newest offering brings a seasonal twist to ZÜPA NOMA's line of collagen-infused vegetable beverages in partnership with Whole30. The first #CollagenCollab, Kale Avocado with Collagen, launched May 2018. "We're thrilled with the success of Kale Avocado with Collagen, and are so excited to offer our consumers – who quite literally inspired these products – our newest flavor," said Jen Berliner, President of ZÜPA NOMA. "We were getting tagged in Instagram posts showing a bottle of ZÜPA alongside a packet of collagen peptides, so we decided take things to the next level ourselves – and the response has been incredible," added Berliner.
Pumpkin Spice with Collagen is a deliciously smooth blend of pumpkin, squash, pumpkin seeds, and seasonal spices like ginger, cinnamon and sage, offering all the fall flavor that people love with no added sugar or preservatives. Each bottle has 10 grams of protein from grass-fed collagen peptides blended right in — no need to scoop, stir or shake!
Whole30 Co-Founder Melissa Hartwig adds, "Throughout the years, we've had other opportunities to co-brand products with the Whole30 logo. We've ultimately passed, because I never felt like those opportunities were just right for Whole30 or for our community. We ask ourselves a lot of questions before entering into any partnership. Does this project add value to the community? Does it make your Whole30 easier, tastier, healthier, more accessible? Is the partner just as supportive of our community as we are of them? Our #CollagenCollab with ZÜPA NOMA is a big fat 'YES' to all of these questions."
For more information on ZÜPA NOMA, and for exclusive availability of Kale Avocado with Collagen and Pumpkin Spice with Collagen, please visit www.drinkzupa.com.
About ZÜPA NOMA
ZÜPA NOMA's ready-to-sip Superfood Soups and Veggie Shots are made with fresh, whole vegetables blended from seeds to skin. With only the best certified organic produce and boosts like spirulina, avocado, and turmeric, ZÜPA NOMA has an average of four servings of veggies and superfoods per bottle. All ZÜPA NOMA offerings are Whole30 Approved, low sugar, high fiber, gluten-free, preservative-free, and paleo-friendly – making them a great alternative to a sugary juice or smoothie, or a processed packaged snack.
ZÜPA NOMA is based in Sonoma, CA and sources our whole, organic vegetables from as close to home as possible. We also use deliciously "imperfect" vegetables including cucumbers, kale, chard, and carrots, to help reduce food waste. Welcome to the #SOUPSQUAD!