Stryve Biltong Launches First-Ever Trail Mix with Beef Biltong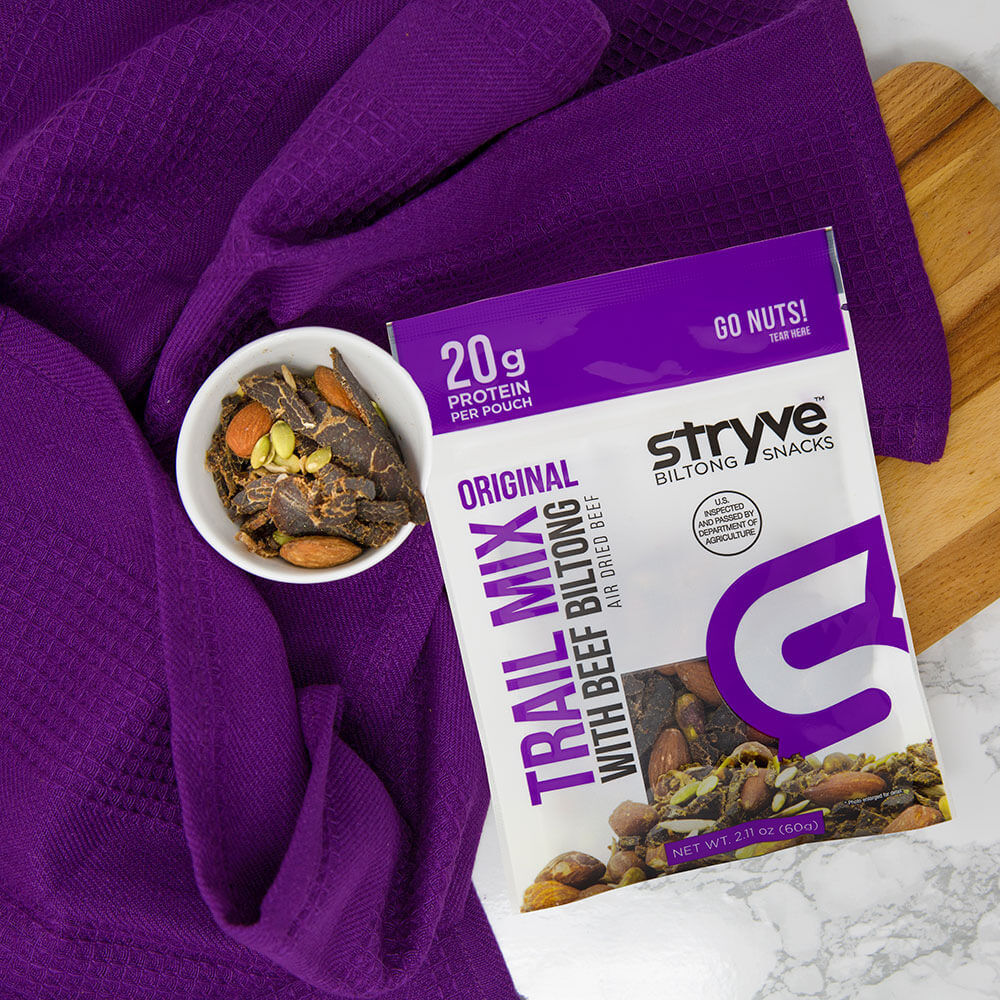 Plano, TX – Stryve Biltong, the leader in beef biltong snacks, announced today the launch of the first ever Trail Mix with Beef Biltong in the United States. This groundbreaking snack is part of Stryve's robust innovation pipeline that delivers on the consumer desire for more snack options that are healthy, convenient and taste great.
Stryve Trail Mix with Beef Biltong is a blend of tender, air dried beef biltong mixed with nuts and seeds and comes in Original, Jalapeño and Dark Chocolate flavors. Unlike most trail mixes, Stryve's trail mix contains twenty grams of protein, only two grams of sugar (excluding the chocolate flavor), is all natural and contains nothing artificial. In addition, Stryve Trail Mix with Beef Biltong is allergy and paleo diet friendly as it does not contain peanuts. The new line will launch exclusively at Army Airforce Exchange Service (AAFES) locations before debuting at other military bases, retail locations, and online later this year.
2018 has been a huge year for Stryve Biltong which has rapidly expanded distribution, enhanced production capability with a newly completed, state of the art production facility and launched biltong innovation. Former NFL player Gabe Carimi and Stryve Biltong CEO stated, "We couldn't be more excited about the launch of Stryve Trail Mix with Beef Biltong. People continue to tell us they struggle to find healthy, all natural and convenient snacks that curb their cravings and leave them satisfied. Stryve Trail Mix with Beef Biltong is an answer to that struggle as it is high in protein, low in sugar, all natural and tastes amazing." He continued, "The launch of our trail mix is another way we are fulfilling our brand mission to help people achieve their fitness goals by delivering the greatest high protein, low sugar snack you can find, biltong."
About Stryve Biltong:
Stryve Biltong is the leading gourmet beef biltong company. Based in Plano, Texas, Stryve Biltong was founded by former NFL first round draft pick Gabe Carimi and sports nutrition titans Ted Casey (Founder of Dymatize) and Joe Oblas (Founder of Prosupps) to provide a convenient snack that is low in sugar and high in protein. Stryve was created with the passionate purpose of introducing delicious and nutritious snacks to help curb cravings and achieve fitness goals, while remaining all-natural with clean ingredients and no additives. Let's be real: when you've done the work in the office, the gym, and with your family, you need a snack that works just as hard. Learn more by visiting our website at https://stryvebiltong.com/