SmashPack to Debut Protein Puddings at Expo West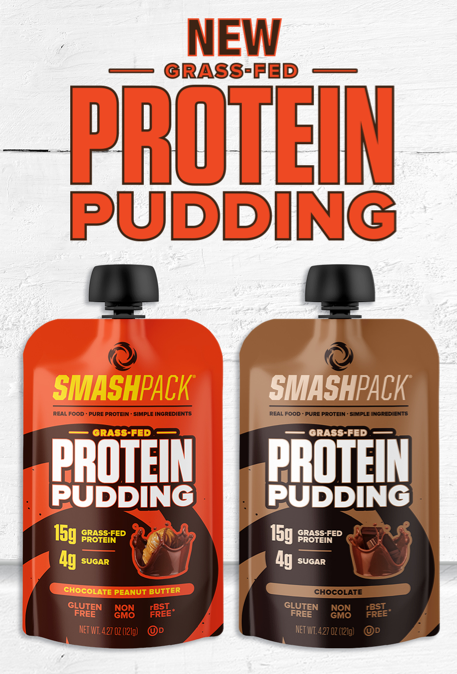 IRVINE, Calif. — SmashPack, the all-natural, high protein adult pouch snack brand is debuting a new grass-fed high protein, low sugar, low carb Pudding line to compete in the ever-growing "Better-For-You" snack category this month at the Natural Products Expo West show in Anaheim, CA. With two indulgent flavors to start, Chocolate and Chocolate Peanut Butter, the new Protein Puddings offer 15 grams of rBST-free, grass-fed protein with only 4 grams of sugar and 130 calories. Like their flagship Protein Fruit Smoothies, SmashPack's Protein Puddings target consumers of all ages looking for new better-for-you snacking options. By utilizing its' signature re-sealable squeeze pouch, SmashPack products are ideal for on-the-go consumption, eliminating the need for a spoon and the messes that comes with them.
The company is also debuting all new branding and packaging designs at Expo West, as well as updated recipes featuring MCT Oil for their three existing Protein Fruit Smoothies of Mixed Berry, Tropical Fruit, and Orange Peach. The packaging has been updated to reflect a stronger visual appeal to SmashPack's core active lifestyle consumer and more effectively communicate the product's positioning and nutritional benefits.
"We are extremely excited to be releasing our new indulgent Grass-Fed Protein Pudding pouches that are both high in protein and low in sugar," said SmashPack Founder Rob Simpson. "The protein pudding pouches will provide a new guilt-free indulgent snacking option our customers have been craving in a format that fits their on-the-go lifestyles. We feel this new product will propel growth in the overall nascent adult pouch category. Similar to what has occurred in the ice cream category, we're launching a better-for-you pudding option in a stagnant category historically known for products that are high in sugar, low in protein, filled with cheap ingredients including artificial colors and flavors."
SmashPack is the leading high-protein squeeze pouch brand, loaded with healthy nutrients needed to power and recover from high intensity workouts or simply to satisfy the hunger of kids, teens, and adults alike. SmashPack is a delicious and convenient on-the-go breakfast, snack, or protein supplement for finicky eaters. SmashPack products are quick to consume and easy to digest; they are non-GMO and free of soy, gluten, and artificial ingredients. SmashPack's signature line of Protein Smoothies combine 14 grams of whey protein isolate with pureed fruit and a new MCT Oil blend.
The Protein Pudding line will be available at the beginning of Q2 while the updated Protein Fruit Smoothie line will be available in Q2.
About Smash Pack
SmashPack was launched in 2015 by a husband and wife team, Rob and Kari Simpson. Rob and Kari saw a vacant space in the market for clean, high-protein, functional, on-the-go snacks for active adults and teenagers made entirely of real, pure, simple food.
SmashPack is available at Amazon, Lifetime Fitness, Lucky Supermarkets, Raley's, Jewel Osco, Harmons Grocery, and Wegmans to name a few. Visit www.smashpack.com/store-locator to find a retailer or gym near you.
For more information on SmashPack, please visit www.smashpack.com.