Quinn Pretzels Now Available at Whole Foods Markets Nationwide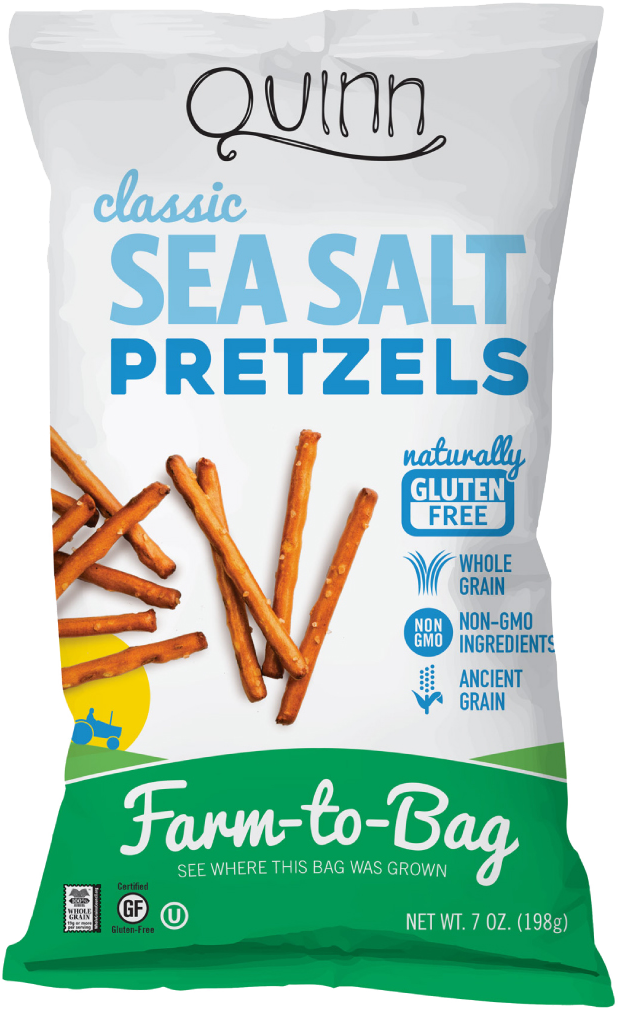 BOULDER, Colo. — Boulder's Quinn Snacks, a 7-year-old natural foods company known for reimagining classic snacks like microwave popcorn and pretzels, is pleased to announce the expanded distribution of Quinn Pretzels to all Whole Foods Markets nationally June 27. The first and only whole grain, ancient grain, Non-GMO project verified, naturally gluten-free pretzels currently come in Touch of Honey Pretzel Sticks, Classic Sea Salt Pretzels and the newest addition to the pretzel family, Deli Rye Style Rods.
All Quinn Pretzels use a Kansas-grown sorghum flour, a naturally gluten free whole grain. Not only does this ancient grain taste great, but it is also a highly drought-tolerant and water efficient crop and more environmentally sustainable than many other sources of grain.
Sustainability starts at the ground up at Quinn Snacks and weighs on every decision they make. When they learned that sorghum's "water-efficient" root structures require 20-30% less water than other crops, they were sold on bringing sorghum to snacks with their new pretzel line. The ancient whole grain is naturally gluten-free, nutritious, and better for the environment
Other Benefits of Sorghum – As an ancient grain, sorghum's chemical structure evolved over time to produce antioxidants like polyphenols to naturally protect against pests and disease. These same polyphenols have been linked to greater cardiovascular health, lowered risk of stroke, diabetes, metabolic syndrome and gastrointestinal cancer. Researchers have discovered that some varieties of sorghum's bran, the husk that surrounds the sorghum grain, contains higher levels of antioxidants than blueberries and pomegranates!
Transparency – As with all Quinn Snacks, their Farm-to-Bag ingredient transparency promise ensures that consumers know more about their ingredients. "Knowing where your food comes from is fundamental, and it's about time snack companies open up," says founder & CEO Kristy Lewis. To that end, every bag has a batch number than can be searched on the Quinn website to see all the ingredient details right down to the farm it was grown on. Quinn is the only snack company with this level of transparency.
About Quinn Snacks
Quinn Snacks is a new kind of snack company that leads with integrity, ingenuity and transparency. They kicked short-cuts like refined, enriched flour and "flavorings" to the curb in favor of REAL ingredients. They care about our land and water and push for sustainability and innovation to protect the future of food and preserve our planet. Quinn Snacks was named 2017 Snack Producer of the Year by Snack Food and Wholesale Bakery and Founder and CEO Kristy Lewis was honored as one of the Most Promising Women Entrepreneurs by Fortune Magazine.
Like what you're reading?
Subscribe to BevNET+NOSH Today
Subscribe today and get access to the leading industry resources in the food &amp beverage industries. News, trends, industry data, expert analysis and much more.
Access all of these benefits:
Unlimited access to all content on BevNET.com and NOSH.com
Exclusive access to hundreds of educational videos
Watch subscriber-only live programs such as Office Hours