Marlo's Bakeshop Releases Sesame Tahini Tea Cookie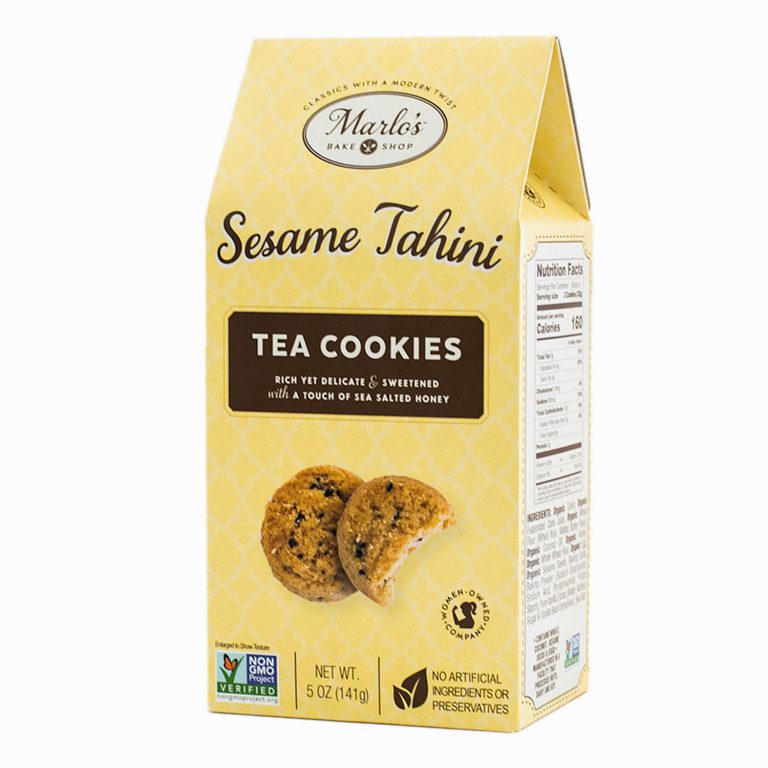 SAN FRANCISCO — It all started with an after school snack from 1955. More than 60 years later, that snack recipe is now Marlo's Bakeshop's signature line of soft-baked biscotti, based on founder Marlo Giudice's Russian grandmother's secret recipe for a twice-baked cookies.
"It's been such an honor to share my grandmother's recipe with people all over the country," Giudice said of selling the cookies. "So in thinking about innovation for the brand as we grow, it was a natural fit to want to celebrate & bring to market other families' secret recipes."
Harnessing the reach and power of social media to source recipes, Marlo's Bakeshop released the first product in the Heirloom Cookie line in fall 2017, Sweet Heat Double Chocolate Chip Cookies, a mildly spiced chocolate cookie from a family trying to capture the flavors of Mexican hot cocoa.  Finding that consumers enjoyed the ethnic flavor profile and authentic origin story of this first product, Giudice was thrilled to receive a recipe for Tahini Tea Cookies from a food blogger with Moroccan and Israeli roots.
"Tahini is such a versatile ingredient with a rich history in cuisines from several different cultures," Giudice said.
It is made from ground roasted sesame seeds and has a flavor & texture similar to that of peanut butter with a more nuanced, elegant finish. The new Sesame Tahini Tea Cookies from Marlo's are rounded out with organic honey & sea salt to create a balanced yet slightly savory snack.
"Tahini is poised to be the 'it' ingredient of 2018 and we can't wait to help introduce its exotic but approachable flavor to the masses," said Giudice.
A picture of the food blogger and her grandmother grace Marlo's packaging and tell the story of how these cookies were woven into the fabric of her childhood.
"What excites people most about our soft-baked biscotti line is the fact that it's based on my grandmother's recipe," Giudice said. "It reminds people of their own family recipes & the wonderful feelings of nostalgia you can capture from food."
The Sesame Tahini Tea Cookies will remind people of a better version of their favorite peanut butter cookie from childhood.
As with the Sweet Heat cookies in the line, Marlo's Bakeshop updated the recipe to meet the demands of today's consumer, using organic ingredients, heart-healthy coconut oil, securing Non-GMO Project verification and packaging the cookies in boxes made from sustainable Forestry Certified paper.  The cookies are also allergy-friendly as they are dairy, nut-and soy-free.
The entire Heirloom Cookie line is available for shipping now in 5oz gusset boxes with 1.65oz grab-'n'-go packs shipping in June, 2018.
About Marlo's Bakeshop
Marlo's Bakeshop crafts wholesome indulgences that nurture our customers, strengthen our community and promote women's entrepreneurship, Marlo Giudice traded in software for soft-baked biscotti when she founded Marlo's Bakeshop in 2013 in San Francisco, CA. Today, Marlo's products are available in natural and specialty grocers throughout the country and online at MarlosBakeshop.com and Amazon.com.
Marlo's Bakeshop has a YouTube channel and co-hosts the Sweet & Salty podcast, available on iTunes. More information available by visiting MarlosBakeshop.com .