Little Bird Kitchen Debuts Single-Serving Fire Syrup Packets and New Packaging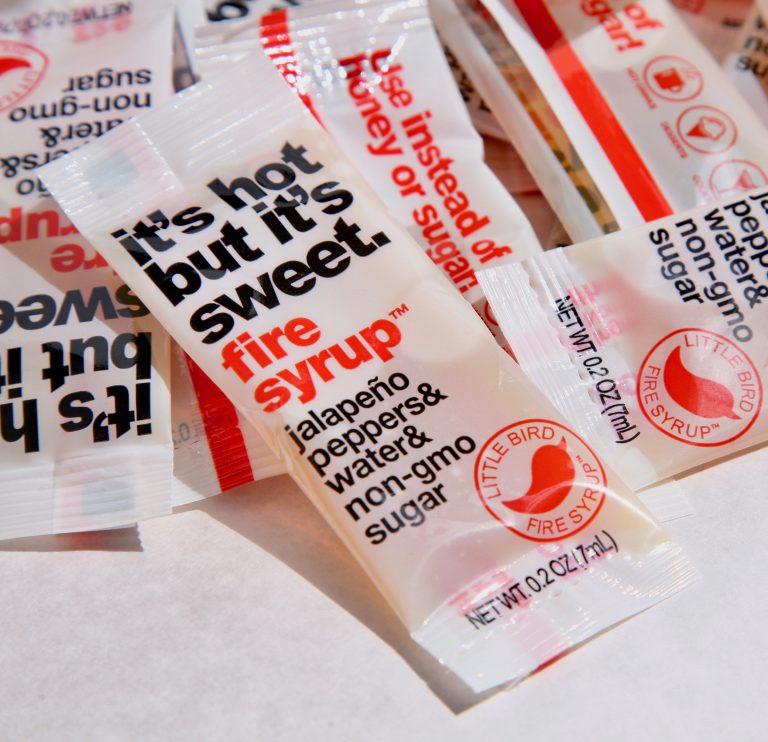 PLAINVIEW, N.Y. — The leading purveyors of candied jalapeño chocolates, peanuts, syrup and powder are releasing a whole new way to get heated: single-serving, one-time-use Fire Syrup packets. Little Bird Kitchen will be serving up a fresh black bean, corn and parsley salad, with Fire Syrup on the side, during the Summer Fancy Food Show, June 30-July 2, 2018, booth #5201, at the Jacob Javits Center in New York City.
Little Bird Kitchen's new Fire Syrup packets capitalize on the growing global interest in spicy foods. As people, especially millennials, explore flavors outside of their comfort zone, spicy is the leading flavor profile they gravitate towards and the single-serve packets assist with controlling how much heat they get, and letting them get a taste without spending their avocado toast fund on an entire bottle.
The Fire Syrup packets are easily transported and are TSA-size approved. The syrup is ideal for pizza, eggs, ice cream, fruit, steak, chicken, tacos, granola, coffee, the list is endless!
"As the spicy category grows, we want to cater to both those who want to try a taste of something new, and those who can't live without their Fire Syrup," said Sara and Corey Meyer, co-founders of Little Bird Kitchen. "The new Fire Syrup packets are great for families, parties, travel, offices, picnics, and so much more. We're excited to accommodate an expanded audience with our new offering."
Additionally, Little Bird Kitchen will be unveiling new packaging on all current products: Fire Bites (dark, milk and white chocolate), Fire Syrup, Fire Powder, Fire Walker Trail Mix and Hot & Sweet Nuts.
Little Bird Kitchen hand-crafts each product in their organic-certified Plainview, NY, facility using high-quality, Kosher ingredients such as local, fresh jalapeños, premium Belgian chocolate and non-GMO cane sugar.
For more information, please visit Little Bird Kitchen at booth #5201, and at www.littlebirdkitchen.com.