Julie's Organic Launches Two Ice Cream Bars and Expands Ice Cream Sandwich Line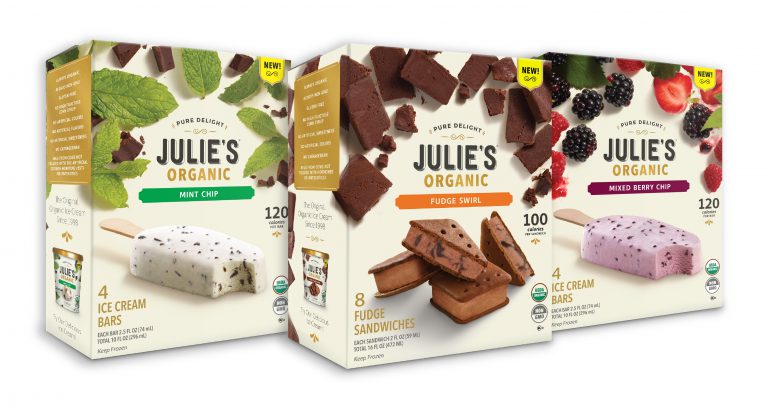 EUGENE, Ore. — Built on a passion for transforming indulgent flavors with organic, clean ingredients, and nothing artificial, Julie's Organic (Julie's) is introducing two new ice cream bars—Mint Chip and Mixed Berry Chip—and expanding its best-selling ice cream sandwich line with a Fudge Swirl 100-calorie square.
Julie's ice cream bars and sandwiches are made with organic milk and cream from cows not treated with the artificial growth hormone rBST or antibiotics, and none of the artificial ingredients typically found in low-calorie ice cream, such as high-intensity sweeteners like erythritol. The perfect pick-me-up, the new treats bring healthy indulgence to portion control snacking, with only 100-120 calories and organic ingredients.
"We love how the conversation around ice cream is changing," said Michelle Hunt, vice president of marketing for Julie's Organic. "People want better-for-you options, and they know that better-for-you isn't only about achieving the lowest calorie count. At Julie's, we're committed to making treats that do it all: delivering delicious snacks with a range of calories, always made with clean, organic ingredients and nothing artificial. Our newest items do exactly that so you can find your perfect fit."
Joining an expansive line of nine other ice cream sandwiches and bars, including the best-selling organic novelty in the country* – Julie's classic Vanilla Ice Cream Sandwich – the new flavors are:
Mixed Berry Chip Ice Cream Bars: Organic strawberries, blackberries and raspberries swirled into rich, organic ice cream, and sprinkled with dark chocolate chips (120 calories)
Mint Chip Ice Cream Bars: Refreshing mint ice cream sprinkled with dark chocolate chips (120 calories)
Fudge Swirl Ice Cream Sandwich Squares: Swirls of thick, dark chocolate fudge in a milk chocolate base, sandwiched between two chocolate wafers (100 calories)
Starting this month, the new 4-pack bars and 8-pack sandwiches can be found in select natural food stores and conventional grocers nationwide with a SRP of $4.99 – $7.99.
About Julie's Organic
Introduced by Oregon Ice Cream in 1998, Julie's Organic pioneered the organic frozen dessert category. In addition to eight premium ice creams and three sorbet pints, its popular ice cream sandwich is the best-selling novelty in the natural channel as measured by SPINS. Additional novelties include ice cream, frozen yogurt, sorbet and fudge bars. All of its products are certified organic and Non-GMO. For more information visit www.juliesorganic.com.
* Source: SPINS, 52 Week Ending 12-31-17, Total US-MULO and US-Natural, Frozen Novelties