Jackson's Honest Launches Grain Free Snack Puffs Line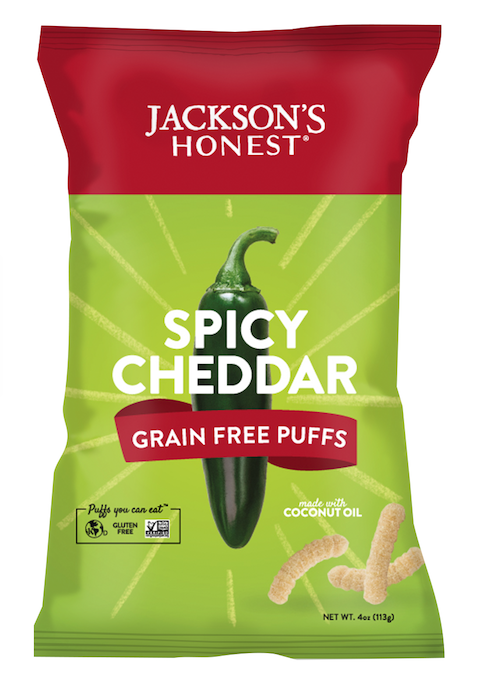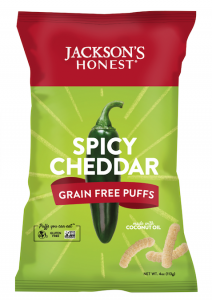 CRESTED BUTTE, Colo. — After more than a year in development, Jackson's Honest is proud to introduce their most innovative snack yet: an entirely new line of grain free puff snacks made from cassava root, sweet potatoes, and yellow peas.
'More vegetables, fewer grains' is a wonderful goal for most consumers seeking more balance in their diets and its a mantra we live by at Jackson's Honest. So we quietly went to work to see if we could turn cassava root, sweet potatoes, yellow peas, and organic coconut oil into a grain-free puff. No rice. No corn. No vegetable oil. The result: Jackson's Honest Grain Free Puffs. A classic snack re-born in three simple flavors: Crunchy Sweet Potato, Cheesy Cheddar, and Spicy Cheddar. These puffs are Non-GMO Project Verified, Kosher, and Grain free, and Gluten free.
"When our customers asked us if we would create a puff snack they could eat, we realized the last thing the world needed was another puff made from rice or corn," said founder and CEO Megan Reamer. "Because every major puff snack in the world is made from rice or corn and vegetable oils, we were determined to see if we could come up with a recipe that relied on more intrinsically nutritious ingredients. After a year of intense trial and error, and against many odds, we found a way to create puffs from roots vegetables and peas. We couldn't be more excited about the incredible taste, the simple ingredients, and the initial reception they have had with consumers and retailers across the country."
Available in grocers nationwide and online, three flavors of Jackson's Honest Grain Free Puffs will retail for $3.99 per bag and include:
Crunchy Sweet Potato – the simplest, most approachable flavor in the line. Made with only 5 ingredients: cassava root, sweet potatoes, yellow peas, organic coconut oil, and sea salt, this puff is great for those focused on clean diets and grain free eating.
Cheesy Cheddar – starting with the same base of cassava root, sweet potatoes, yellow peas and organic coconut oil, we then add a generous layer of organic cheddar cheese to these puffs which provides the intense cheesy experience that only real cheddar cheese can deliver.
Spicy Cheddar – using with the same base of cassava root, sweet potatoes, yellow peas and organic coconut oil, we then add a generous layer of organic cheddar cheese that's been infused with just the right amount of jalapeno pepper, a marriage of real cheddar cheese and heat that satisfies the most heat-seeking palates.
Like all Jackson's Honest products, our goal with our new Grain Free Puffs is to re-imagine the classic snacks we love using the most intrinsically nutritious ingredients and methods we can find. These new Grain Free Puffs do just that: trading out rice, corn, modified starches, and vegetable oils for old-world foods like cassava root, sweet potatoes, yellow peas, and organic coconut oil. They really are "Puffs You Can Eat"!
The Jackson's Honest story, mission and products have resonated with retailers and consumers nationwide in the short time that they have been available. From their first regional distribution in the Rocky Mountains in 2014, the company has expanded to more than 6,000 grocery stores, hotels, restaurants, corporate cafeterias, colleges and convenience stores throughout the country, including national distribution in Whole Foods and Sprouts. The company is trying to fundamentally disrupt the $20 billion snack food industry for the better, by making snacks with ingredients that are both intrinsically nutritious and as low on the food chain as possible, re-imagining classic snacks like potato chips, tortilla chips, and puffs for a new generation of consumers.
About Jackson's Honest 
Jackson's Honest offers an entire portfolio of more than 20 intrinsically nutritious, Non GMO Project Verified snacks, including potato chips, tortilla chips, and grain free puffs all cooked "low and slow" in organic coconut oil, mother nature's most stable cooking oil. Jackson's Honest started in 2012 in Crested Butte, Colo., where founder/CEO Megan Reamer and her husband first started frying chips in their kitchen as a way to incorporate plant-based saturated fats into the diet of their four children, one of whom, Jackson, was stricken with an extremely rare autoimmune disease. In 2017, the mom-and-pop startup appeared on ABC television's "Shark Tank" and signed a deal with famed brand guru Rohan Oza, former Chief Marketing Officer at Coca Cola and early investor in such iconic brands as Vitamin Water and Bai Drinks. Jackson's Honest snack foods can be found nationwide in 6,000-plus stores from national chains to local co-ops and online at www.jacksonshonest.com and Amazon.com. Sales of our products benefit the Jackson's Honest Charitable Foundation whose mission it is to help families and children that suffer from rare and orphan diseases.
Like what you're reading?
Subscribe to BevNET+NOSH Today
Subscribe today and get access to the leading industry resources in the food &amp beverage industries. News, trends, industry data, expert analysis and much more.
Access all of these benefits:
Unlimited access to all content on BevNET.com and NOSH.com
Exclusive access to hundreds of educational videos
Watch subscriber-only live programs such as Office Hours