Hail Merry to Introduce Dark Chocolate and Sweet Potato Cups at Expo East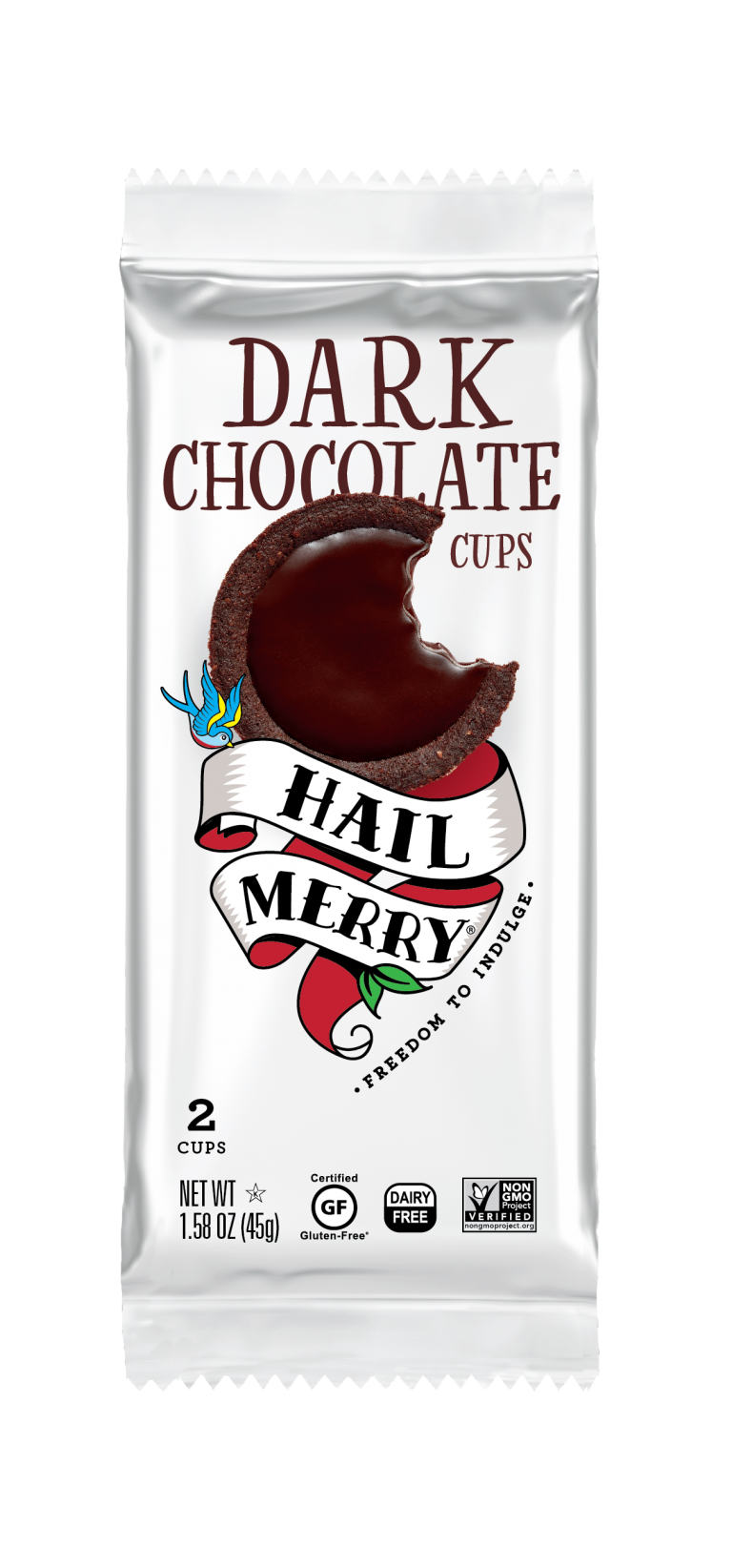 BALTIMORE — Hail Merry, the Dallas-based company known for its award-winning Paleo and Gluten-Free plant-based products, is giving consumers another reason to say "HAIL YES" with the introduction of two new decadent Cup flavors at Expo East. Attendees will be able to bite into Hail Merry's creamy Cups in Sweet Potato and Dark Chocolate at Booth 258.
Recognizing consumer's excitement and the incredible success with their other bite-sized Cups prompted Hail Merry to expand their line with a new rich and chocolatey cup as well as a sweet superfood option. Like all of the brand's products including tarts, bites, and protein bar bites, the new Sweet Potato Cups and Dark Chocolate Cups are made with all-natural ingredients with coconut oil as the base and organic maple syrup as the sweetener. These new cups set the stage for an indulgent experience for the decadence seeker and chocolate connoisseur alike.
The Sweet Potato Cups are the perfect balance of sweet and spice due to its combination of natural sweetness from sweet potato with organic maple syrup, cashews, and cinnamon to create a luscious plant-based ganache that fills the signature almond flour shortbread crust. The use of these ingredients and zero preservatives allows for a balanced taste and creamy texture with low sugar for consumers to say "HAIL YES" in every bite.
Consumers will also have the chance to indulge in the Dark Chocolate Cups carefully made with five super-clean, plant-based ingredients including organic maple syrup, almond flour, dark cocoa powder, organic virgin coconut oil and sea salt. These ingredients come together to create a velvety rich dark chocolate ganache inside a dark chocolate cookie crust that will provide consumers with double the chocolate decadence.
"As we noticed the demand for plant-based products grow, we wanted to provide consumers with a larger array of sweet snacks that allows for guilt-free indulgence," said Susan O'Brien, founder of Hail Merry. " We're always looking to combine ingredients that are a favorite to consumers but also unique in offering, which is why we created these two flavors for those seeking a clean, and fresh experience when snacking."
As an all-natural alternative to desserts, Hail Merry's mission is to influence the way in which consumers snack by providing indulgent options that are also good for the body. Hail Merry began in Dallas, Texas as Susan O'Brien began a lifestyle in the raw foods movement and saw first-hand the heart-healthy benefits of raw nuts and energizing qualities of organic virgin coconut oil. Along with the other Hail Merry products including Tarts, Tarts, and Protein Bars, these Cups are free from dairy, wheat, gluten, grains, soy, corn and are certified NON-GMO, Gluten-Free, vegan and extremely Paleo-friendly.
The Natural Products Expo East will take place from September 13-15 at the Baltimore Convention Center located at 1 W Pratt St. Baltimore, MD 21201. Hail Merry invites attendees to stop by Booth 258 to experience its new Sweet Potato and Dark Chocolate Cups. For more information on the show, please visit www.expoeast.com and for more information on Hail Merry, please visit www.hailmerry.com.
About Hail Merry
Hail Merry is a category-redefining snack food company that exists to provide "HAIL YES!" indulgence. Susan O'Brien, who trained as a raw foods chef, founded the company in 2008 to create mind-blowing snacks made from plant-based ingredients that are prepared in innovative ways. All Hail Merry snacks are Non-GMO Verified, Certified Gluten-Free, Certified Vegan, Certified Kosher, and Paleo-friendly, which give consumers the Freedom to Indulge anytime, anywhere. Hail Merry is sold through natural, specialty and conventional food retailers across the United States. To learn more, visit www.hailmerry.com.